White Top Baptist Church Cemetery
Grayson County, Virginia
Location: White Top
Directions: The White Top Baptist Church Cemetery is on the south side Highlands Parkway (US 58) in the White Top community of Grayson County, Virginia, not far from the Washington County, Virginia county line. Follow Highlands Parkway west to the White Top community. The cemetery is adjacent to the road. There is a small area for parking on the south side of the road in front of the cemetery.
GPS Coordinates: N36.616817 W81.605835
Surveyed by: Jeff Weaver
Comments: The White Top Baptist Church was established in 1848, and the cemetery was established as a church cemetery soon thereafter. The cemetery is generally well maintained. Many of the rows of stones are crooked, and my row numbering system was the best that could be devised on the spot.Also see the Willie Wingler Family Cemetery listing that cemetery is adjacent to this cemetery with a fence separating the two.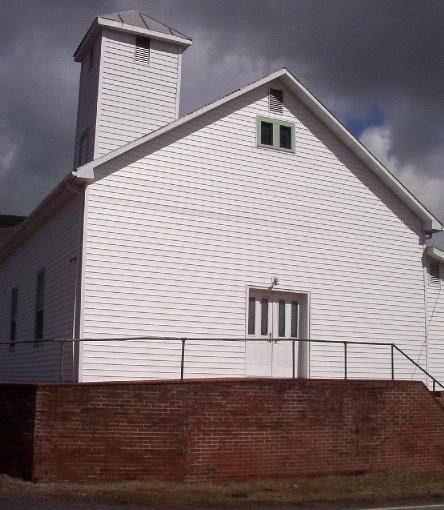 General View of the White Top Baptist Church
General View of the White Top Baptist Church Cemetery
General View of the White Top Baptist Church Cemetery
White Top Baptist Church Cemetery, Grayson County, Virginia
Name
Birth
Death
Comments
Row 1
TESTERMAN, Arlene Kilby
25 Jan 1925
 
double stone with next
TESTERMAN, Woodrow Grover
25 Oct 1923
1 Apr 1995
PFC U.S. Army World War II
Row 2
MASSARI, Thomas
1926
1996
 
WEAVER, Ralph
5 Feb 1924
26 Dec 1993
 
WEAVER, Mayme Agnes
18 Jul 1903
28 Jul 1996
[d/o William & Alla Stansberry Wilcox; w/o Joey Weaver]
HASH, Rena
18 Sep 1934
 
double stone with next.
HASH, Thomas Wayne
8 May 1925
20 Dec 1987
PFC U.S. Army Korea.
BLEVINS, Oscar
27 Feb 1908
19 Oct 1992
PFC U.S. Army
PHILLIPS, Danford B.
29 Jun 1915
 
 double stone with next
PHILLIPS, Vaughn D.
14 Nov 1914
11 Feb 1997
 
BLEVINS, Cynthia V.
1923
 
double stone with next
BLEVINS, Howard M.
1923
1989
 
BLEVINS, Donald M.
28 Aug 1947
21 Nov 1995
 
Row 3
WALLS, Mitchell F.
5 May 1924
8 Sep 2001
Sgt U.S. Army World War II
BARR, Dewey
1896
1989
double stone with next.
BARR, Ida Mae
1904
1991
 
PURCELL-PENNINGTON, Anna Ruth
14 Jan 1932
16 Dec 1993
triple stone with next two
PURCELL-PENNINGTON, Estrada
5 Aug 1905
27 Jan 1981
 
PENNINGTON, Beulah Olive B.
13 Aug 1912
9 Feb 2000
 
PENNINGTON, Elmer E.
14 Sep 1912
17 Sep 1984
S2 U.S. Navy World War II
PENNINGTON, Dorothy V.
31 May 1920
27 Jun 1979
 
HASH, Albert G.
9 May 1913
14 Jun 1990
double stone with next.
HASH, Viola B.
24 Nov 1914
20 Mar 1980
[Viola Jane, d/o Cleve & Della Sturgill Blevins]
WEAVER, Minnie J.
13 Oct 1931
4 Sep 1982
double stone with next; [Minnie Jane, d/o Clifton & Rosie Lewis Walls]
WEAVER, Rex L.
26 May 1928
13 Aug 1994
[Rex Laverne, s/o Joey & Mayme Wilcox Weaver]
STUMP, Shirley S.
22 Mar 1947
29 Oct 1984
 
Row 4
BLEVINS, Nonie
[28 Sep] 1897
[13 Feb] 1994
double stone with next; [Nonie Pearl, d/o Harrison & Columbia Jane Pennington; w/o Arvison Blevins]
BLEVINS, Arvison
1898
1965
 
BLEVINS, Carl Charles
18 Aug 1929
19 Feb 1968
 
LINDSAY, Eva Gray Blevins
28 Aug 1918
2 Jun 1995
[d/o Arvison & Nonnie Dolinger Blevins; w/o Edward Lindsay]
VAUGHAN, Ann B. Hart
Feb 1930
 
double stone with next.
VAUGHAN, Irvin G., Sr.
8 Sep 1927
15 May 1973
 
BLEVINS, Viola J.
8 Jun 1912
 
double stone with next.
BLEVINS, Willie D.
25 May 1901
3 Feb 1970
 
SULLIVAN, Howard C.
21 Nov 1937
2 Oct 1992
 
SULLIVAN, Lura
26 Apr 1910
10 Dec 1967
 
SULLIVAN, Bethel
1911
1988
painted wooden cross
HASH, Dora Agnes
28 Apr 1894
25 Jun 1975
double stone with next.
HASH, James Ben
7 Jan 1892
12 Feb 1972
 
HASH, Blanch
11 Sep 1913
22 Dec 1999
 
BLEVINS, T. Lillard
1889
1980
double stone with next
BLEVINS, Nancy H.
1889
1981
 
SHEPHERD, Lura
24 Feb 1923
 
double stone with next
SHEPHERD, Charlie
11 Jun 1916
4 Apr 1975
Tec 5 U.S. Army World War II
WYATT, Rosa
27 May 1903
28 Dec 1981
double stone with next
WYATT, Edwin
6 Nov 1897
8 Apr 1976
WYATT, Inus L.
16 Oct 1925
29 Apr 1997
double stone with next
WYATT, Lonnie R.
16 Jan 1926
19 Dec 1991
 
WEST, Roscoe J.
28 Feb 1899
28 Oct 1986
Pvt U.S. Army World War I
Row 5
BARR, Everett V.
23 Mar 1929
24 Apr 1988
 
BARR, Everett Stanley
18 Jan 1962
19 Oct 1992
 
BARKER, Montgomery
 
 
Co L 58th N.C. State Troops CSA
unknowns
 
 
three field stones
PAYNE, McKinley
1895
1971
double stone with next.
PAYNE, Minnie H.
1901
1977
 
PAYNE, Glenn William
10 Aug 1920
15 Mar 1965
Tech 5 Co F 401st Glider Infantry U.S. Army World War II Purple Heart
unknown
 
 
"B.R.P."
HAMPTON, Laura
26 Dec 1879
17 Jun 1963
 
unknown
 
 
field stone
HODGES, Carrie Lee
7 Jul 1918
18 Jul 1918
 
unknowns
 
 
five field stones
BLEVINS, Flora May
29 Mar 1911
6 Mar 1912
 
Row 6
unknowns
 
 
two field stones
Row 7
BLEVINS, Vaughn Wilton
20 Jul 1914
31 Aug 1914
 
BLEVINS, Wmlesue
1945
1945
This is a handmade stone and the letters in the first name copied in this entry make no sense.
BISHOP, Della S.
1889
1959
double stone with next.
BISHOP, Reece
1884
1931
 
BLEVINS, Catherine
6 Mar 1852
16 Jan 1932
double stone with next.
BLEVINS, N.M., Rev.
10 Sep 1853
5 May 1939
 
BLEVINS, Miles W.
1865
1928
double stone with next.
BLEVINS, Elizabeth
1866
1928
 
BAKER, Nancy Jane
17 Oct 1897
15 Nov 1988
 
BLEVINS, Rachel
1841
1926
arbor vitae tree growing on this grave
BLEVINS, Allen
1 Dec 1830
11 Aug 1912
arbor vitae tree growing on this grave
BLEVINS, Martha F.
1901
1947
 
BLEVINS, Frank
24 Apr 1891
19 Apr 1960
Pvt Ord Dept U.S. Army World War I
BLEVINS, Fields E.
19 Feb 1894
2 Dec 1978
PFC U.S. Army World War I; [s/o Miles & Elizabeth Edmonson Blevins; name recorded elsewhere as Fielden Loyd]
SHEETS, Troy M.
4 Jul 1907
1 Aug 1907
s/o C.H. & Dorsie Sheets
STURGILL, Ralph
7 Dec 1911
27 Dec 1911
 
JENNINGS, Nezbt V.
1 Oct 1916
16 Dec 1916
[spelling of name sic]
unknown
 
 
field stone
SHEPHERD, Bell
8 Apr 1913
12 Jun 1969
 
SHEPHERD, Wayne
16 Oct 1938
3 May 1941
s/o Earl & Bell Shepherd.
SHEPHERD, Earl
23 Mar 1910
26 Nov 1997
 
SHEPHERD, Billy Dean
7 Jul 1945
20 Jan 1946
s/o Montie & Artie Shepherd
SHEPHERD, Bobby Charles
23 May 1947
1 Jan 1948
 
SHEPHERD, Eliza D.
1 Jul 1893
2 Jan 1978
double stone with next; [nee Tucker]
SHEPHERD, Roe A.
16 Jul 1887
12 Feb 1948
 
SHEPHERD, Viola W.
28 Jul 1929
15 May 1961
 
SHEPHERD, Gladys
30 Apr 1921
 
double stone with next
SHEPHERD, Fred
28 Mar 1914
25 Sep 1987
 
SHEPHERD, Fred, Jr.
21 Jul 1936
28 Oct 1996
double stone with next.
SHEPHERD, Shirley B.
17 Nov 1951
 
 
BLEVINS, Evelyn Shepherd
27 Jul 1938
 
double stone with next.
BLEVINS, Calvin "Dayton"
9 May 1934
 
pre-need stone
Row 8
unknowns
 
 
two field stones
PERRY, Mary A.
4 Jan 1906
18 Jun 1906
died 6 mos 14 days; hand-carved soap stone
unknown
 
 
field stone
SULLIVAN, Ellen
4 Oct 1881
7 Sep 1944
wife of W.R. Sullivan
WALLS, Jane
 
12 Jun 1923
 
WALLS, F.C.
4 Apr 1860
28 Aug 1923
 
WALLS, Malinda
18 Aug 1864
17 Dec 1890
wife of F.C. Walls
unknowns
 
 
two field stones
WALTON, John H.
3 May 1875
10 Dec 1899
 
JENNINGS, Polly
5 Oct 1828
7 Jun 1890
marble obelisk next to road.
Row 9
BLEVINS, Catherine
1829
12 Feb 1897
double stone with next
BLEVINS, Jessee
15 Mar 1823,
8 Sep 1897
 
unknowns
 
 
three field stones
Row 10
unknown
field stone in a very short row by itself
Row 11
BLEVINS, Infant Son
22 Nov 1905
22 Nov 1905
s/o David & L.C. Blevins
KIRK, Myrtle H.
18 Sep 1895
7 Nov 1915
 
BLEVINS, Oscar
9 Jun 1896
20 Jun 1897
 
unknowns
 
 
two field stones
ADAMS, Verny
19 May 1895
20 Jun 1897
 
ADAMS, Ila
13 Dec 1892
23 Oct 1913
 
BLEVINS, Hattie E.
4 Sep 1887
9 Jul 1906
 
BLEVINS, Kisiah
16 Oct 1853
15 Feb 1922
wife of Wells Blevins
BLEVINS, Wells
9 Sep 1856
17 Dec 1924
 
unknowns
 
 
two field stones
WALKER, Laura Parker
1892
1961
 
unknowns
 
 
two field stones
Row 12
unknowns
 
 
four field stones
TUCKER, Betsy
 
 
mother of Eliza Tucker Shepherd
GREER, Regina Testerman
3 Oct 1952
7 Mar 1986
 
WALKER, William M.
11 Dec 1879
24 Nov 1903
s/o J.A. & M.A. Walker
WALKER, James A.
29 Mar 1859
8 Dec 1915
 
WALKER, Mary A. Jennings
1862
1937
wife of J.A. Walker
Row 13
ROWLAND, William Herman
17 Nov 1932
9 Mar 1984
 
ROWLAND, Nonnie
17 Feb 1894
8 May 1962
double stone with next.
ROWLAND, Arther
4 Apr 1901
16 Jul 1963
 
DOLINGER, Lacy
8 Aug 1923
22 Feb 1973
 
DOLINGER, Myrtle P.
17 Dec 1925
17 Apr 2001
 
unknowns
 
 
three field stones
Row 14
unknowns
 
 
two field stones
HOUSER, Lenora
6 Feb 1872
17 Mar 1915
wife of J.W. Houser
TESTERMAN, Etty L.
24 May 1896
8 Dec 1918
 
unknown
 
 
concrete marker "T.H."; head stone might be read if rubbed.
TESTAMENT, Donna May
5 May 1911
23 Feb 1912
 
unknowns
 
 
two field stones
SHEPHERD, Cora
1877
1937
 
TESTERMAN Son
28 Mar 1948
28 Mar 1948
s/o Mr. & Mrs. W.G. Testerman
ROOP, Joyce A.
16 Oct 1948
16 Oct 1948
 
ROOP, Lillian S.
23 Mar 1913
31 Dec 1966
double stone with next
ROOP, Elza J.
15 Jan 1913
12 Sep 1975
 
unknowns
 
 
seven field stones
Row 15
unknown
20 Jul 1864
age 85 years. This stone could be deciphered with a rubbing or powder.
unknowns
 
 
three field stones
BLEVINS, Sterlin
1902
1902
s/o. W.M. & Mary J. Blevins
BLEVINS, Hazel
1900
1902
d/o W.M. & Mary J. Blevins
BLEVINS, Mary J.
1867
Aug 1902
wife of W.M. Blevins
BLEVINS, Dora Cordella
1877
1960
 
unknowns
 
 
two field stones
MACKENZIE, Belvie West
1931
1963
unsure of my own handwriting on this one
WEST, Douglas H.
12 Sep 1950
22 Nov 1974
Pvt U.S. Army
unknowns
 
 
two field stones
TESTERMAN, James Walter
6 Apr 1894
12 May 1952
double stone with next
TESTERMAN, Millie R.
1 Mar 1898
19 Mar 1999
 
unknown
 
 
field stone
SULLIVAN, Bessie
7 Sep 1896
21 Apr 1900
 
unknown
 
 
field stone
Row 16
unknowns
 
 
two field stones
TESTERMAN, William L.
25 Jul 1930
10 Sep 1962
 
unknowns
 
 
three field stones
FINELY, Nancy
28 Apr 1865
10 Mar 1945
 
McGRADY, Elmore Leroy
31 Mar 1911
18 Aug 1911
 
BLEVINS, Carson
16 Apr 1883
16 Oct 1930
s/o John & Susan Blevins
BLEVINS, Stella M.
26 Dec 1923
28 Dec 1928
 
BLEVINS, Mozell
22 Mar 1920
18 Aug 1921
d/o Mr. & Mrs. Arvison Blevins.
BLEVINS, Dorothy Opal
15 Nov 1919
16 Apr 1921
 
unknown
 
 
field stone
BLEVINS, John W.
18 Feb 1864
28 Mar 1914
 
BLEVINS, Susan
10 Nov 1863
25 Feb 1914
 
BLEVINS
5 Feb 1904
5 Feb 1904
child of A.W. & Bertie Blevins
BLEVINS, James M.
17 Dec 1826
26 Mar 1902
son of Wells Blevins; double stone with next
BLEVINS, Margaret
 
26 May 1900
age 82; d/o Andrew Edmondson
BLEVINS, Elizabeth
9 Apr 1798
25 Dec 1868
 
BLEVINS, Wells
18 Oct 1795
25 Dec 1865
 
unknowns
 
 
two field stones
BLEVINS, Arthur
23 Sep 1882
14 Dec 1882
 
Row 17
unknown
 
 
field stone
unknown
 
 
"N.B."; hand chiseled field stone.
BLEVINS, Belinda A.
13 Nov 1835
10 Apr 185_
death date uncertain.
BLEVINS, Selina J.
4 May 1855
16 Aug 1855
 
unknown
 
 
field stone
Row 18
BUCHANAN, Ardna Leah
27 Apr 1909
3 Jan 2001
 
BUCHANAN, Barbara Sue
19 Jul 1943
12 Mar 1973
HART, Celia B.
1884
1960
double stone with next
HART, Isaiah H.
1882
1958
 
HART, Jeroma
1838
1913
 
MESSIMER, Nancy
1835
1902
 
HART, Nancy
 
8 Feb 1902
hand carved field stone
unknown
 
 
"E.H."; hand carved field stone, badly eroded.
HART, Elisha
1824
1865
 
unknowns
 
 
two field stones
STRINGER, Jefferson
8 May 1809
19 Dec 1891
 
unknown
 
 
field stone
BLEVINS, Eula E.
1913
1939
 
BLEVINS, Bartie M.
1881
1942
double stone with next
BLEVINS, Arthur W.
1880
[28 Nov] 1957
[Arthur William; obituary birth 12 Jan 1882]
BLEVINS, Belle J.
1 Apr 1892
7 Dec 1940
double stone with next.
BLEVINS, Ervin
5 May 1891
5 Oct 1972
 
FINLEY, Luther
28 Jan 1910
28 Jan 1917
 
HAMM, Jimmy Dean
28 Mar 1938
29 Mar 1938
 
HAMM, Oakie May
23 Mar 1942
7 Nov 1942
 
unknowns
 
 
two field stones
TESTERMAN, William L.
25 Jul 1930
10 Sep 1962
 
unknowns
 
 
two field stones
Row 19
unknowns
 
 
two field stones
BLEVINS, Bethany
10 Feb 1870
24 May 1914
 
BLEVINS, Martha S.
27 Feb 1847
19 Dec 1878
 
BLEVINS, Wilbern
21 Apr 1844
1 Jun 1910
 
BLEVINS, Martha
12 Jun 1885
18 Sep 1905
d/o Wilbern Blevins
unknown
 
 
field stone
Row 20
unknown
 
 
illegible; this stone might be read by rubbing.
unknown
 
 
field stone
TRIVITT, William
13 Jan 1825
29 Apr 1902
age 76 years 10 mos 16 days. The age on the stone doesn't work with the given dates.
unknowns
 
 
three field stones
HART, Coy L.
22 Jan 1944
 
"Son"; triple stone with next two
HART, Opal B.
29 Jun 1913
15 Aug 1944
"Mama"
HART, Onnie R.
5 Feb 1913
6 Feb 1990
"Papa"
unknowns
 
 
three field stones
BLEVINS, Dosha
28 Dec 1885
16 Apr 1951
 
unknown
 
 
field stone
BLEVINS, Horton
17 Jan 1893
23 Oct 1962
Va Cook Co D 5th Engineers World War I
unknowns
 
 
four field stones
HART, Della
28 Apr 1894
22 Oct 1987
double stone with next
HART, Ora Lee
1 Jun 1904
3 Jul 1960
 
unknowns
 
 
three field stones
Row 21
unknowns
 
 
four field stones
BLEVINS, Denver
16 Jan 1929
25 Oct 1992
s/o Horton W. & Lucy B. Blevins
unknowns
 
 
two field stones
HART, Arthur G.
21 Apr 1884
12 May 1972
double stone with next
HART, Laura A.
16 Apr 1889
3 Jan 1976
 
HART, _____
23 Jul 1861
13 Jul 1951
name illegible
HART, Charlie H.
27 Oct 1921
24 Aug 1944
Va Pvt 141st Inf 36th Inf Division World War II
HART, Pearlie M.
30 Apr 1928
6 Sep 1928
 
HART, Earl A.
23 Jul 1937
3 Jul 1939
 
unknown
 
 
field stone
WINGLER, Bronard C.
1938
1938
s/o Mr. & Mrs. Jake Wingler
WINGLER, Violet
Nov 6, 1919
Jan 26, 1920
 
unknown
 
 
field stone next to road
Row 22
unknown
 
 
field stone
WINGLER, Marie
6 Aug 1929
6 Jun1930
 
GREER, Delores Ann
15 May 1943
10 Oct 1943
d/o Horace & Vada Greer
SHEPHERD, Rebecca H.
2 Feb 1900
5 Jan 1986
triple stone with next two
SHEPHERD, Smith E.
3 May 1896
27 Apr 1960
 
SHEPHERD, Luther E.
22 Dec 1917
25 Feb 1952
[s/o Smith E. Shepherd; h/o Louise]
SHEPHERD, Claudie
16 May 1930
21 Sep 1930
double stone with next
SHEPHERD, Vernard
5 Jun 1927
25 Dec 1933
 
PENNINGTON, Joan
18 Nov 1939
31 Mar 1940
 
unknowns
 
 
four field stones
BLEVINS, Eli
2 Oct 1858
19 Oct 1886
 
BLEVINS, Carma Eli
16 Dec 1909
21 Feb 1910
s/o Gorden & Maggie Blevins
unknowns
 
 
nine field stones
Row 23
unknowns
 
 
ten field stones
BLEVINS, Odell
5 Aug 1925
5 Aug 1925
s/o S.G. & Ennis Blevins
unknown
 
 
field stone
EAGLE, Ira M.
10 Jun 1921
 
double with next.
EAGLE, Edna S.
12 Jul 1922
 
apparently a pre-need stone
WALLS, Wilmer Bruce
12 May 1921
1 May 1991
SC2 U.S. Navy World War II
WALLS, Oscar E.
16 Sep 1893
2 Dec 1974
double stone with next
WALLS, Olivene S.
20 Sep 1896
31 Mar 1985
 
STURGILL, Stella
3 Jun 1929
12 Dec 1982
handmade concrete marker; double stone with next
STURGILL, Amanda
19 Mar 1886
May 1967
 
Row 24
unknowns
 
 
two field stones
SHUMATE, Ann Oakie
22 Oct 1904
 
double stone with next.
SHUMATE, Ira E.
18 Oct 1904
31 Jul 1960
 
SHUMATE, Ludema C.
20 Jul 1862
16 Apr 1937
 
SHUMATE, Harold T.
5 Jan 1931
5 Jan 1931
 
unknowns
 
 
two field stones
BLEVINS, Eli
 
 
Co F 63rd Va Inf CSA
BLEVINS, Wiley Haywood
1859
20 Feb 1897
 
unknowns
 
 
two field stones
WILLIAMS, J.
 
 
hand carved field stone, eroded, name possibly misread.
unknowns
 
 
eleven field stones
Row 25
unknowns
 
 
thirteen field stones
MILLER, Wells
5 Aug 1847
9 Feb 1906
modern quad stone with next three
DUNCAN, Matilda
10 Jun 1849
15 Oct 1883
 
MILLER, Lester
12 Mar 1913
15 Sep 1916
 
MILLER, Howard
12 Mar 1913
18 Jun 1913
 
HARTSOE, William Carl
14 Apr 1918
21 Nov 1957
MM1 U.S. Navy World War II
SHEETS, Maude A
3 Jan 1897
17 May 1982
[Maude Alberta, d/o William & Sarah Wyatt Mahaffey; w/o Charlie Winfield Sheets]
unknowns
 
 
four field stones
SHUMATE, Mattie
2 Oct 1893
11 Nov 1895
 
SHUMATE, Besse A.G.
15 Nov 1891
20 Nov 1895
 
ROSE, Ada G.
23 Jul 1893
2 Dec 1895
 
SHUMATE, J.S.
2 Jan 1859
2 Jan 1910
 
SHUMATE, J. Arthur
11 May 1898
21 Jan 1918
 
unknowns
 
 
two field stones