Phipps Cemetery (Spencer Branch)
Grayson County, Virginia
Location: Laurel Hill – south of Grayson Highlands State Park
Directions: This cemetery is on a high ridge overlooking Laurel Hill Road (Rt 748) about 0.5 mile south of the junction of Laurel Hill Road and Spencer Branch Road (Rt 797). It is on the west side of the road.
GPS Coordinates: N36.585083 W81.479424
Surveyed by: Jeff Weaver on 23 Jun 2003
Comments: This cemetery is accessible only through a thorn thicket. The fence has been largely destroyed, and the cemetery is in a forested area.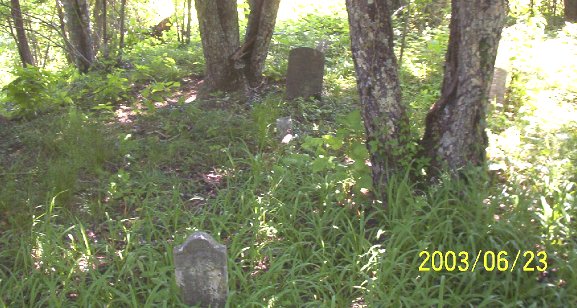 General View of the Phipps Cemetery – Spencer Branch
Phipps Cemetery – Spencer Branch, Grayson County, Virginia
Name
Birth
Death
Comments
Row 1
PHIPPS, Sarah Ann
24 Mar 1887
3 Feb 1917
 
Row 2
unknowns
 
 
two field stones
PHIPPS, Lutie Olga
21 Jun 1900
5 Jul 1905
 
PHIPPS, Ida
22 Jan 1881
12 May 1912