Alleghany County, North Carolina
Location:  Piney Creek
Directions:  Take Virginia Route 767 at Mouth of Wilson, Virginia, follow it unit is intersects with VA SSR 778, which becomes Duncan Road (SR 1313) in North Carolina. This road is closed at the boundary of the New River State Park. Follow the road to the end to find the Old Sturgill Cemetery.
GPS Coordinates:  –
Surveyed by:  Larry Hash
Comments:  In addition to these 6 individuals, seven grandchildren of Francis and Rebecca Sturgill are buried here.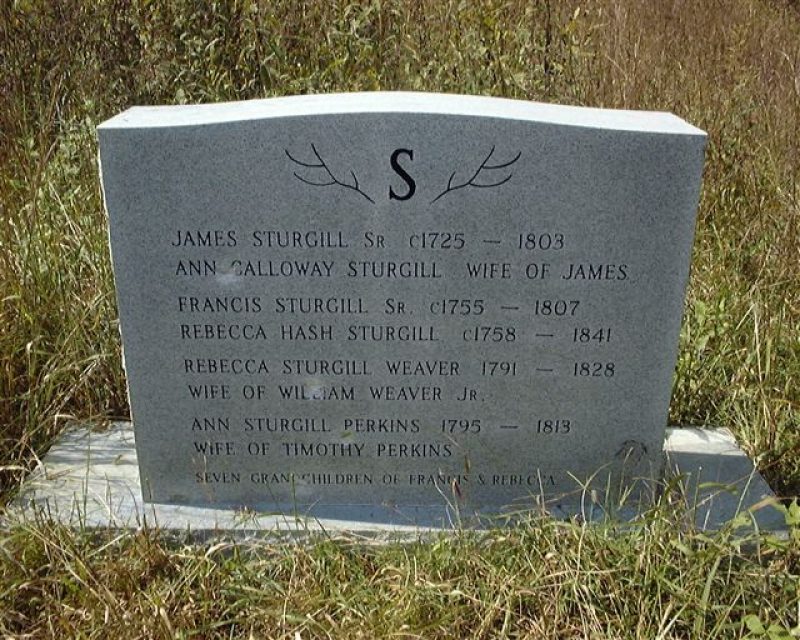 Old Sturgill Cemetery, Alleghany County, North Carolina

| Name | Birth | Death | Comments |
| --- | --- | --- | --- |
| Sturgill, James | ca. 1725 | 1803 | – |
| Sturgill, Ann Calloway | – | – | w/o James Sturgill |
| Sturgill, Francis, Sr. | ca. 1755 | 1807 | s/o James Sturgill & Ann Calloway |
| Sturgill, Rebecca Hash | ca. 1758 | 1841 | d/o Old John Hash & Rebecca Anderson; w/o Francis Sturgill, Sr. |
| Weaver, Rebecca Sturgill | 1791 | 1828 | d/o Francis Sturgill, Sr. & Rebecca Hash; w/o William Weaver, Jr. |
| Perkins, Ann Sturgill | 1795 | 1813 | d/o Francis Sturgill, Sr. & Rebecca Hash; w/o Timothy Perkins |