Liberty Hill Baptist Church Cemetery
Grayson County, Virginia
Location: Grant Community
Directions: From the junction of Flatridge Rd (Rt 658) and Troutdale Hwy (SR 16) go north 0.7 mile on Troutdale Hwy. The cemetery is behind the church on the east side of Troutdale Hwy. Both are visible from the road.
GPS Coordinates: N36.669014 W81.405975
Surveyed by: Jeff Weaver on 7 Mar 2003
Comments: The cemetery is maintained by the church and is kept and well fenced. Parts of the cemetery are on steeply sloping ground, which may make standing difficult. There are 157 graves in this cemetery, marked by traditional grave stone or concrete blocks. The oldest burial dates from 1861. The cemetery apparently was established ca 1895-98 with the older markers having have been moved from elsewhere.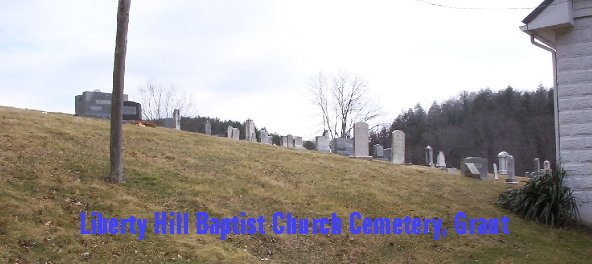 General View of the Liberty Hill Baptist Church Cemetery
Liberty Hill Baptist Church Cemetery, Grayson County, Virginia
Name
Birth
Death
Comments
Row 1
JOHNSON, Charles H.
1922
1922
infant son of Mr. and Mrs. W.H. Johnson
Row 2
KILLINGER, Frances E.
13 Jun 1851
20 Jan 1941
 
KILLINGER, Ezra T.
27 Aug 1845
22 Nov 1930
 
unknown
 
 
concrete block
Row 3
PARSONS, Sharon W.
31 Aug 1955
19 Dec 1985
 
HOPPERS, Daniel Lee
27 Jun 1875
25 Sep 1910
 
HOPPERS, Emily
5 Feb 1848
10 Oct 1910
 
REEDY, Pauline B.
20 Sep 1920
 
double stone with next
REEDY, Riley B.
24 Aug 1909
19 Mar 1981
married 27 Jul 1946
HUDLER, John B./R.
23 Mar 1889
9 Nov 1913
 
HUDLER, M.F. Hash
30 Sep 1886
15 Mar 1912
w/o E.C. Hudler
DEBORD, Maudie Mae
22 Dec 1885
10 May 1910
w/o B.C. DeBord
BARKER, Arnie W.
20 May 1917
21 Jun 1980
double stone with next
BARKER, Evelyn W.
20 Nov 1924
 
 
BARKER, Calvin Eugene
21 Oct 1936
25 Jul 1964
"Son"; photograph of young man in uniform; quad stone with next three
BARKER, Laura
22 Apr 1914
12 Feb 1994
[nee Brooks]
BARKER, Ora
24 May 1908
14 Feb 1982
[s/o Eugene & Dora Blevins Barker]
BARKER, Carson Lee
26 May 1940
20 Jun 1966
"Son"; photograph of young man
RUTHERFORD, Velma A.
9 Aug 1921
 
[nee Parks]; recent burial; double stone with next
RUTHERFORD, Walter W.
24 May 1914
7 Mar 1956
[Walter Wayne, s/o Tom & Minnie Bennett Rutherford]
Row 4
HOWELL, Terry Randall
13 Apr 1954
15 Apr 1954
s/o Mr. and Mrs. Goss B. Howell
PARKS, Weldon M.
12 Jan 1874
15 Apr 1965
[Weldon Manuel, s/o Emmanuel and Margaret Parks; m1 Cora Nelson, m2 Gincy Hash]; double stone with next
PARKS, Gincy H.
11 Sep 1884
2 Oct 1971
[d/o Joseph and Hannah Hash]
ROSS, Victor F.
8 Sep 1922
26 Feb 1999
double stone with next
ROSS, Mary L.
30 Nov 1928
 
 
ROSS, Cora E.
4 Sep 1904
 
double stone with next
ROSS, Earl C.
29 May 1895
9 Oct 1984
Cpl U.S. Army World War I
ROSS, Jennie
1866
1951
[Virginia Ruth, d/o Daniel & Polly Robbins]; double stone with next
ROSS, Enoch
1866
1955
[Enoch Francis, s/o Andrew Jackson and Lucy Bonham Ross; obit info lists birth as 18 May 1861, death as 12 Jan 1956]
CARTER, Henrietta Grace Phipps
11/14 Nov 1880
30 Mar 1907
married James Monroe Carter 11 Oct 1896
CARSON, Marry E.
7 Mar 1841
13 Jun 1909
 
JONES, Zane
19 Jan 1925
26 Jan 1932/1930
s/o W.D. and Gwen Jones
JONES, William D.
15 Mar 1895
24 Jan 1966
Va PFC 25th Trans Co World War I
LOVELACE, Troy F.
[28 Sep] 1862
[25 Jan] 1946
[Troy Franklin]; double stone with next
LOVELACE, Sally M.
[13 Feb] 1870
[7 Aug] 1958
[Sallie Matilda, d/o Eli S. & Lucy Anderson Young]
unknowns
 
 
three concrete blocks
TESTERMAN, Eugene
30 Apr 1909
30 Apr 1909
double stone with next
TESTERMAN, Louene Seal
30 Apr 1909
18 Jan 1913
twin children of Neal and Susan Testerman
Row 5
WILLIS, Ruby D.
1902
1976
[nee Dixon]; double stone with next
WILLIS, Leslie H.
[19 Oct] 1902
[20 Oct] 1980
[Leslie Hubert, s/o Sidney & Margaret Martin Willis]; Masonic emblem on stone
PEAK, Sarah Lue
21 Jul 1886
24 Jun 1909
 
unknowns
 
 
three concrete blocks
POVEY, L. Irene
23 May1917
3 Apr 1997
double stone with next
POVEY, Frank
1918
2001
married 3 Oct 1943
BLEVINS, M. Lawson
1866
1936/1928
 
BLEVINS, Alberta
1866
1928
 
McGINNIS, Hugh B.
20 Oct 1905 31 Jul 1906
21 Jan 1906 01 Dec 1906
[Hugh Bryant], s/o Dr. W.P. & Mintie B. McGinnis
McGINNIS, Mintie B.
20 Oct 1864
27 Mar 1924
double stone with next
McGINNIS, William P.
10 Aug 1861
4 Mar 1924
 
ANDERSON, Carolyn R.
1938
1947
double stone with next
ANDERSON, Lincoln H.
1944
1947
 
ANDERSON, Mary Neaves
6 Jun 1911
4 Nov 1997
double stone with next
ANDERSON, Lincoln Vance
7 Sep 1913
23 May 1978
[s/o Martin Gleaves & Rose Halsey Anderson]
WARREN, Martha
6 Oct 1863
20 Oct 1955
[Martha Ashley, w/o T.R. Warren]
WARREN, Gloria Jean
1954
1955
 
WARREN, Dora Ruth
21 Oct 1903
23 Jul 1949
double stone with next
WARREN, John F./E.
31 Jul 1904
12 Mar 1967
 
WARREN, Hazel Mae
3 Aug 1907
21 Jul 1954
 
WARREN, Jones/James
1904
1968
funeral home marker
PARKS, Walter B.
25 Sep 1910
19 Feb 1962
 
PARKS, Charlsie D.
 
16 Feb 1938
[Unsure if this is a baby or an adult; only one date inscribed.]
Row 6
unknowns
 
 
two concrete blocks
BARKER, Mary J.
4 Jun 1873
15 Oct 1929
double stone with next
BARKER, Loyd C.
12 Aug 1858
11 Feb 1940
 
BARKER, William Eugene
14 Feb 1942
10 Mar 1942
 
PARKS, Inez Barker
7 Jun 1901
29 Dec 1954
 
CAMPBELL, Louella Maye
15 Jan 1934
9 Mar 1934
 
BARKER, Josephine
Mar 1925
Jun 1926
 
BARKER, Dora
1854/1884
1932
double stone with next
BARKER, Eugene
1877
1950
 
WATKINS, Lucy J.
1870
1959
 
WATKINS, J.J., Prof.
2/12 Dec 1859
5 Aug 1905
 
YOUNG, Ray Hubble
2 Aug 1880
5 Aug 1881
s/o R[eece] W[illiam] and Martha] P. [Hubble] Young
YOUNG, Anne Free
8 Feb 1876
30 Jun 1876
d/o R[eece] W[illiam] and Martha] P. [Hubble] Young
YOUNG, W[iley] G[ordon]
25 Jun 1824
5 Mar 1908
[s/o William & Jane Charity Baker Young]; double stone with next
YOUNG, Elizabeth Greear
11 Jul 1824
3 May 1875
[d/o Shadrach & Sarah Greear]
YOUNG, Shadrach G.
2 Dec 1843
18 Nov 1861
age 17 years, 11 months 16 days; [Shadrach Greear, s/o Wiley Gordon & Elizabeth Greear Young]; oldest identifiable burial in this cemetery
YOUNG, Ray C.
19 Dec 1895/1897
12 Jul 1899
s/o C.O. and Aly Young
PEAK, Mamie Catherine
23 Dec 1908
17 Apr 1909
 
COMER, Kenly Wayne
25 Jan 1908
24 Jan 1910
s/o W.J. and Ollia Jennette Comer
COMER, Willie C.
8 Jan 1910/1913
1 May 1914
s/o W.J. and Ollia Jennette Comer
COMER, Ollia Jennette
3 Nov 1882
22 Jun 1917
w/o W.J. Comer
DIXON, Wiley Jan
13 Oct 1908
11 Feb 1984
double stone with next
DIXON, Pauline Sheets
30 Jul 1912
27 Nov 1990
 
Row 7
SNELL, Terry B.
14 Jul 1923
11 Jun 1990
[d/o Estelle Bewley; w/o George K. Snell]
COMER, William Jack
1882
1935
 
McKEE, Hunter
26 Apr 1893
25 Oct 1898
s/o Dr. J.B. and C.B. McKee
McKEE, Harvey Swanson
30 May 1898
27 Dec 1913
 
DIXON, John Andrew
24 Mar 1844
29 Jun 1936
double stone with next
DIXON, Victoria Greear
18 Jan 1862
2 Mar 1934
 
GREEAR, Shadric Wiley
3 Mar 1879
17 Dec 1909
 
GREER, Ludema
27 May 1838
10 Oct 1905
[d/o Ezekiel & Evaline McMillan Young; w/o Eli W. Greer]; triple stone with next two
GREER, Eli W.
6 Oct 1836
27 Feb 1901
[Eli Washington, s/o Shadrach & Sarah Greear/Greer]
GREEAR, Fannie C.
8 May 1866
19 Dec 1905
[nee Frances Porter; 1st]; w/o A.N. Greear
GREEAR, Verna M.
20 Feb 1896
2 Dec 1898
d/o A.N. and Fannie C. Greear
GREEAR, Cenia Iva
4 Apr 1903
11 Feb 1904
d/o A.N. and Fannie C. Greear
GREEAR, A[lonzo] N.
27 May 1861
13 Apr 1920
[s/o Eli W. & Ludema Young Greer]; age 58 years 9 months 6 days
BARKER, Quincy F./E.
12 Oct 1877
3 Jun 1902
age 24 yrs 7 mo 21 ds
BARKER, John Wiley
22 Apr 1871
14 May 1949
 
unknown
 
 
concrete block
CAMPBELL, James Monroe
18 Dec 1903
29 Mar 1906
[s/o David F. and Ruthie Mae Campbell]; shared stone with next two
CAMPBELL, David F.
4 Jul 1877
28 Feb 1906
 
CAMPBELL, Ruthie May
22 Sep 1902
19/29 Dec 1902
d/o D.F. and C.E. Campbell
unknown
 
 
concrete block
CAMPBELL, A.L.
6 Jul 1850
21 Mar 1902
 
CAMPBELL, Meryan Matilda
31 Dec 1837
17 Jan 1917
age 79 years 17 days
unknown
 
 
concrete block
FELTS, Kentry
5 May 1907
7 May 1907
s/o J.F. and F.J. Felts
unknown
 
 
concrete block
unknown
 
 
wooden stake marker
unknown
 
 
concrete block
PARKS, Bessie
 
 
concrete block
PARKS, Bonnie
 
 
concrete block
Row 8
REED, Sarah E.
1858
1909
 
SMITH, Martha Almedia
15 May 1878
8 Dec 1920
age 42 years 6 mos 24 days
REED, Eli
1853/1855
1926
 
ROSS, Wiley F.
24 Mar 1887
13 Feb 1900
age 18 yrs 10 mos 19 d
unknowns
 
 
two concrete blocks
ADAMS, Cynthia Victoria
16 May 1881
19 May 1906
 
unknowns
 
 
three concrete blocks
GREEAR, Virginia C.
21 Aug 1899
31 Dec 1899
d/o W.S. and Jessie Greear
DIXON, Winnie Hash
1 Aug 1884
19 Apr 1904
w/o J.M. Dixon
DIXON, Wayne D.
1906
[11 Jul] 1952
 
GREEAR, Infant
3 Mar 1909
9 Mar 1909
s/o Clabe and Cinthia Greear
unknowns
 
 
two concrete blocks
CAMPBELL, Anna Hazel
22 Dec 1906
6 Jul 1908
daughter of K.M. & Lana Campbell; age 18 mos 14 days
Row 9
BRAGG, James Edward
24 Jan 1916
28 Dec 1916
 
BLEVINS, Wanda Odell
24 Dec 1923
10 Jan 1926
d/o W.A. and Nonie Blevins
GREER, Joseph M.
9 Feb 1915
10 Apr 1940
 
GREER, William Baker
24 Apr 1890
28 Sep 1918
double stone with next
GREER, Ola McGinnis
8 Apr 1890
14 Aug 1922
 
GREER, Cynthia Parks
1857
1939
double stone with next
GREER, Shadrach Marshall
1851
1922
 
CAUDELL, Chloe M.
17 Mar 1934
10 Dec 1997
double stone with next
CAUDELL, William V.
16 May 1924
 
 
CAUDELL, Clyde W.
11 Jul 1920
11 Feb 1971
Va PFC 897th Field Artillery Battalion U.S. Army World War II
unknown
 
 
concrete block
CAUDELL, Clara M.
1897
1976
double stone with next
CAUDELL, William F.
1890
1955
 
CAUDELL, Phyliss Ann
8 Mar 1958
8 Mar 1958
d/o Mr. and Mrs. William V. Caudell
unknown
 
 
concrete block
GREER, Sarah Elizabeth Drennon
 
 
"Aunt Bess"
GREER, Andrew J.
29 May 1843
29 Apr 1920
member Masonic Lodge
unknown
 
 
concrete marker "E.V."
Row 10
CAUDELL, Walter Claude
21 Nov 1917
5 Feb 1991
Spec 5 U.S. Army World War II
PARKS, Worth W.
2 June 1907
22 Jun 1994
double stone with next
PARKS, Mattie O.
22 Jun 1911
5 Aug 2002
 
REEDY, Penny Lynn
8 Jul 1971
10 Jul 1971
 
McCARROLL, Frank A.
5 Oct 1887
2 Apr 1933
[s/o Evan R. & Mary Menerva Graybeal(?) McCarroll]; Masonic symbol; double stone with next
McCARROLL, Emma Price
10 Sep 1887
8 Jun 1938
 
YOUNG, Lucy Irene
11 May 1917
4 Apr 1949
[d/o Marshall Columbus & Mattie Rebecca Grubb Young]
YOUNG, Mittie R.
8 Aug 1882
26 Apr 1958
[nee Mattie Rebecca Grubb; w/o Marshall Columbus Young]
YOUNG, Marshall C.
7 Apr 1877
28 May 1956
[Marshall Columbus, s/o Alexander & Rebecca Osborn Young]
YOUNG, Archie C.
23 May 1902
16 Mar 1961
[Archie Con, s/o Marshall Columbus & Mattie Rebecca Grubb Young]
Row 11
GREER, A. Louise
6 May 1914
24 Mar 1915
d/o C.F. and Lelia L. Greer
Believed to be buried here
CAUDILL, William Franklin
[12 Jul 1896]
[24 Oct 1955]
[s/o Josiah & Sarah Hines Caudill; h/o Clara]