Hines Branch Methodist Church Cemetery
Grayson County, Virginia
Location: East of Elk Creek
Directions: The Hines Branch Methodist Church Cemetery is located on Hines Branch Rd (Rt 654), north of Carsonville Road (Rt 660) in Providence District (between Elk Creek and Fries). This church was sold by the United Methodist Church, and currently it is a non-denominational church.
GPS Coordinates: N36.710492 W81.115543
Surveyed by: Jeff Weaver
Comments: This cemetery has a good fence and is well maintained. Kathy Johnson provided much of the family information in this listing.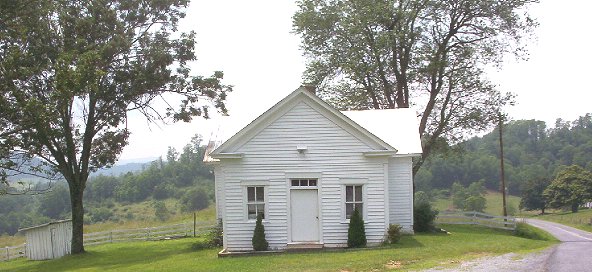 General View of the Hines Branch Methodist Church
Hines Branch Methodist Church Cemetery, Grayson County, Virginia
Name
Birth
Death
Comments
Row 1
BALDWIN, Addie Mae
9 Sep 1924
 
double stone with next
BALDWIN, Ovis L.
18 Mar 1916
4 Apr 1990
PFC U.S. Army World War II; [Ovis Leon, s/o William & Hattie Thomas Baldwin]
SHEETS, Brenda L.
30 Mar 1945
 
double stone with next
SHEETS, Delmer R.
14 Feb 1941
1 Apr 1993
[Delmer Reece, s/o Everett & Maggie Dixon Sheets]
HINES, John M.
2 May 1877
28 Jul 1953
[s/o William & Rosamond Caroline"Rausy" Vaughan Hines]
HINES, James Wylie
17 Jan 1892
19 Jan 1974
[s/o William & Rosamond Caroline"Rausy" Vaughan Hines]
HINES, Alfred C.
5 Nov 1890
2 May 1965
[Alfred Charles, s/o William & Rosamond Caroline"Rausy" Vaughan Hines]
CLARK, Aileen Elizabeth
9 Jan 1921
17 Jun 1936
[d/o Pratt & Maude Hines Clark]
HINES, Cora Virginia
2 Mar 1875
22 Jul 1933
[d/o William & Rosamond Caroline"Rausy" Vaughan Hines]
WHITMAN, Lottie Hines
27 Mar 1896
3 Mar 1924
[s/o William & Rosamond Caroline"Rausy" Vaughan Hines; w/o George Whitman]
HINES, Laura Matilda
25 Mar 1873
7 Oct 1956
[d/o William & Rosamond Caroline"Rausy" Vaughan Hines]
Row 2
STEGAL, Bina Maye Hines
7 Sep 1906
19 Sep 1926
d/o Lonnie & Mallie [Bedwell] Hines; w/o J.E. Stegal
HINES, Mallie
13 Jul 1882
4 Sep 1923
[Mallie Rose, d/o James & Mary Ann ":Polly" Hines Bedwell; w/o Lonnie Hines]
HINES, Lonnie
17 Jan 1883
31 Jul 1922
[s/o William & Rosamond Caroline"Rausy" Vaughan Hines]
HINES, Donner L.
30 Apr 1885
7 May 1914
[d/o William & Rosamond Caroline"Rausy" Vaughan Hines]
CLARK, Maude Hines
17 Feb 1894
14 Jan 1921
w/o H. P[ratt] Clark; [d/o William & Rosamond Caroline"Rausy" Vaughan Hines]
HINES, William
19 Sep 1853
9 Oct 1922
[s/o Lucinda Hines]
HINES, Rausy Caroline Vaughan
3 Aug 1856
8 Jul 1949
w/o William Hines; [d/o John & Matilda Bedwell Vaughan]
HINES, Mallie Elizabeth
27 Aug 1898
12 May 1950
[d/o William & Rosamond Caroline"Rausy" Vaughan Hines]
HINES, G. Ellis
4 Aug 1873
7 Mar 1911
[George Ellis, s/o Freelin "Freel" & Evelyn H. Roberts Hines]
HINES, Margaret
14 Aug 1896
24 Dec 1932
[d/o Kenny & Mary Ann "Polly" Vaughan Funk; w/o George Ellis Hines]
HINES, Infant
23 Dec 1928
24 Dec 1928
child of Mr. & Mrs. Edgar Hines
HINES, Freel
5 May 1851
26 May 1939
[s/o George & Mary "Polly" Anderson Hines]
HINES, Evelyn
21 Feb 1850
25 Jan 1903
w/o Freel Hines; [d/o Micajah Stone & Ollie J. Vaughan Roberts]
ANDERSON, Infant
25 Jul 1932
25 Jul 1932
infant d/o Fred Anderson
SHEETS, Shelia Lynn
20 Feb 1973
22 Feb 1973
d/o Delmer & Brenda Sheets
CORNETT, Samuel A.
28 May 1902
17 Nov 1946
double stone with next
RIDER, Trula Cornett
29 Mar 1908
27 Mar 1995
 
ANDERSON, Ellis Rush
23 Feb 1874
13 Jun 1965
[s/o George & S. Ann Houck Anderson]; double stone with next
ANDERSON, Dora Hines
10 Jun 1875
10 Aug 1962
[d/o Freeling "Freel" & Evelyn Roberts Hines]
CORNETT, George C.
1941
1982
 
FADDIS, Rubye B.
8 Jun 1914
16 Jun 1982
[Rubye Marie, s/o James K. & Lelia Mae Sexton Bedwell; w/o Faye Faddis]
BEDWELL, James Kinley
7 Sep 1890
6 Jan 1933
[s/o Pinckney Lafayette & Mary Elizabeth Sturdivant Bedwell]; double stone with next
BEDWELL, Lelia Mae Sexton
13 Apr 1894
27 Jul 1981
[d/o James Doyle & Ollie Jane Hines Sexton]
BEDWELL, James Argyl
28 Aug 1922
7 Feb 1994
[s/o James Kinley & Lela Mae Sexton]
Row 3
CUSTER, T.F., Jr.
6 Mar 1929
13 Jun 1931
[s/o T.F. & Maggie Sexton Custer]
BEDWELL, Grady
[14 Aug] 1916
[9 Sep] 2001
[Grady Lee, s/o James Kinley & Lelia Mae Sexton Bedwell]; funeral home marker
HINES, Janie
1940
1941
 
HINES, S. Janie
1905
1941
 
HINES, Hyda R.
2 Jun 1904
1 Jul 1981
[s/o George Ellis & Margaret N Funk Hines]; double stone with next
HINES, Lillian L.
12 Mar 1911
 
 
MABE, Elise Hines
27 Jun 1911
11 Jun 1997
 
HINES, Eddie J.
19 Mar 1879
29 Jun 1882
[Edward Johnson, s/o William & Rosamond Caroline "Rausey" Vaughan Hines]
HINES, Rosa May
5 Mar 1887
5 Aug 1907
[d/o William & Rosamond Caroline "Rausey" Vaughan Hines]
HINES, Wilson
10 Dec 1903
15 Dec 1903
 
HINES, James
20 Dec 1912
20 Dec 1912
s/o Lonnie & Mallie [Rose Bedwell] Hines
HINES, Harry W.
20 Dec 1912
13 Jan 1913
s/o Lonnie & Mallie [Rose Bedwell] Hines
HINES, Ruth V.
15 Jun 1916
26 Jun 1916
d/o Lonnie & Mallie [Rose Bedwell] Hines
unknown
 
 
field stone
LEONARD, Virginia
1919
16 Sep 1945
 
EDWARDS, V.C.
13 Mar 1913
9 Mar 1922
 
EDWARDS, Kent
1924
1943
[s/o David C. & Emily Sexton Edwards]
EDWARDS, Emily M.
1889
1935
[Emma, d/o S.W. & S.E. Sexton; w/o David C. Edwards]
EDWARDS, David Crockett
8 Aug 1886
21 Jun 1958
[s/o Floyd & Jane Edwards]
EDWARDS, Blanche Martin
1 Jul 1886
28 Aug 1948
 
BOURNE, William G.
112 Sep 1948
18 Dec 1976
 
BOURNE, Billie T.
11 Nov 1919
2 Aug 1974
 
Row 4
BOURNE, John
 
 
Co C 63rd VA Inf CSA
BOURNE, Peggy
1865
1950
field stone with sand blasted engraving, unusual stone
BOURNE, William T.
22 Apr 1887
2 Jun 1940
 
BOURNE, Lizzie
16 Nov 1891
29 Sep 1967
 
BOURNE, Clarence
21 Apr 1914
8 Apr 1984
 
AKERS, Travis L.
27 Dec 1992
27 Dec 1992
 
unknown
 
 
field stone
unknowns
 
 
two graves marked by bricks
MOLLOY, Zachary Andrew
17 May 1994
19 Aug 1994
[s/o Thomas Matthew & Amy Denise Rhudy Molloy]
ELSWICK, Park
1898
1961
double stone with next
ELSWICK, Mabel
1906
1994
[d/o Charlie Beckner & Minnie Jones Hines]
HINES, Minnie
19 Jun 1887
1 Mar 1911
w/o C.B. Hines; [d/o John H. & Harriet J. Jones]
HINES, Infant
11 Jan 1910
11 Jan 1910
child of C.B. & M. Hines
HINES, Infant
11 Dec 1908
11 Dec 1908
child of C.B. & M. Hines
SEXTON, Minnie
1911
2002
[d/o Charlie Beckner & Minnie Jones Hines]; double stone with next
SEXTON, Sam
1906
1985
[s/o James Wesley & Jennie B. Funk Sexton]
Row 5
MURRAY, Charles, Jr.
10 May 1929
10 May 1929
s/o Newt & Juanita Murray
HINES, Virginia P.
18 May 1879
18 May 1959
[d/o Byrom Crockett & Margaret J. Roberts Hines]
HINES, Walter
26 Sep 1879
4 Dec 1950
[John Walter, s/o Byrom Crockett & Margaret J. Roberts Hines]
HINES, Callie
[16 Jan] 1887
11 May 1919
[Caledonia Chessman, d/o Byrom Crockett & Margaret J. Roberts Hines]; stone broken, repaired, obscuring part of date
HINES, B[yram] C.
22 Feb 1844
11 Sep 1910
[Byram Crockett, s/o John & Sallie Hines]
HINES, Margaret J.
17 Apr 1848
8 Jan 1937
[d/o Micajah Stone & Olly J. Vaughan Roberts; w/o Byram Crockett Hines]
BURRIS, Linda Darnell
5 Jun 1941
5 Jun 1941
 
WADDELL, Home Gale
24 Jul 1919
4 Nov 1919
[twin s/o L. Frank & Emma N. Sexton Waddell]
SEXTON, Bessie Mae
1 Aug 1896
Oct 1911
[d/o John Wesley & Jennie B. Funk Sexton]
SEXTON, Jennie Funk
27 Nov 1871
16 Nov 1909
[d/o Kenny B. & Mary "Polly" Vaughan Funk; w/o John Wesley Sexton]
SEXTON, Jennie Delp
5 Jan 1875
16 Feb 1920
[Martha J., d/o Michael Delp; 2nd w/o John Wesley Sexton]
unknown
 
 
field stone
SEXTON, Delia V.
26 Jan 1902
29 May 1903
 
HINES, Baby
 
 
small granite marker
HINES, Baby
 
 
small granite marker
SEXTON, Ada E.
24 Jun 1895
24 Jun 1895
 
unknowns
 
 
two graves marked with bricks
DOWELL, Betty Sue
6 Jun 1948
20 Aug 1992
[d/o Claude Everett & Annie Ora Bourne Dowell]
Row 6
BOYER, Stella C.
15 Mar 1901
12 Nov 1914
 
BOYER, Lillie May
1 Dec 1898
11 Jan 1899
 
BOYER, M[ordacai] F.
16 Apr 1839
5 Dec 1900
[Mordacai Fleming, s/o Stephen & Nancy Boyer]
BOYER, Kate M.
9 Aug 1843
1 Jan 1917
[Catherine M., d/o George & Mary "Polly" Anderson Hines]
FUNK, Freel
8 Jun 1850
18 Mar 1910
[s/o John & Mary "Polly" Vaughan Funk]; double stone with next
FUNK, Jane
4 Feb 1856
18 Feb 1911
[Frances Jane, d/o William & Elizabeth Warrick Vaughan]
BOYER, Clifford
7 Jun 1909
11 Mar 1965
[s/o Ed & Emma Rector Boyer]
BOYER, James
Aug 1873
Jun. 1956
[s/o Mordacai F. & Catherine M. Hines Boyer]
BOYER, Sallie
20 Aug 1883
23 Dec 1924
[Sarah Elmore, d/o Byrom Crockett & Margaret Roberts Hines]
BOYER, Hattie D.
22 Mar 1881
9 Sep 1944
[Hattie Darthula, d/o William M. & Sarah E. Kinser]; double stone with next
BOYER, Robert L.
7 Dec 1877
23 Feb 1964
[s/o Mordacai F. & Catherine M. Hines Boyer]
BOYER, Joe
9 Sep 1882
3 Jan 1952
[s/o Mordacai F. & Catherine M. Hines Boyer]; double stone with next
BOYER, Chloria
25 Aug 1887
14 Jan 1974
[d/o Fielding Noah "Cock" & Ascha Ann Funk Hines]
Row 7
HINES, Vilas R.
17 Sep 1909
9 Sep 1929
s/o W.M. & D.E. Hines
HINES, Dorcy Poole
1887
1941
[d/o William Fielden & Victoria Livesay Poole]; double stone with next
HINES, William M.
1884
1953
[s/o Fielden Noah "Dock" & Ascha Ann Funk Hines]
HINES, Reece M.
4 Mar 1882
19 May 1950
[s/o Fielden Noah "Dock" & Ascha Ann Funk Hines]; double stone with next
HINES, Lessie N.
21 Jul 1888
19 Mar 1937
[Lessie Novella, d/o Heath H. & Sarah Anderson Hensley]
HINES, Lelia Dell
20 Mar 1912
8 Jan 1929
[twin] d/o Reese & Lessie Hines
BRUNNER, Rebecca Hines
3 Jun 1880
24 Dec 1919
[d/o Fielden Noah "Dock" & Ascha Ann Funk Hines]
HINES, Ann A.
29 Mar 1843
30 Dec 1909
[Ascha Ann, d/o Andrew & Margaret Smith Funk]
HINES, F[ielden] N.
4 May 1855
4 Apr 1937
[Fielden Noah "Dock", s/o Frederick & Rebecca Daniel Hines]
HOUK, Jane
31 Jul 1853
23 Oct 1930
[Mary Jane, d/o George & Mary "Polly" Anderson Hines]; double stone with next
HOUK, Frank M.
28 Dec 1853
18 May 1924
[s/o Martin & Susan Houk]
unknown
 
 
block
HINES, Sallie
25 Jan 1871
26 Jun 1943
[d/o Fielden Noah "Dock" & Ascha Ann Funk Hines]
HINES, E[mery] J.
5 Oct 1871
4 Sep 1948
[Emery Johnson, s/o Freeling & Evelyn H. Roberts Hines]
unknowns
 
 
three blocks
HINES, Lucinda
21 Feb 1826
1 Jan 1912
[d/o Jacob Heinrich & Hannah Reppard Hines]
HINES, Charlotte
24 Jan 1815
8 Jan 1896
[d/o Jacob Heinrich & Hannah Reppard Hines]
unknowns
 
 
three field stones; [believed to be buried here: Jacob Heinrich & Hannah Reppard Hines, who started this cemetery]
unknown
 
 
marble stone inscribed "God's Baby Girl"; grave next to the fence at the lower end of the cemetery
Row 8
HINES, Fannie Smith
11 Nov 1873
14 May 1914
[d/o Tansel Marvin & Amelia Woods Smith; 1st w/o James R. Hines]
HINES, James R.
5 Jun 1863
23 Apr 1946
[James Robey, s/o John & Mary "Polly" Funk Hines]
HINES, Flora Jackson
1 Mar 1907
6 Aug 1927
[1st w/o Paul Johnson Hines]
HINES, Paul Johnson
7 May 1904
13 Nov 1984
[s/o James R. & Fannie Smith Hines]
HINES, Ollie Caroline
7 Jun 1913
8 Mar 1994
[d/o Lonnie & Mallie Bedwell Hines; 2nd w/o Paul Johnson Hines]
HINKES, Paul Orbin
21 Jul 1933
21 Jul 1933
[s/o Paul Johnson & Ollie Caroline Hines Hines]
unknowns
 
 
four field stones
FUNK, George E.
5 Sep 1863
19 Oct 1947
[George Emmett, s/o Andrew Jackson & Nancy Caroline Hines Funk]
FUNK, Mary E.
1867
18 Jan 1905
w/o G[eorge] E. Funk; [d/o Kenny B. & Mary Ann "Polly" Vaughan Funk]
DAVISON, Grace
28 Mar 1922
23 Feb 1945
[d/o Carl C. & Lennie E. Martin Funk; w/o Thomas Jefferson Davidson]
FUNK, Lyda B.
1 Apr 1926
20 Dec 1926
 
FUNK, George Carl
26 Oct 1886
19 Feb 1937
double stone with next
FUNK, Linnie Martin
4 Oct 1892
11 Jan 1992
[Linnie Ellen, d/o George & Alice Hale Martin]
FUNK, Infant Son
17 Jun 1959
17 Jun 1959
infant s/o Cecil & Mae Funk
VAUGHAN, Lilburn J.
26 Sep 1850
5 Apr 1941
[Lilburn Johnson, s/o John M. & Matilda Bedwell Vaughan; he operated the funeral home on Hines Branch]
VAUGHAN, Canzada Hines
19 Jun 1848
5 Feb 1928
w/o Lilburn J. Vaughan; [d/o George & Mary "Polly" Anderson Hines]
WADDELL, John W.
9 Nov 1923
8 Jul 1982
 
WADDELL, Frank
16 May 1898
2 Nov 1977
[s/o Vance Waddell]; double stone with next
WADDELL, Emma
16 Mar 1898
16 Aug 1977
[d/o John Wesley & Jennie B. Funk Sexton]
SEXTON, John W.
6 Feb 1869
1 Jun 1944
[John Wesley, s/o David & Susan Ann Taylor Sexton]
FUNK, Kenny
21 Dec 1843
14 Oct 1934
Co C 8th VA Cav CSA; [s/o Kenny & Mary "Polly" Vaughan Funk]
Row 9
ROBERTS, Ethel M.
25 Feb 1902
11 Feb 1969
[d/o John William & Mallie Ellen Vaughan Funk]; double stone with next
ROBERTS, Claude M.
7 Jan 1887
26 Oct 1940
[s/o John Leftrich & Sarah A. Vaughan Roberts]
JOINES, Grace B.
[14 May] 1901
[26 Feb] 1982
[Laura Grace, s/o Thomas & Minnie Paulette Rhudy Cornett; w/o Carlton R. Joines]
BEDWELL, George Maiden
1888
1932
[s/o Robert Reed "Bud" & Minnie Ellen Hall Bedwell]
MABE, Ruby J.
1933
2001
funeral home marker
ROBERTS, Lula Ruth
22 Oct 1895
21 Dec 1966
 
ROBERTS, Shirley Mae.
30 Aug 1937
2 Mar 1939
 
unknown
 
 
field stone
ROBERTS, Minnie
7 Jan 1880
17 Feb 1912
[w/o William I. Roberts]
ROBERTS, William I.
28 Apr 1875
17 Apr 1948
 
McMICKLE, Forest Thomas
17 Dec 1936
15 Jan 1937
 
BURRIS, Mary B.
10 Mar 1889
31 Jan 1979
[d/o William & Peggy Yarbor Bourne; w/o James H. Burris]
BURRIS, James H.
1882
1971
[James Henry, s/o Samuel J. & Rosa Funk Burris]
unknowns
 
 
two field stones
BURRIS, Ella Mae
5 Apr 1914
19 Aug 1933
 
COLE, Hurley M.
20 Jul 1918
23 Apr 1998
 
unknown
 
 
illegible stone
unknown
 
 
plot lined with low concrete wall, but no grave marker