Grayson County, Virginia
Location: Fox
Directions: From the intersection of Wilson Hwy (US 58) and Fox Creek Rd (Rt 711) at Fox go north 2 mi to Fox Ridge Road (Rt 678) and then left 0.8 mi to private road on right. Go 500 yards and right through woods and brush.
GPS Coordinates: N36.618820 W81.321656
Surveyed by: Joe W. Phipps. Additional information is from Ginger Ballard and Paul Herndon.
Comments: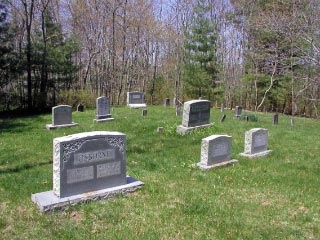 General View of the Hash-Osborne Cemetery
Hash-Osborne Cemetery, Grayson County, Virginia

| Name | Birth | Death | Comments |
| --- | --- | --- | --- |
| HASH, Curtis Dale | 18 Jun 1936 | 28 Sep 1937 | s/o Greek G. & Polly M. Hash |
| HASH, Vera Aleen | 22 Apr 1932 | 22 Apr 1932 | d/o Greek G. & Polly M. Hash |
| HASH, Watson | 1864 | 1939 | [s/o Joseph Rimer and Mary Polly Cole Hash]; double stone with next |
| HASH, Nancy Halsey | 1865 | 1924 | [d/o Elder William B. and Mahala Bishop Halsey] |
| HASH, Cynthia | 31 Mar 1846 | 27 Jun 1913 | [d/o Joseph Rimer and Mary Polly Cole Hash] |
| OSBORNE, R.F. | 25 Dec 1908 | 3 Jan 1909 |   |
| OSBORNE, J.A. | 11 Mar 1889 | 27 Jun 1912 | [possibly Joseph, s/o Robey and Zilda Osborne] |
| HASH, Boyden |   | 8 Feb 1880 | age 20 yrs 5 mo 16 days; [s/o Joseph R. and Mary Polly Cole Hash] |
| HASH, Edward | 5 Apr 1874 | 19 Oct 1886 | age 12 yrs 6 mo 14 days; [s/o Floyd and Annie Hash] |
| HASH, Arthur C. | 19 Jun 1880 | 25 Jan 1890 | age 10 yrs 5 days; [s/o Floyd and Annie Hash] |
| HASH, Millie/Minnie L. | 22 Dec 1889 | 20 May 1891 | age 1 yr 5 mo |
| HASH, Floyd | 2 May 1847 | 15 Mar 1929 | age 81 yrs 10 mo 13 days; [s/o Joseph R. and Mary Polly Cole Hash]; double stone with next |
| HASH, Helena Joan | 25 Dec 1846 | 3 Aug 1938 | 91 yrs 7 mo 9 days; ["Annie", d/o Jacob Anderson "Andre" and Miriam Perkins Hash] |
| OSBORNE, Robey A. | 1860 | 1908 | age 47 yrs 5 mo 18 ds; [s/o Sherman Alexander & Sarah Thomas Osborne]; double stone with next |
| OSBORNE, Zilda H. | 1861 | 1943 | [d/o Joseph R. and Mary Polly Cole Hash] |
| OSBORNE, R. Vance | 22 Mar 1891 | 3 Aug 1891 | [s/o Robey and Zilda Osborne; 1900 census lists Vance b Nov 1891 as a s/o Robey and Zilda. Is stone death date in error?] |
| HASH, Polly | 8 Oct 1824 | 23 Feb 1900 | [d/o Joshua and Tabitha Eveline Osborne Cole; w/o Joseph Hash] |
| HASH, Joseph | 10 May 1812 | 14 May 1904 | ["Rimer Joe", s/o Joseph and Margaret Halsey Hash] |
| OSBORNE, Rose Mae | 4 Mar 1882 | 13 Feb 1905 | age 23 yr 11 mo 3 days; [does not compute; w/o W.W. Osborne] |
| OSBORNE, Creed F. | 28 Aug 1909 | 25 Aug 1934 |   |
| OSBORNE, Roby A. | 28 Aug 1909 | 9 Dec 1951 |   |
| OSBORNE, Rose A. | 10 Sep 1889 | 11 Sep 1975 | double stone with next |
| OSBORNE, William W. | 14 Jun 1885 | 1 Feb 1956 |   |