Submitted by Julia Williams Kodak
Hundreds of people per day come to an intersection in Boone, North Carolina. To the right is Hardin Road, which takes you by Appalachian State University and to the left is Councill. The thought of passing through an intersection bearing these names mean little to most, unless of course you live at Cornelia's Corner.
The Hardin Family
Henry Hardin was born September 18, 1765 in Raleigh, Wake Co., NC and died October 22, 1856 in Ashe County, North Carolina.1 He married Catherine (Katie) Cox. Henry was said to have come to America from England and first settled in Pennsylvania.
The children of Henry and Catherine were:
John Hardin b May 29, 1795 in Ashe Co., NC d Sept 16, 1869 Elk Park, Avery Co., NC.
Wilburn Hardin
Richard Hardin
Catharine Hardin
John Hardin married Charlotte (Lotti) Councill August 15, 1820 in Ashe County. She was the daughter of Jordan Councill and Sarah Howard. John Hardin was elected United States Senator for Ashe County in 1828. He was the Postmaster for Boone in 1866 and was listed as "manager of forge" on the 1850 Watauga County Census.
Records indicate John Hardin purchased land from Jonathan Boone, a relative of Daniel Boone. The 245 acres were purchased on September 15, 1821 for $600.
John and Charlotte had the following children:
Henry W. Hardin b September 29, 1821, Present Day Boone, Watauga Co. NC d January ll, 1904, Elk Park, NC
Sarah Salina Hardin b January 1, 1826, Present Day Boone, Watauga Co., NC d October 10, 1883 in NC. She married George W. Snider December 25, 1856
Elizabeth Adeline Hardin b September 29, 1828, Present Day Boone, Watauga Co., NC d June 13m 1860. Married John G. Powell Mary 8, 1847.
Jordan Councill Hardin b August 3, 1830. He married Julia C. Williams.
Martha E. Hardin b February 1834. Married John Snider
Henry W. Hardin married Nancy Lucinda Horton September 3, 1846 in present day Boone, NC. Henry and Nancy children were as follows:
James Horton Hardin b October 19, 1847 in Boone, NC. He married Emma E. Sutherland August 18, 1874. He died in September 1929
John Franklin Hardin b February 1, 1850. Married Martha H. (Mattie) Councill.
William Hamilton Hardin b February 13, 1852 in Boone, NC and married Sarah (Sallie) E. Winkler
Jordan Councill Hardin b May 17, 1854 in Boone, NC. Married Nancy Kitzmiller and died February 4, 1920
Joseph Henry Hardin b October 24, 1857 in Boone, NC. He married Alice McCrary and died February 25, 1928
Lula Cornelia Hardin b April 19, 1859 in Boone, NC. She died December 26, 1917
Ida Byron Hardin b October 13, 1862 in Boone, NC. She married William Spainhour
The Councill Family
Jordan Councill, Sr. was born in 1769 and died December 10, 1839 in present day Watauga, County, North Carolina. In 1800, Councill established Councill Store in what is now the town of Boone. This was the first store in Boone and was built on a dirt road cut out by Daniel Boone. The store was near the present downtown post office and the office of the Mountain Times. For years this was the only store in this section and had a major influence in the beginning of Boone. Jordan Councill, Sr. married Sarah (Sallie) Howard, daughter of Benjamin Howard. Benjamin Howard was a British supporter during the Revolutionary War who hid out in a cave on the mountain that now bears his name. Children of Jordan Councill, Sr. and Sarah (Sallie) Howard were:
Charlotte (Lotti) Councill b April 16, 1795 Ashe Co., NC d November 1, 1843 in Present day Boone, Watauga Co., NC. She married John Hardin.
Jordan Councill, Jr. b September 22, 1799 in present day Watauga, Co., d July 24, 1875 and married Sallie Bower September 23, 1823.
Sallie Councill, married Alfred Martin
Elizabeth Councill, married Willis McGhee
Nancy Councill, m Col. Euclid Baird
Eliza Councill, m 1) George Phillips 2) Rittenhouse Baird
Jesse Councill, m Sallie Dixon
Benjamin Councill, Sr., married 1) Lizzie Mast 2) Temeprance Shull July 20, 1839
Lula Cornelia Hardin, daughter of Henry W. Hardin and Nancy Horton above and called Cornelia, married William F. Church born December 13, 1841 in Ashe Co., NC. March 25, 1879 at her home. William and Cornelia is shown on the 1880 Ashe County Census.
William was the son of Wiley Church born March 15, 1812 and Margaret Ray, daughter of William Ray and Nancy Smith of Wilkes, present day Ashe Co., NC. William served in the CSA in Co.D, 5th Bat, NC CAV and Co.B, 65th Bat, NC CAV enlisting in July, 1862 and present until November, 1864.
Some time before July 1882, William and Cornelia moved to Shell Creek, Carter County, Tennessee just across the Tennessee line from North Carolina. (Shell Creek no longer has a post office and is included in Roan Mountain, Tennessee.) There, William built, or had built, a store and a home. William's merchandise included herbs and plants he sold and shipped to drug companies in various places around the country. Early records show the store name as "Church & Woodruff", the Woodruff being for John Woodruff who is believed to be Church's partner. Years ago, the Tweetsie Railroad ran right in front of the store and the depot was across from it. In 1940 a flood caused severe damage to the tracks and they were never repaired. This home and store which still stands in excellent condition, I affectionately call "Cornelia's Corner" since becoming my home in July 2000.
A letter dated July 14th, 1882 was found beneath the floor of the store building. William F. Church wrote the letter and is addressed to a "John", and believed to be John Woodruff. There is a Henry mentioned which I would assume to be Cornelia's father. From the text of the letter, I would believe it is written shortly after their move to Shell Creek.
The letter is as follows:
July 14, 1882
Well John I will fail to get off to Elk this time The baby has been sick all week as Henry can tell you and am afrade to leave it. Would have started the wagon sooner but had ordered 10 bush corn from Knoxville and was waiting for it to come in and has failed to come think it has been mis shipped and cannot get any atol in the country so I start Henry with a few bundles of wheat don't know if he can buy a bushel of corn on the road any where or not You will have to manage your affairs the best you can It will be best to leave as much as one load for our wagon of Herbs and such like until ___ goes back as we will have to move his tools when he goes. I think he will get threw in one week more has the Dr____s and C_____ to make yet Lock and window fasts to put on __-_. I have not seen Mr. Shell about your house since Henry came back but guess you can see him if you want to do so You wrote me in regard to John Teagues, __Bledsoes witness tickets
You will find them in the letter file of the desk at right hand side in an old sort of envelope marked across the end County Claims They are near where receipts were kept probably in the same file. Bring our desk and old papers bill price lists ___ ___ You will have to pack the scales carefully for the road is awful rough. Bring the old shoe case if you cannot sell it I can use it for some purpose. Suppose you will have probably one wagon to come this time besides ours Henry said there would be about three loads there yet, one left over for our own wagon and 2 to come this time would probably clean up every thing. However you will have to store what you can't bring until the wagon goes back I would like for you to come over this time if you can as it's time we were trying to get set up. We will have a fine crop of Blue Berries in this country and would like for to get a chance at some of them. I will have from 20 – 25 acres of meadow to be cut very soon and will have to give it some attention for grass will be an object her before next spring. John I wrote to Sallie that if Julia Whittington wanted to come over her she could come with the wagon this time in case you come with the wagon and wrote her that I would have you see that she got over safely so if she comes you will please sorter look after her and see that she gets some place to stay at of nights Henry is acquainted with the roads and will know where to drive so as to hit a house to stay at. Nelia wants Henry to go over to Joe Churchs and get some soap that she has over there and bring it over this time she is out of soap Well I don't know of anything else special to write Henry can give you all the news of this country any way so I will close Resp W.F. Church
There are still a few of those blueberry bushes here. Julia Whittington was William Church's niece.
William and Cornelia were blessed with three children:
Walter F. Church b November 8, 1880 d June 2, 1960
Margaret Lucinda (Maggie) Church b June 8, 1886 d October 15, 1969
Bina (Bonnie) Lyde Church b November 30, 1888 d January 12, 1920
On August 26, 1889, William F. Church died at the age of 48 years old. Old letters found written to Cornelia hint that he was having terrible headaches before he died. Other letters speak of Cornelia's great depression at loosing her husband. A lock of William's hair was found inside tissue paper with the note, "My dear husband's hair but Oh! He is gone and left his poor wife and little children so desolate and heart broken. Nelia Church."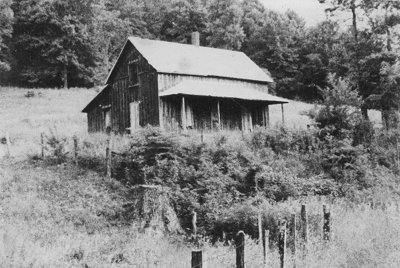 This is the first house William and Cornelia lived in until they got the store and the new house built. It sat back behind the new house. Someone set it on fire and it burned to the ground.
Store documents dated 1891 and 1892 show the store administrator as W.H. Hardin, brother to Cornelia. Records also indicate a Mr. Storie who William Church had helping him in the store before his death also worked in the store helping Cornelia. He worked for them while studying to be a teacher.
On December 29, 1892, Cornelia gave birth to a son named Claud C. Church. Letters found written to Cornelia from her brother indicate his disgust with her and his unacceptance of the father, an unknown Shell. Although letters indicate she thought of marrying him, she did not. Part of this family still deny this fact and even change Claud's date of birth to December 29, 1882, however vital records and letters prove otherwise.
Seven years after the death of William, Cornelia married John Hardin Snider born June 15, 1857 and the son of George W. Snider and Sarah Hardin, aunt of Cornelia. The wife of Cornelia's grandson, Vergie Brinkley, has told to me that Cornelia's mother told her she needed a husband, brought her one from Boone, and Cornelia agreed and married him. They were of course, first cousins. Letters found indicate they corresponded some time before the marriage.
John Hardin Snider and Cornelia had two children. Hardin Snider born July 25, 1897 and died July 8, 1903 and Amelia Cowles Snider born October 14, 1899. The Cowles was used after a friend from Boone.
John Hardin Snider died July 21, 1914 at the age of 57 years.
Cornelia died December 26, 1917 at the age of 58 years. The home at Shell Creek was then left to young daughter, Amelia.
Walter F. Church built a home across the road from the store. This home still stands and is occupied. Walter has quite a story all his own. One night in the early 1900's when a couple drunks came calling at his store, Walter shot and killed one of them. Fearing he would be arrested, Walter went to Kansas for a few years and stayed with Cornelia's brother, Jordan. He later returned and lived in Roan Mountain until June 2, 1960 when 79 year old Walter raised from his bed, put a gun to his head and committed suicide.
Walter had married Sallie Cook from Bakersville, NC. Walter's son, Hardin Church, ran a service station two buildings down from Walter's original home. The brick building is still there but is not in use. Hardin was handicapped and never married. Walter also had children Walter Frank, Carl, and Ruby.
Nothing is known of Claud Church except he died at age 21. He was found dead on the porch of Brinkley's store. No cause of death is known. He never married.
Maggie Church married Noah Lackey of Carter County and had one daughter, Nell, and resided in Elizabethton, TN. Nell never married.
Bina (Bonnie) Lyde Church married James Brinkley. Brinkley built and ran a store beside the home of Walter Church. Bonnie and James had three children, James, Jr., Brooks and Winn. The Brinkley home place is a two-story home just up from the original Church home.
Bonnie died at age 31 in 1920 and James Brinkley remarried. A grandson from this marriage now runs Roan Mountain Riding Company out of the original Brinkley store.
Amelia C. Snider, only surviving child of Cornelia and John Hardin Snider, married Columbus (Bus) Eugene Williams on March 22, 1919.
Bus was born March 9, 1895 to Francis Edmond Williams and Nannie Annie Crumley. Bus was not without a historical family as well. Bus' ancestors were John Williams, an early settler of Carter County from Pennsylvania who lived near the Gap Creek area of Carter County. Busline continues with John W. Franklin Williams and Joanna Patton, John Quincy Williams and Elizabeth Haun. John Quincy Williams and Elizabeth Haun were the parents of Francis Edmond.
Bus and Mead, as Amelia was called, were hard working people. Although Mead had inherited the home place including acres of property, Bus ran a service station just down the road from the home place where there is presently a Veterinarian Clinic. Mead was said to work hard making quilts and putting up vegetables for the winter, etc. If you talk to people in the Shell Creek area you will find few that speak kindly of Mead. Even those who did like her must admit that she was a hard woman. Several stories have been told to me that she would throw stones at children walking home from school who picked up the apples that had fell from her apple tree. Poor children caught picking berries on her property would be made to dump out what had been picked if caught. It seems Bus and Mead had their share of catfights as well, from neighbors reports, but who can judge those whose shoes we haven't walked in? Mead had her inheritance, had been well educated and had probably lived a full life. I'm sure there was more than one jealous heart on Shell Creek.
Bus was evidently fond of politics. The attic was filled with newspaper clippings all of political nature. A letter was found written to him from Gov. George Wallace and one from a member of President Lyndon Johnson's staff responding to letters Bus had written them.
Bus and Mead had one child, John Thomas Williams born March 14, 1920. John married Bonnie Hughes and they in turn bore two children, John Thomas Williams, Jr. and Rosemary Williams.
Mead died in December 1982 and Bus followed in April 1987. John Tom, as he was called, and Bonnie had owned Walter Church's home across the road but then sold it and lived in a trailer beside the home place to look after his parents. After their death, John and Bonnie moved to be near their daughter in Kingsport, Tennessee. There, John Thomas Williams died June 29, 1999. The property was then left to John Tom's wife, Bonnie, who sold the home and acreage to Wayne Holtsclaw of Holtsclaw Lumber. We then obtained the home and store from Holstclaw.
There are still many, many signs of the Church, Hardin, Snider, and Williams families here at Cornelia's Corner. There is a graveyard on top of a steep hill overlooking the property in which many of them are buried. Handwritten notes by Mead are still under the steps at the store to be left there as long time allows. Most begin with "Ever Remember", as does a note in one of her books that were found. The notes almost always contained a date and some initials, typical schoolgirl writings. A couple old quilts in the store along with handwritten store orders dated in the 1880's and 90's and a business card of W.F. Church add to the collection. Everything I do, I wonder if Cornelia and Mead would approve. I could almost hear them snicker at me when I tried to wash those old quilts. My dream is to be able to reopen the store much like it was then. There's one thing for sure, Mead. You have nothing to fear. I will ever remember.
---
---
© 2001, Julia Williams Kodak