Corinth Baptist Church Cemetery
Grayson County, Virginia
Location: Rugby
Directions: The Corinth Baptist Church Cemetery is on either side of Grassy Creek Road (Rt 625) in the Rugby Community just west of its junction with Rugby Rd (Rt 743).
GPS Coordinates: N36.612342 W81.447335
Surveyed by: J. C. Weaver, May 2001 and April 2003; updated by Rich and Ginger Ballard Nov 2008
Comments: At the time this cemetery was surveyed there were at least 725 grave sites and perhaps more located here. Some portions of the older section appear to have graves without any markings at all. To call the layout of graves in the lower section "rows" is an exaggeration.

General View of the Corinth Baptist Church and Cemetery
General View of the Corinth Baptist Church and Cemetery
Name
Birth
Death
Comments
Row 1
REEDY, George E.
1 Nov 1932
5 Sep 2002
double stone with next
REEDY, Virginia H.
11 May 1940
 
 
Row 2
GREEAR, Norma Jean
12 Oct 1937
16 Feb 2005
 
HENDERSON, L. Cone
11 Apr 1918
3 Aug 1995
double stone with next; [Cone Lacy, s/o Columbus Henderson & Dora Davis]
HENDERSON, Bessie W.
6 Jun 1921
19 Sep 2003
[nee Warren]
COOPER, Kent L.
1909
1986
double stone with next
COOPER, Janell R.
1915
2000
married 1935
COOPER, Carson Grey
6 Jan 1943
8 Mar 2007
[s/o Kent Lovell and Vivan Janelle Cooper. Honored in 2004 with the BMCA lifetime achievement award in bluegrass and folk music.]
Row 3
DOLINGER, Michael Paul
1 Aug 1981
19 Oct 1999
 
REEDY, Marvin P.
5 Nov 1926
2 Sep 2005
Cpl U.S. Army Korea; double stone with next
REEDY, Nancy H.
30 Sep 1936
 
married 9 Apr 1955
McGRADY, Carl
1925
2007
double stone with next
McGRADY, Ladessa "Tess"
1933
1997
 
TESTERMAN, Joyce O.
23 Jun 1944
29 Nov 1994
[Barbara Joyce, d/o Marshall Osborne & Hazel Hall; w/o Laban Testerman]
SEBASTIAN, Hazel O.
11 Sep 1916
17 Apr 2001
 
LANGLAIS, Edward J.
27 Feb 1914
6 May 2005
double stone with next
LANGLAIS, Jeanette V.
17 Feb 1916
24 Mar 1988
 
BRIDGEMAN, Dennis Eugene
30 Jul 1952
2 Mar 2002
double stone with next
BRIDGEMAN, Judy Wagg
11 Nov 1954
 
 
HALL, E. Rex, Rev.
26 May 1929
 
double stone with next
HALL, Shirley H.
17 Nov 1921
15 Jul 2002
 
KILBY, Michael Anthony
26 Sep 1969
1 Mar 1987
 
WILES, Evelyn M.
21 Mar 1939
6 May 1992
 
TESTERMAN, Herbert L.
30 Nov 1934
8 Jan 1992
Cpl U.S. Army Korea; [Herbert Louis, s/o Fred Testerman & Ocie Bauguess]
ELLER, Carrol Max
1 Nov 1939
6 Apr 1999
double stone with next
ELLER, Brenda Gay
11 Sep 1952
21 Feb 2002
married 6 May 1983
ROBINSON, Derek Tyler
[19 Aug 1991]
19 Aug 1991
[s/o Jesse Randolph Robinson & Priscilla Hash]
CECIL, A. Dewey
24 Mar 1899
9 Feb 1986
double stone with next
CECIL, Etta M.
2 Feb 1911
19 Mar 2003
 
Row 4
REEDY, Charlie P.
5 Oct 1913
20 Jan 1999
double stone with next
REEDY, Grace Gaultney
24 Feb 1918
12 Aug 2005
married 15 Nov 1935
WOOD, C. Lacy
16 Dec 1909
3 Sep 1989
double stone with next; [Charles Lacy, s/o Lonzo Wood & Emma Shumate]
WOOD, Georgia M.
22 Feb 1914
7 Jul 2004
 
HALL, Diamond Dale
7 Aug 1927
31 Dec 1999
 
Row 5
BARKER, Beattie G.
8 Aug 1928
25 Mar 2004
BT1 U.S. Navy (retired)
RICHARDSON, Wanda
2 Feb 1918
22 Jul 2000
double stone with next; [nee Reedy]
RICHARDSON, Frank
23 May 1912
31 Jan 1989
wed 30 Sep 1933; [John Franklin, s/o Zon Richardson & Lonia Testerman]
TAYLOR, Evelyn N.
8 Aug 1915
10 Jun 2005
 
SPENCER, Cecil S.
23 Mar 1913
17 Mar 1996
double stone with next; PFC U.S. Army World War II; [Cecil Senter, s/o Everett Spencer & Virginia Farmer]
SPENCER, Hope E.
14 Apr 1920
17 Mar 2000
HODGE, Reva S.
6 Feb 1920
21 Jul 1989
[Reva Marie, d/o Troy Sexton & Martha Warren; w/o Ottis Hodge]
HODGE, Ottis H.
24 Apr 1914
10 Sep 2001
Sgt U.S. Army World War II
McGRADY, Ruth
6 Apr 1938
 
double stone with next
JOHNSON, Geneva
3 Sep 1943
23 Feb 2001
sisters
McGRADY, Mae D.
27 Oct 1915
 
double stone with next
McGRADY, R. Oscar
24 Mar 1909
8 Mar 1991
[Robert Oscar, s/o Bob McGrady & Sallie Adams]
RICHARDSON, James Dean
26 Jun 1958
26 Apr 1989
triple stone with next two
RICHARDSON, Richard Dean
22 Jun 1937
26 Apr 1989
 
RICHARDSON, Katherine W.
5 Sep 1934
 
 
REEDY Eva Buchanan
24 Nov 1931
19 Mar 2008
double stone with next
REEDY, Joseph E.
15 May 1922
3 Jan 1994
Cpl U.S. Army World War II; [Joseph Edgar, Arthur Reedy & Nannie Davis]
REEDY, Joseph Allen
9 May 1949
3 Dec 1996
double stone with next; [Joseph Edgar Reedy & Eva Idella Buchanan]
REEDY, Patsy Murray
5 Mar 1956
 
 
Row 6 (upper section west of driveway)
HALL, Rick W.
22 Apr 1954
31 Dec 2006
double stone with next
HALL, Kathy A.
25 Sep 1955
 
 
REEDY, Dewey G.
13 Jun 1918
22 Mar 1997
PFC U.S. Army World War II, Purple Heart; [Dewey George, s/o Arthur Reedy & Nannie Davis]
RUSSELL, Woodrow W.
10 Jul 1917
21 Aug 1988
Pvt U.S. Army World War II
RUSSELL, Virginia Lee Warren
8 Jun 1913
17 Aug 2004
 
WARREN, Delbert Wayne
22 Feb 1919
24 Oct 1990
Sgt U.S. Army World War II; double stone with next; [s/o Luther Warren & Janetta Johnson]
WARREN, Wave Baker R.
8 Jun 1910
24 Jan 2007
 
WARREN, Conley H.
13 Oct 1924
26 Jul 2003
 
WARREN, Dillon L.
1916
2005
double stone with next
WARREN, Vella R.
1918
1998
 
JOHNSON, William Earnest
26 Feb 1946
10 Oct 2006
double stone with next
ADAMS, Howard Bane "Bub"
21 Aug 1952
4 Jun 1986
double stone with next
ADAMS, Barbara Smith
12 Nov 1955
 
married 5 Jun 1971
BAKER, Deborah Diane
1 Mar 1970
25 Nov 1999
double stone with next
BEDWELL, Betty Jane
2 Mar 1944
 
 
KIRBY, Dorene Baker
6 Nov 1964
25 Feb 1991
 
BAKER, Norman E.
27 Aug 1941
2 Jul 1986
 
BAKER, Malissa Ann
8 Mar 1982
2 Jul 1986
 
DAVIS, John Henry, Rev.
1 Sep 1918
14 Jun 1999
S2 U.S. Navy World War II; double stone with next
DAVIS, Winnie Barker
1916
2006
 
WATSON, Evalene Davis
14 Jul 1941
12 Jul 1999
 
KELLY, Harry Ray
17 Nov 1947
29 Jan 2008
double stone with next
KELLY, Linda H.
9 Jul 1948
 
 
Row 7
SPENCER, Dale
10 Jan 1919
24 May 2006
double stone with next
SPENCER, Marie
14 Dec 1930
 
 
JONES, Lonnie R.
24 Aug 1943
 
triple stone with next two; "father"
JONES, Pamela L.
8 Feb 1971
 
"daughter"
JONES, Patricia Farmer
26 Jul 1955
 
"mother"
JOHNSON, Bruce
4 Sep 1911
16 Jun 1998
double stone with next
JOHNSON, Fannie Irene
13 Aug 1917
31 Dec 1996
[d/o Lee Kilby & Connie Brooks]
JOHNSON, Susie
21 Feb 1914
3 Oct 2003
 
JOHNSON, Harold
11 May 1940
24 Apr 1984
"son"
DAVIS, Harris W.
14 Apr 1923
5 Aug 2004
PFC U.S. Army World War II; double stone with next
DAVIS, Evelyn H.
27 Aug 1926
8 Apr 2008
married 2 Nov 1948
BAKER, Barbara Kay
1954
2007
metal marker
CHRISLEY, Shirley Mae
25 May 1948
12 Sep 2005
 
CHRISLEY, James M.
26 Dec 1944
14 Apr 2008
 
Row 8
SAGE, Ernest W.
11 Mar 1936
1 Mar 1992
Corp U.S. Army Korea; double stone with next; [Ernest Walter, s/o George W. Sage & Blanche Davis]
SAGE, Daisy M.
29 Jun 1938
 
[nee Jones]
JONES, Treva D.
9 Jun 1920
1 Nov 1994
[Treva Dare, d/o George Dewey Henderson & Nancy Clyde Plummer]
DAVIS, Douglas J.
22 Dec 1969
13 Jun 1990
 
EDDS, Hazel I.
11 Nov 1930
20 Dec 1994
double stone with next; Hazel Irene, d/o Blaine McGrady & Lucy Kate Farmer]
EDDS, Baylor T.
27 Aug 1920
26 Jun 2006
Tec 4 U.S. Army World War II
YOUNG, Earl
9 Jun 1909
20 Feb 2003
double stone with next
YOUNG, Eva
16 Jun 1014
4 Mar 2003
 
YOUNG, Bob
15 Mar 1933
 
double stone with next
YOUNG, Barbara
1 Oct 1928
 
married 26 May 1961
PERKINS, Glen
29 Nov 1906
7 Aug 1991
[Ira Glen, s/o Lovie & Rebecca Perkins; h/o Della J.]
HALSEY, Regina Perkins
29 Mar 1941
29 Sep 1988
[Regina Sue, d/o Glen Perkins & Della Johnson]
JOHNSON, Branson
24 Apr 1909
3 Sep 1990
double stone with next
JOHNSON, Julia
3 May 1913
24 Jul 2007
 
JOHNSON, Charlie
28 May 1918
16 Aug 1992
double stone with next
JOHNSON, Ruby
18 Feb 1927
 
 
GOINS, Albert L.
24 Mar 1926
13 Dec 2001
double stone with next
GOINS, Tressie P.
6 Jan 1932
 
wed 24 Jun 1950
REEDY, Riley Wayne
7 Jun 1917
21 Jul 2004
Pvt U.S. Army World War II; double stone with next
REEDY, Lucy B.
19 Oct 1930
29 Oct 2006
 
REEDY, Elsie E.
13 May 1920
12 May 2004
 
Row 9
SAGE, Raymond W.
22 Aug 1942
 
double stone with next
SAGE, Agnes V.
3 Jan 1943
 
 
REEDY, Jack L.
4 Apr 1930
 
double stone with next
REEDY, Pauline D.
19 Aug 1932
 
 
VAN HOY, Herbert N.
12 Feb 1935
3 Aug 1993
double stone with next
VAN HOY, Jean Y.
29 Jul 1939
27 Nov 1990
married 27 Mar 1955; [Willa Jean, d/o Earl Young & Eva Shumate]
MULLINS, Hubert W.
25 Oct 1929
1 Sep 1993
FN U.S. Navy Korea; double stone with next; [Hubert Wensel, s/o Kelly Mullins & Rose Walker]
MULLINS, Minnie B.
8 Aug 1931
3 Dec 2004
[nee Beulah Atkins]
FARMER, Thelbert Mark
12 May 1932
5 Apr 1999
GMC1 U.S. Navy Korea, Vietnam; double stone with next
FARMER, Mattie P.
27 Jan 1929
 
 
HALL, Woodrow W.
1929
2008
double stone with next
HALL, Kate Reedy
[7 Mar] 1930
[21 Apr] 1993
[d/o William Eugene Reedy & Eva Ruth Plummer]
KISER, Estil Lee
21 Dec 1917
29 Sep 1993
Pvt U.S. Army World War II; double stone with next; [s/o Charlie C. Kiser & Mary Young]
KISER, Lenna Sparks
28 Aug 1917
 
 
Row 10
HART, Edmund Early
21 Apr 1938
29 Aug 2006
double stone with next
HART, Winnie Reedy
21 Nov 1940
 
 
REEDY, William Howard
11 Mar 1943
29 Dec 2005
brother
Row 11
PLUMMER, Barney Lee
26 Mar 1935
18 Jan 2008
MSgt U.S. Air Force Korea Vietnam; triple stone with next two
PLUMMER, Charles William
 
30 Sep 1959
 
PLUMMER, Lena Brooks
30 Dec 1938
 
 
MARTIN, James
21 Jun 1926
15 Oct 1999
double stone with next
MARTIN, Joan Plummer
2 Aug 1933
15 Jan 1998
married 18 Aug 1960
ORSATI, Edward
14 Jan 1921
2 Oct 1993
MSgt U.S. Army World War II, Korea; double stone with next; [s/o Cornelius Orsati & Domenica Ferrara]
ORSATI, Jessie Mae Parsons
21 Sep 1917
 
married 21 Oct 1942
ARELLANO, Raul
17 Jun 1936
13 Jul 2001
double stone with next
ARELLANO, Mary Jo Orsati
15 Jan 1944
 
wed 27 Nov 1965
Name
Birth
Death
Comments
Row 1
MULLINAX
 
 
reserved
MULLINAX
 
 
reserved
TILSON
 
 
reserved
TILSON
 
 
reserved
RUSSELL, Eula Queen
5 Sep 1933
25 Feb 2007
 
RUSSELL, William T.
28 Jun 1931
8 Feb 2007
Cpl U.S. Army Korea
Row 2
HENDERSON, Gayle
7 Oct 1931
 
double stone with next
HENDERSON, Betty J.
4 Jul 1935
 
 
HENDERSON, Desota "Ray"
4 Jul 1938
 
double stone with next
HENDERSON, Donna Jean
7 Jun 1941
 
 
REEDY, Morgan
1924
2008
metal marker at double stone marked "Henderson"
REEDY, Reva
1926
 
metal marker at double stone marked "Henderson"
HENDERSON
 
 
double stone; reserved?
Row 3
WALTON, Sebert
1897
1988
double stone with next; [Charlie Sebert]
WALTON, Mary
1892
[11 Feb] 1977
[Mary Jeanette, d/o Lee & Maggie Price; obit lists birth as 9 Aug 1890]
WALTON, James Estel
21 Nov 1924
21 Apr 1997
[s/o Charlie Sebert Walton & Mary Price]
HENDERSON, Herman T.
9 Jan 1904
25 Apr 1979
double stone with next; [Herman Timothy, s/o Timpothy Henderson & Melvina Mink]
HENDERSON, Ola Mae
13 Apr 1904
31 Aug 1975
 
SPENCER, Farmer B.
10 Aug 1910
28 Feb 1981
[Farmer Barm, s/o Everett Spencer & Virginia Farmer]
SPENCER, Maggie Stuart
11 Aug 1907
16 Apr 1980
[Maggie Natalie, d/o John Stuart & Emma Blevins]
SPENCER, Robert C. "Bob"
15 Mar 1944
20 May 1999
 
SPENCER, Ernest J.
8 Jun 1934
4 Mar 1979
[Ernest Junior, s/o Farmer Spencer & Maggie Stuart; h/o Margie Musick]
SPENCER, Leonard D.
10 Oct 1959
20 Jun 1976
 
EMERSON, Kenneth B.
11 Feb 1933
 
double stone with next
EMERSON, Emma J.
1 Jun 1935
 
 
SPENCER, Canie A.
20 Jul 1916
6 Mar 1999
double stone with next
SPENCER, Virgie B.
22 Jun 1919
21 Apr 2002
 
SPENCER, Barbara A.
21 Dec 1936
 
double stone with next
SPENCER, Norman O.
5 Feb 1939
30 Apr 2006
 
Row 4
PUGH, Robert L.
23 Dec 1890
28 Jan 1979
double stone with next; [Robert Lee, s/o Zachariah Pugh & Sarah Ann Reedy]
PUGH, Winnie R.
18 Dec 1896
10 Apr 1988
 
CRUMBLY, Ettie Testerman
20 Sep 1883
20 Sep 1975
 
TESTERMAN, Clarence W.
18 Jan 1913
9 Dec 1993
double stone with next; [Clarence Wilburn, s/o Millard Testerman & Ettie Ball]
TESTERMAN, Ocie A.
19 Oct 1909
3 Apr 1994
[Ocie Ann, d/o Fielden Columbus Henderson & Dora Davis]
BAKER, J.C.
29 Aug 1937
10 May 1980
[John Carl, s/o Gene Baker & Maude Jones; h/o Catherine Blevins]
BAKER, Janet Marie
24 Feb 1969
17 Dec 1975
 
BAKER, Kathern B.
 
 
mother; painted block
REEDY, Norman Earl
22 May 1928
29 Dec 2004
Cpl U.S. Army Korea; double stone with next
REEDY, Ann Hash
19 Feb 1933
 
 
HASH, W. Fleming
28 May 1896
1 Feb 1976
double stone with next
HASH, Flossie J.
11 Mar 1900
9 Aug 1980
[Flossie Jane, d/o Charles Henderson & Alice Hart]
ANDERS, Grace Chatham
25 Apr 1934
5 Dec 2003
 
CHATHAM, Ralph M.
6 Aug 1919
11 Nov 1999
 
CHATHAM, Wiley Edd
2 May 1900
12 Jan 1985
double stone with next
CHATHAM, Pearl H.
14 Aug 1900
2 Mar 1989
[Goldie Pearl, d/o Tim Henderson & Vina Mink]
SPENCER, Artie B.
10 Apr 1909
14 Nov 1992
double stone with next; [Artie Blaine, s/o Orville Spencer & Lizzie Tucker]
SPENCER, Edna M.
8 Jun 1916
20 Jul 1985
[nee Farmer]
SPENCER, Kyle M.
8 Feb 1904
16 Nov 1985
double stone with next
SPENCER, B. Denton
22 Feb 1908
21 Aug 1988
[Beulah Denton, d/o Omer Testerman & Cloye Waddell]
PEAK, Alfred D.
30 Jan 1912
4 Aug 1985
PFC U.S. Army World War II; triple stone with next two
PEAK, Maude P.
10 Apr 1913
 
 
PEAK, James A.
5 Jan 1936
 
 
Row 5
HENDERSON, Carl
22 May 1900
10 Jun 1960
 
HENDERSON, Fielden Lee
1906
1960
 
HENDERSON, Daisy R.
20 Mar 1882
9 Jul 1964
 
HENDERSON, S. Hunter
25 Mar 1917
23 Jan 2001
double stone with next
HENDERSON, Waive Price
6 Sep 1918
 
 
MAHAFFEY, Betty
3 Oct 1902
20 Oct 1987
 
SPENCER, Edd
1905
1972
 
SPENCER, Johnnie B.
23 Oct 1947
10 Feb 1979
Sp4 U.S. Army Vietnam; [Johnnie Barm, s/o Farmer Spencer & Maggie Stuart; h/o Wilma Sexton]
REEDY, Blair C.
8 Aug 1926
1 Aug 2003
double stone with next
REEDY, Kathryn T.
5 May 1926
30 Dec 1998
married 3 Oct 1947; [nee Testerman]
REEDY, Anita Kay
26 Jun 1955
24 Mar 1957
d/o Mr. & Mrs. Blair Reedy
BALL, John A.
1854
1946
double stone with next
BALL, Lutishie
1855
1961
 
SEXTON, Lushian B.
9 Jul 1878
23 May 1955
 
SEXTON, Mary Eva
16 Nov 1882
21 Nov 1948
 
SEXTON, V. Wade
18 Mar 1916
23 Dec 1941
 
SEXTON, William W.
17 Aug 1913
26 Feb 1959
 
McGRADY, Burl
17 Aug 1902
25 May 1967
double stone with next
McGRADY, Mabel
26 Jan 1905
22 Jun 1977
[Nannie Mabel, d/o Lucian B. Sexton & Mary Eva Warren; obit birth 9 Jan 1905]
RICHARDSON, Joyce Jean McGrady
31 Mar 1940
25 Oct 2002
 
RICHARDSON, Adalida Jean
 
1 Oct 2003
 
McGRADY, Claude
1905
1974
double stone with next
McGRADY, Wanda T.
[5 Dec] 1910
[5 Aug 1995]
[d/o William H. Thompson & Nannie Davis]
McGRADY, Lillard
26 Mar 1932
29 Mar 2000
 
SHUMATE, Brack M.
2 May 1900
17 May 1978
double stone with next; [Brack McCarol, s/o Henry Shumate & Louise Rhodes]
SHUMATE, Mae R.
4 Sep 1905
24 May 2001
[nee Riddle]
TESTERMAN, Theodore F.
19 Sep 1908
1 Jun 1990
double stone with next; [Theodore Fred, s/o Arthur David Testerman & Maggie Heath]
TESTERMAN, Ocie E.
23 Dec 1911
26 Sep 1992
[nee Bauguess]
HENDERSON, Elmer Ford
8 Jan 1922
12 Jun 1980
double stone with next; [s/o George Dewey Henderson & Nancy Clyde Plummer]
HENDERSON, Ola M.
24 Jul 1929
 
[nee Farmer]
PILKENTON, Ralph E.
10 Jul 1951
6 Jun 2001
double stone with next
PILKENTON, Helen Jean
18 Jan 1945
 
married 11 Mar 1996
Row 6
SPENCER J. Kirk
10 Jun 1923
 
double stone with next
SPENCER, Mildred L.
9 Jul 1927
2 Feb 2000
 
SPENCER, Dale Orville
10 Jan 1918
 
double stone with next
SPENCER, Ada Kirk
30 Dec 1918
25 Apr 1956
[d/o C.M. Kirk & Mollie Phipps]
SPENCER, Orville
30 Dec 1880
28 Jun 1955
double stone with next; [s/o Canie Spencer & Senie Anderson; obit birth Oct 1881]
SPENCER, Lizzie
1 Oct 1879
11 Apr 1967
 
SPENCER, Goldia
25 Jan 1907
19 Feb 1967
 
BAKER, Hamp
31 Oct 1903
20 Mar 1981
double stone with next; [Eli Hampton, s/o Walter Baker & Jenny Mae Warren]
BAKER, Ruby
19 Apr 1911
17 Mar 1998
[nee Spencer]
PERKINS, Kate
12 Apr 1892
13 Mar 1982
double stone with next
PERKINS, Virgil "Win"
1 Dec 1881
28 Oct 1960
 
PERKINS, Delphia
12 Apr 1828
27 Apr 1914
 
BAKER, Infant
18 Oct 1927
18 Oct 1927
son of Mr. & Mrs. C.A. Baker
BAKER, William
1907
1988
metal marker
NEAL, Eugene R.
1911
1976
double stone with next
NEAL, Carrie L.
1920
 
married 30 Oct 1943
GREER, James Ivan
28 Nov 1907
9 Oct 1982
PFC U.S. Army World War II; double stone with next; [s/o Emmet Greer & Alice West]
GREER, Zenna Baker
18 Aug 1913
7 Mar 1988
[Zenna Agnes, d/o Tobias McGrady & Ida Waddell; w/o James Ivan "Guffie" Greer; obit birth 2 Aug 1906]
BAUGUESS, Bobby Dale
11 Jun 1941
9 Mar 2000
 
BAUGUESS, E.W. "Bill"
7 Aug 1916
21 Jun 1981
double stone with next; [Earnie William, s/o Johnny B. Bauguess & Minnie Gwaltney]
BAUGUESS, Thelma Goss
8 Apr 1917
29 Apr 1998
 
BAUGUESS, Joe W.
10 Apr 1937
18 Dec 1987
PFC U.S. Army Korea
BAUGUESS, J. Fred
4 Dec 1939
4 Mar 1978
Sp4 U.S. Army Vietnam; [Jackie Fred, s/o E.W. Bauguess & Thelma Goss]
Row 7
HASH, Evyon Sue
23 Jan 1947
3 Mar 2001
 
HENDERSON, F.C.
30 Sep 1883
25 Feb 1955
[Fielden Columbus, s/io Bryan & Ada Henderson]
HENDERSON, Dora A.
15 May 1887
17 Aug 1963
[d/o Floyd & Rebecca Davis; w/o Fielden Columbus Henderson]
PUGH, Donis
13 May 1907
27 Apr 1949
 
WARREN, Mollie R.
1884
1970
 
WARREN, Laymon Moodie
11 Jul 1899
25 Jan 1977
[s/o Mollie Warren]
WARREN, Alpha Maggard
3 Jun 1903
13 Feb 1966
[Alpha Mae, w/o Laymon Warren]
WARREN, Hurst
11 Aug 1903
23 Jun 1975
double stone with next
WARREN, Artie
13 Oct 1907
4 Aug 1994
[Artie Lee, d/o Arthur Riddle & Emma Upchurch; obit birth 13 Oct 1917]
WARREN, Cecil
19 Sep 1948
21 Jan 1982
[Cecil Radley, s/o Hurst Warren & Artie Riddle]
WARREN, Luther P.
8 Apr 1876
17 May 1958
double stone with next
WARREN, Janetta D.
6 Jun 1887
29 Jan 1957
[Dora Janetta, d/o William Johnson & Emily Price]
QUEEN, John
1865
1941
homemade concrete stone
WEAVER, Guffie G.
12 Dec 1898
1 Feb 1968
double stone with next
WEAVER, Artie S.
14 Oct 1898
17 Feb 1976
 
RIDDLE, Troy
23 Jan 1884
13 Mar 1963
stone not found in 2008; cement block marks grave
RIDDLE, Maranda
21 Dec 1852
30 Jun 1918
 
RIDDLE, Arthur W.
24 May 1879
14 Apr 1963
 
RIDDLE, Emma
11 Jul 1886
17 Jan 1958
 
BAKER, Charity
1 Jul 1851
1 Mar 1933
 
BAKER, Ambrose
 
 
Company K 18th PA Cavalry
unknowns
 
 
4 cement blocks
HENDERSON, Liddie M.
14 Feb 1866
30 May 1909
 
BAUGUESS, John B.
15 Aug 1876
17 Apr 1969
double stone with next
BAUGUESS, Minnie E.
23 Sep 1882
9 Nov 1959
 
BAUGUESS, Lyda Lee
6 May 1907
10 Feb 1967
PFC 1305 Base Unit Army Air Force World War II
BAUGUESS, T. Fred
23 Apr 1914
14 Dec 1977
Tec 4 U.S. Army World War II; [Theodore Fred, s/o Johnny Baker Bauguess & Minnie Gwaltney]
Row 8
PLUMMER, Charles W.
1887
1958
 
PLUMMER, Sarah E.
1897
1992
 
COOPER, Lyle O.
31 Dec 1914
24 Jun 1999
double stone with next
COOPER, Zollie M.
11 Jun 1918
21 May 1982
[Zollie Mae, d/o Tom Testerman & Rora Jones]
COOPER, Duncan S.
11 Nov 1861
24 Apr 1955
double stone with next; [Duncan Samuel, s/o Nathan Cooper & Mary Campbell]
COOPER, Etta Peak
7 Dec 1871
18 Dec 1951
 
COOPER, Dale S.
26 Jan 1913
22 Jun 1975
 
COOPER, David Franklin
20 Oct 1879
15 Mar 1955
double stone with next; [s/o Nathan Cooper & Sarah Jane Capbell]
COOPER, Lura Mae
18 May 1890
9 Apr 1980
[d/o Cleon Hall & Jane Reedy]
COOPER, Stover F.
31 Dec 1921
8 Dec 1994
double stone with next
COOPER, Juanita L.
6 Nov 1931
 
 
MINK, Brady M.
29 Dec 1906
4 Mar 1999
double stone with next
MINK, Carrie C.
16 Aug 1913
16 Oct 1988
married 27 Jun 1936; [Carrie Janetta, d/o David Franklin Cooper & Lura Hall]
QUEENS, William J.
8 Jul 1900
8 Sep 1979
double stone with next
QUEENS, Dora Sage
14 Aug 1912
18 Dec 1990
 
SAGE, James T.
29 Apr 1890
4 Oct 1949
 
SAGE, Maggie S.
9 Jul 1890
30 Jul 1973
 
PHIPPS, Roscoe L.
22 May 1903
30 Oct 1963
 
PHIPPS, Thomas F.
6 Jan 1910
4 Jan 1962
 
SAGE, Elva V.
18 May 1906
19 Jan 1969
 
CRAFT, Jacob
17 Sep 1840
13 Jun 1922
 
SAGE, Amanda
1852
1930
d/o William and Frances Ashley
SAGE, Rora Hash
26 Sep 1883
25 Jan 1932
 
SAGE, Troy Reese, Sr.
4 Mar 1882
1 Feb 1959
 
SAGE, Mattie Lee
12 Apr 1921
23 Jan 1930
 
SAGE, Roscoe
19 Jul 1898
13 Mar 1931
Wagoner 5th Engineers 467th Eng Pon Tr U.S. Army World War I France; double stone with next
SAGE, Lola M.
14 Sep 1896
18 Mar 1931
 
SAGE, Baby
 
 
 
SAGE, John C.
8 Jan 1930
15 Aug 2008
double stone with next
SAGE, Nancy P.
6 Jun 1930
 
 
Row 9
CRESS, James W. "Bud"
30 Mar 1902
7 Jul 1981
double stone with next
CRESS, Bertha B.
5 Feb 1904
27 Jan 1961
 
CHANDLER, Floy Van Hoy
23 Jul 1910
9 Jan 1995
 
VAN HOY, Norman Greek
11 May 1913
29 Aug 1955
[s/o Levi Russell Van Hoy & Laura Moxley; h/o Floy]
VAN HOY, David Michael
12 Oct 1959
27 Mar 1983
Cpl U.S. Marine Corps; [s/o Herbert Norman Van Hoy & Willa Jean Young; h/o Regina Parsons]
JOHNSON, Ronald B.
7 Oct 1948
8 Apr 1981
[Ronald Blaine, s/o Branson Johnson & Julia Smith]
CRUMLY, John A.
1867
[13 Jan] 1952
[John Anderson, s/o William Crumly; obit lists birth as 17 Sep 1886]
unknowns
 
 
2 blocks
Row 10
MARLIN, Sarah Ann
13 Aug 1895
11 May 1972
double stone with next
MARLIN, Daniel M.
26 Nov 1866
29 Dec 1955
[h/o Annie; obit dates Sep 1864 – 30 Dec 1955]
WELLS, John Henry
4 Nov 1902
1 Mar 1984
double stone with next
WELLS, Dixie Lee
21 Feb 1909
20 Nov 2002
 
GWALTNEY, Hurshel
16 Dec 1891
18 Jan 1962
double stone with next
GWALTNEY, Nettie B.
3 Jan 1885
27 Jul 1965
 
HALL, Robert J.
16 Sep 1884
8 Jun 1950
 
OSBORNE, Isom C.
10 Jan 1901
17 Jan 1984
[Isom Columbus, s/o Jesse Levi & Sarah Jane Rutherford Osborne]; double stone with next
OSBORNE, Okie Cooper
2 Dec 1911
2 Dec 1997
[d/o Frank & Lura Hall Cooper]
VAN HOY, Vera H.
[28 Jan] 1895
[17 Mar] 1990
[Vera Elmer, d/o Troy Henderson & Alice Spencer]
HENDERSON, Troy Lee
17 Jul 1871
21 Dec 1946
 
HENDERSON, Lucy Alice
22 May 1872
2 Dec 1957
[d/o Cannie Spencer & Cenia Anderson; w/o Troy Henderson]
REEDY, Kenny
1951
1959
s/o Gilmer and Donna Lee Reedy
REEDY, Gilmer Ray
29 Jan 1918
13 Feb 1997
Cpl U.S. Army World War II; double stone with next; [s/o Leonard Reedy & Effie Henderson; h/o June]
REEDY, Donna Lee
12 Jun 1927
2 May 2004
 
REEDY, Jeffrey Jay
1961
2008
metal marker
SHUMATE, Weaver
1905
1925
 
SAGE, Stephen W.
1841
8 Sep 1919
 
SHUMATE, Wiley Matthew
10 Mar 1885
7 Mar 1919
 
SHUMATE, Nancy Kate
6 Apr 1886
23 Sep 1960
 
SHUMATE, Harry
12 Mar 1909
12 Nov 1980
[s/o Tom Shumate & Minnie Riddle; h/o Zillia Bedwell]
Row 11
BAKER, Charley A.
1886
1960
double stone with next
BAKER, Nannie Ruth
1885
1967
 
TOLLY, Joe A.
1883
1973
double stone with next
TOLLY, Elizabeth
1886
1976
 
EMERSON, Richard D.
20 Dec 1884
2 Sep 1964
double stone with next
EMERSON, Sarah E.
18 Jul 1886
2 Jul 1956
[Sarah Elizabeth, d/o Jim Hart & Lucinda Gwaltney]
HALL, Dock
4 Oct 1894
17 Feb 1963
 
HALL, Florence G.
18 Mar 1896
6 Oct 1975
 
ROBINSON, Michael A.
 
21 Oct 1983
 
Row 12
BARKER, Wade C.
1893
1963
 
BARKER, Amanda H.
12 Nov 1892
13 Nov 1967
 
OSBORNE, Dorothy D.
17 Aug 1930
 
double stone with next
OSBORNE, W. Breece
10 Nov 1927
23 Sep 1984
 
BARNES, Anna Ruth
3 Apr 1933
1 Jun 1947
 
BARNES, Robert E. Lee
22 Apr 1921
11 Oct 1941
double stone with next
BARNES, John E.
1897
1986
double stone with next
BARNES, Bessie B.
1901
1973
 
SAGE, Lester
13 Apr 1892
29 Oct 1959
Pvt VA Co A 12th MG Battn [U.S. Army] World War I; double stone with next
SAGE, Pearl
17 Feb 1903
21 Nov 1970
married 20 Dec 1922
SAGE, W.S.
26 Jul 1890
19 Nov 1918
 
SAGE, Woody
22 Jan 1891
7 Oct 1918
 
SAGE, Robert
 
 
 
SAGE, Ruth
 
 
 
SAGE, Gencie
29 Apr 1914
24 Mar 1915
 
SAGE, Robert Ray
13 Nov 1911
10 Jan 1914
 
SHUMATE, Woodrow
24 Nov 1912
15 Jan 1913
 
SHUMATE, Zenna Lee
23 Sep 1909
30 Dec 1909
d/o William & N.G. Shumate
SAGE, Dora E.
6 Aug 1891
6 Jun 1907
d/o S.W. and Manda Sage
SAGE, Nancy
1867
6 Apr 1906
 
unknown
 
 
block
Row 13
McGRADY, Paul Russell
14 Jan 1908
7 Aug 1971
double stone with next
McGRADY, Daisy Tolley
31 Mar 1910
 
 
DONALDSON, Sallie W. Farmer
9 Feb 1907
13 May 1990
[Sallie Golia, d/o Thomas Waddell & Rhonda Sullins]
WADDELL, Rhoda S.
15 Sep 1867
3 Feb 1963
 
WADDELL, Rhoda S. Geneva Geraldine
18 Mar 1948
31 Dec 1948
 
WADDELL, Connie Marie
28 Dec 1940
25 Feb 1941
 
WADDELL, Carrie Lee
28 Dec 1940
28 Dec 1940
 
WADDELL, Charles Thomas
3 Sep 1946
30 Dec 1964
 
WADDELL, Paul E.
30 May 1911
23 Sep 2000
double stone with next
WADDELL, Nannie J.
28 Jan 1914
5 Apr 1999
 
BALDWIN, Vernie A.
11 Apr 1912
30 May 1994
double stone with next
BALDWIN, Vesta M.
2 Jan 1913
3 Aug 2000
 
SHUMATE, John D.
16 Jun 1883
6 Dec 1967
 
SHUMATE, Cordleie
1 May 1895
15 Nov 1922
 
SHUMATE, Edward B.
20 Oct 1921
25 Jan 1922
 
SHUMATE, Londa
8 May 1890
3 Nov 1918
 
SULLINS, Maggie
10 Jun 1917
16 Mar 1918
 
SULLINS, Fannie
 
2 Nov 1918
 
SHUMATE, Louise
12 Oct 1858
21 Sep 1927
 
SHUMATE, William Henry
 
14 Jan 1915
died at age 65
SHUMATE, Nancy
1847
1913
 
unknowns
 
 
10 blocks
SHUMATE, Enoch C.
 
 
Company H 3rd NC Mtd Inf [U.S. Army Civil War]
Row unknown (listed in this area but not found in 2008)
SHUMATE, Wiley Nathan
1895
1915
 
Row 14
SHUMATE, William J.
19 Jun 1869
6 Jun 1938
 
Row 15
BARE, Adrienne Nicole
 
2007
metal marker; probable infant
PUGH, Martha W.
16 Jun 1895
1 Nov 1975
 
PUGH, Mose
10 Jan 1873
1 Jun 1939
 
BALDWIN, Homer Vermont
2 May 1934
10 Dec 2004
friend and devoted companion Brenda Mae Davidson 3 Feb 1947
SHUMATE, Florence H.
1897
1927
 
SHUMATE, Claude L.
[Sep] 1895
[9 Jun] 1953
[h/o Mabel]
MORAN, David C.
24 Aug 1860
12 Apr 1932
 
MORAN, Jeston J.
6 Apr 1863
4 May 1916
 
PHIPPS, Arthur T.
27 Sep 1879
28 Dec 1955
[Arthur Thomas, s/o Thomas Phipps & Sarah DeBoard]
unknowns
 
 
2 blocks
PRICE, Bessie E.
11 Dec 1891
26 Sep 1900
daughter of L.C. & C. Price
PRICE, Branson
19 Nov 1897
15 Aug 1899
son of L.C. & C. Price
unknowns
 
 
2 blocks
BARKER, G.F.
1 Jan 1871
11 Nov 1927
 
HENDERSON, Walter B.
4 Nov 1907
5 Feb 1971
 
HENDERSON, Sylvia R.
13 Apr 1912
9 Apr 2006
 
THOMPSON, Reeves
3 Sep 1918
18 Jun 1996
[Reeves George, s/o William H. Thompson & Nannie Davis]
Row 16
BLEVINS, Herbert C.
3 Aug 1935
8 Mar 1998
double stone with next
BLEVINS, Charlotte B.
17 Oct 1930
5 Mar 2000
 
BLACKBURN, William Bryan
7 Nov 1923
24 Feb 2003
double stone with next
BLACKBURN, Anna Lee
31 Jan 1924
1 Feb 1962
 
unknowns
 
 
2 wooden crosses
BLACKBURN, Mark
25 Oct 1934
16 Jan 1943
 
BLACKBURN, Andrew
15 Jan 1867
10 Mar 1940
double stone with next
BLACKBURN, Girtha Mae
5 Mar 1892
 
 
STUART, Laura
25 Oct 1898
27 Jun 1975
double stone with next
STUART, Lester J.
10 Aug 1893
28 Feb 1951
World War I
SPENCER, Jennie
27 Mar 1876
13 Jun 1970
 
SPENCER, Everett
5 Jan 1875
24 Dec 1961
 
unknown
 
 
stone base, top gone; fragments "J. PER….48"
PARKS, Eveline Osborne
1855
1926
 
PLUMMER, Robert Hart
13 Jan 1945
7 Feb 1992
AW1 U.S. Navy Vietnam
RICHARDSON, Fields M.
18 Apr 1856
1 Aug 1922
 
RICHARDSON, Rosa E.
6 Oct 1858
11 Nov 1913
wife of F.M. Richardson
REEDY, John M.
9 Mar 1850
4 Jan 1947
 
TUCKER, John B.
1898
1969
Montana Corp Co B 360th Inf World War I; double stone with next
TUCKER, Kate
1902
1986
 
RICHARDSON, Porter
11 Jun 1900
19 Apr 1956
[Harold Porter]
RICHARDSON, J.F.
20 Jan 1854
10 Jul 1926
 
unknown
 
 
concrete block
RICHARDSON, Paul
7 Sep 1898
27 Aug 1899
s/o J.F. & Laura Richardson
BALL, Marge M.
19 Mar 1874
29 Mar 1900
 
BALL, Robert Avery
29 May 1881
21 May 1954
double stone with next; [s/o Nancy Ball; h/o Myrtle]
BALL, Nancy Deamie
14 Jul 1881
14 Feb 1937
 
BALL, E.C.
1 Oct 1913
14 Jul 1978
[Estil Cortez, s/o Avery Ball & Demmie Hall]
BALL, Orna R.
18 Aug 1907
21 Jan 2000
[w/o E.C. Ball]
THOMPSON, Harrison
18 Nov 1888
21 May 1972
[William Harrison]
THOMPSON, Nannie
28 Feb 1889
3 Aug 1983
[Nannie Patricia, d/o Melvin Davis & Sarah Jane Waddell; w/o William Harrison Thompson]
unknown
 
 
funeral home marker, no data
Row 17
BAKER, James E.
18 Apr 1936
1 Aug 1959
 
BAKER, Maude J.
29 Aug 1919
5 Oct 1986
double stone with next
BAKER, Gene, Rev.
8 Dec 1913
25 Mar 2001
married 23 Feb 1935
BAKER, J. Mae
25 July 1879
14 Sep 1968
double stone with next
BAKER, J. Walter
7 May 1877
24 Jan 1959
 
TAYLOR, Alice Baker
20 Apr 1870
21 Feb 1951
 
unknown
 
 
concrete block
BAKER, Stanley
30 Apr 1923
25 Mar 1924
 
BAKER, Mattie
12 Jan 1902
4 Jun 1923
 
BAKER, Conley
19 Feb 1922
26 Nov 1922
 
HART, Cora Pendry
[31 Oct] 1912
[3 Sep] 1996
double stone with next; [Cora Alma, d/o Bloom Pendry & Mabin Handy]
HART, Charlie D.
1912
1984
 
HART, Claude E.
31 Oct 1907
14 Apr 1982
[s/o Joseph Madison Hart & Bertie Florence Delp; h/o Gladys McGrady]
PLUMMER, Virginia Hart
18 Sep 1917
14 Jul 1976
[d/o Matt Hart & Birdie Delp]
HART, Bertie F.
1881
1966
[w/o Joseph M. Hart; SSDI lists dates as 22 Oct 1880 – Jan 1966]
HART, Joseph M.
1878
[26 Nov] 1955
double stone with next; [Joseph Matt, s/o James Hart & Frankie Lou Gaultney; obit birth 10 Mar 1877]
HART, Viola
5 Apr 1905
4 May 1915
d/o J.M. & Bertie Hart
BAKER, York
1920
1921
 
BAKER, Delmer
1916
1922
 
BAKER, Dillon
1906
1910
 
PIERCE, James Daniel
17 Jan 1912
11 Jan 1914
 
PIERCE, Infant
 
 
infant son of James & Martha Pierce
PIERCE, Delphia E.
30 Mar 1880
6 Oct 1900
wife of R.J. Pierce
BAKER, Elihu
19 Aug 1843
27 Dec 1912
Odd Fellow
unknowns
 
 
3 concrete blocks
DAVENPORT, Walter L.
2 Jan 1896
26 Jul 1968
double stone with next
DAVENPORT, Oma Baker
28 May 1908
3 Sep 1998
 
SUITT, William C. "Bill"
6 Oct 1942
 
double stone with next
SUITT, Doris Lee Davenport
4 Nov 1941
31 May 2005
 
Row 18
SHUMATE, King
22 Mar 1875
29 Nov 1949
 
BAKER, R.S.(??)
 
 
concrete block, initials questionable
PLUMMER, Birdie H.
15 Apr 1885
3 Sep 1976
 
PLUMMER, Roger D.
28 Feb 1924
6 Apr 1988
 
TAYLOR, George
21 Jun 1899
4 Apr 1985
double stone with next
TAYLOR, Dot
1 Jan 1895
12 May 1986
 
HART, Delphine
13 Jul 1930
27 Apr 2001
 
unknowns
 
 
7 concrete blocks, 5 visible in 2008
ANDERSON, Orville M.
4 Nov 1838
19 Mar 1916
 
ANDERSON, Wayne R.
2 Feb 1906
11 Jun 1907
 
ANDERSON, G. Blaine
24 Jul 1904
22 Aug 1905
 
Row 19
SPARKS, Elizabeth Lee
12 Aug 1861
28 Apr 1939
double stone with next
SPARKS, John
14 Mar 1864
18 Nov 1938
 
unknown
 
 
concrete block
HENDERSON, John Franklin
 
24 Jul 1918
Virginia Seaman 2C U.S. NRF World War I
unknowns
 
 
7 concrete blocks
FRANCIS, Evoline
22 Mar 1845
9 Jan 1917
 
unknown
 
 
concrete block
SHUMATE, Frank
11 Jun 1880
26 Dec 1937
 
SHUMATE, Carrie
19 Dec 1886
8 Mar 1978
[d/o Laura Francis & Evline Anderson; w/o King A. Shumate]
PLUMMER, Bryan
23 Nov 1937
4 Sep 1966
Va S Sgt U.S. Marine Corps; double stone with next
PLUMMER, Bonnie G.
25 Aug 1934
 
 
PLUMMER, Cole
25 Dec 1908
6 Mar 1974
double stone with next
PLUMMER, Ruby
5 Mar 1916
10 Jul 2004
married 14 Sep 1932
Row 20
PARKS, Pearlie R.
26 Dec 1923
5 Sep 2008
double stone with next; [nee Reedy]
PARKS, Gwyn R.
5 Jun 1915
23 Feb 1997
[s/o Weldon Parks & Jincy Hash]
REEDY, Walter W.
1888
1970
double stone with next
REEDY, Zenna H.
[17 Sep] 1900
[10 Oct] 1990
[Zenna Leona, d/o Troy Henderson & Alice Spencer]
REEDY, Bradley Lee
18 Sep 1920
28 Jun 1985
PFC U.S. Army World War II; double stone with next
REEDY, Artie P.
9 Aug 1924
 
 
unknown
 
 
concrete block
QUILLEN, Cora H.
1877
1974
 
QUILLEN, Charlie G.
11 Oct 1870
6 May 1950
 
QUILLEN, Gladis
22 Apr 1915
23 Jan 1917
d/o C.G. & Cora Quillen
WARREN, Edith M.
1908
1920
 
WARREN, Paula Dane
1930
1932
 
unknowns
 
 
2 concrete blocks
Row 21
REEDY, Tilford B.
27 Aug 1909
13 Mar 1990
PFC U.S. Army World War II; [Tilford Boyd, s/o Arthur Reedy & Nannie Davis]
REEDY, Jack
1934
1971
 
REEDY, Nannie
1888
1966
double stone with next
REEDY, Arthur
1885
1963
 
unknowns
 
 
2 concrete blocks
REEDY, Lewis W.
1925
[17 Nov] 1955
[s/o Arthur Reedy; h/o Marie Hall]
JOHNSON, Harold
11 May 1940
24 Apr 1984
 
JOHNSON, Ira S.
22 Jan 1885
28 Dec 1961
double stone with next
JOHNSON, Ennis
7 Aug 1884
4 Aug 1958
 
JOHNSON, Blane
29 Nov 1919
1 May 1945
died in action in World War II
unknowns
 
 
4 concrete blocks
PLUMMER, Lucy Dare
8 Nov 1906
12 Feb 1908
 
WARREN, Tom, Rev.
1856
1940
 
WARREN, Nancy F.
11 Jun 1845
12 Aug 1902
 
unknowns
 
 
2 concrete block
PLUMMER, Felix
unknown
8 Mar 1933
double stone with next
PLUMMER, Sarah Ann
13 Feb 1845
27 Mar 1908
 
PLUMMER, Emma
25 Feb 1877
6 Apr 1927
double stone with next
PLUMMER, Alonzo
19 Aug 1876
25 Aug 1957
[Elmer Alonzo, s/o Felix Plummer & Sarah Wiles; h/o Dora]
PLUMMER, Barbara L.
20 Feb 1950
23 Feb 1950
 
PLUMMER, Eddie
16 Mar 1965
16 Mar 1965
s/o Mr. & Mrs. Roger Plummer
Row 22
RICHARDSON, Dale E. (f)
5 Jan 1913
 
double stone with next
RICHARDSON, Bradley W.
17 Apr 1908
14 Mar 1962
 
QUILLEN, Rebecca J.
18 Oct 1880
21 Aug 1938
double stone with next
QUILLEN, James L.
28 Mar 1877
14 Oct 1959
 
REEDY, Lue Dema
25 Aug 1865
18 Dec 1942
double stone with next
REEDY, Rush Mack
16 Jan 1868
6 Sep 1940
 
FARMER, Ola McGrady
5 Jul 1911
11 Jun 1993
double stone with next
FARMER, James Arthur
14 Nov 1904
12 Feb 1989
 
REEDY, Faye
17 Aug 1899
18 Mar 1999
 
REEDY, Willie Eugene
5 Jul 1887
30 Apr 1951
double stone with next; [s/o Rush Mack Reedy & Lue Dema Phipps]
REEDY, Eva Ruth
2 Jul 1904
3 Dec 1931
 
REEDY, Orley C.
5 Feb 1901
7 Feb 1918
[s/o Rush Mack Reedy]
REEDY, Everett Kyle, Pvt.
6 Sep 1890
26 Sep 1918
"In remembrance of a brave soldier who gave his life in the defense of his country"; [s/o Rush Mack Reedy & Lue Dema Phipps]
REEDY, Luther L.
8 Dec 1904
1 Sep 1964
double stone with next; [s/o Rush Mack Reedy]
REEDY, Annie S.
3 Nov 1912
4 Aug 1997
married 16 Sep 1929
REEDY, John E.
10 Jan 1894
3 Jun 1974
Pvt U.S. Army [World War I]; [s/o Rush Mack Reedy]
REEDY, Stella Phipps
4 Mar 1907
19 Jan 1994
[Stella Lee]
unknowns
 
 
2 concrete blocks
HENDERSON, Dewey
29 Aug 1900
25 Jun 1977
double stone with next; [George Dewey, s/o Robert Henderson & Wadie Shumate]
HENDERSON, Clyde
24 Feb 1902
19 Sep 1956
[nee Plummer]
Row 23
unknowns
 
 
3 concrete blocks
DELP, Anthony E.
26 Jun 1972
26 Jun 1972
 
Row 24
unknown
 
 
concrete block
BALL, Tex Arron
24 Jul 1940
8 Nov 2004
 
BALL, Orley Denton
29 Jul 1896
25 Sep 1972
Pvt Co K 316th Inf 79th Infantry Division U.S. Army World War I; double stone with next
BALL, Lela
1903
1991
 
WALLS, Phoeby E.
1872
1923
double stone with next
WALLS, Hughey C.
1873
1959
 
unknown
 
 
concrete block
WARREN, Lewis
 
 
 
WARREN, Ellen
 
 
 
WARREN, Dorothy
 
 
 
WARREN, Elbert P.
4 Feb 1858
24 Apr 1935
[s/o Nancy Warren]; double stone with next
WARREN, Columbia J.
21 Oct 1867
11 Jul 1944
[Columbia Jane, d/o John A. & Surilda Peak]
WARREN, John H.
[20 Feb 1910]
17 [Apr 1982]
hand made concrete marker, dates not legible; [John Henry, s/o Mollie Warren]
PEAK, Mary Jane
6 Feb 1841
5 Dec 1924
 
unknowns
 
 
2 concrete blocks
HALL, Mary Jane
1846
1905
 
unknowns
 
 
3 concrete blocks
Row 25
SHAW, Charmie V.
30 Jun 1927
15 Nov 1927
 
FARMER, Evelyn Kay
9 Mar 1945
11 Mar 1945
 
McGRADY, C.T.
1870
1939
double stone with next
McGRADY, Ida Enice
1884
1968
 
SPENCER, Ruby Edith
26 Apr 1927
19 Jun 1937
 
GREER, Zenna A.
2 Aug 1906
6 May 1981
 
GREER, Edison Hix
27 Jul 1930
2 Feb 1931
s/o Mr. & Mrs. Guffie Greer
GREER, Guffie E.
3 Jul 1905
21 Feb 1972
 
unknowns
 
 
5 concrete blocks
McGRADY, Sallie A.
17 Aug 1865
11 Jan 1963
 
PHIPPS, Mary
14 Mar 1907
5 Jan 1929
double stone with next
PHIPPS, Lee Roy
29 Mar 1907
5 Feb 1931
 
McGRADY, Lydie M.
8 Aug 1929
10 Aug 1992
PFC U.S. Army Korea
McGRADY, Wanetta
24 Oct 1907
30 Nov 1929
 
unknown
 
 
concrete block
Row 26
HALL, Mattie E.
[23 Jul] 1906
[19 Feb] 1989
double stone with next; [Mattie Ellen, d/o Ed Barnes & Julia Phipps]
HALL, Jess J.
1905
1974
 
MARTIN, Orlean Hall
17 Jun 1888
1 Dec 1965
 
McGRADY, Lucy K.
10 Dec 1910
10 Nov 1991
double stone with next;[Lucy Kate, d/o Dexter Farmer & Emma Jones]
McGRADY, Blain J.
3 Feb 1908
25 Feb 1985
 
McGRADY, Robert Ray
22 May 1932
21 Nov 1968
Virginia AN U.S. Navy
McGRADY, Shirley
31 Mar 1939
19 Sep 1998
[nee Paisley]
McGRADY, Ronald
4 Oct 1957
14 Oct 1957
[s/o Ray McGrady & Shirley Paisley]
unknowns
 
 
6 concrete blocks
McGRADY, Millard
27 Mar 1900
2 Feb 1974
double stone with next
McGRADY, Lillie
10 Jan 1901
2 Aug 1967
 
Row 27
REEDY, Blaine D.
1902
1966
double stone with next
REEDY, Jincy Cleo Y.
1904
1990
 
SHEPHERD, Blaine
16 Oct 1938
13 Oct 2007
double stone with next
SHEPHERD, Shirleen M.
19 Aug 1942
 
married 20 Dec 1957
SHEPHERD, Karen M.
2 Nov 1962
22 Nov 1962
d/o Mr. & Mrs. Blaine Shepherd
GOWINGS, Swillie T.
4 Oct 1876
17 Mar 1935
father
unknown
 
 
concrete block
GOWINGS, Delia S.
3 Jun 1889
29 Sep 1982
mother
unknown
 
 
concrete block
REEDY, Phoebe J.
4 Nov 1900
28 May 1997
double stone with next; [nee Waddell]
REEDY, James Frank
23 Apr 1889
18 Feb 1978
Virginia PFC U.S. Army World War I; [s/o Isaac Reedy & Adelaide Sheets]
FARMER, Cecil
16 Jul 1913
11 Oct 1995
double stone with next; [s/o Thelbert Allen & Gertrude Farmer; obit death 10 Oct 1995]
FARMER, Myrtle
8 Mar 1926
29 Apr 1975
[nee Pugh]
SULLINS, ___est
 
1930
cast concrete stone, crumbling condition
unknowns
 
 
2 concrete blocks
unknown
 
 
cast concrete block, crumbled
SULLINS, Va. G.
1924
1924
daughter; aged 4 days
SULLINS, Cora
1896
1930
mother; aged 34 yrs
Row 28
McGRADY, Ronald Mathew "Padro"
31 Aug 1954
1 Jan 1986
 
Row 29
ASHLEY, Thomas W.
1896
1963
double stone with next
ASHLEY, Barbara W.
1896
1969
 
THOMPSON, Margie
1 Sep 1919
28 Oct 1971
double stone with next
THOMPSON, Greer
23 Sep 1913
20 Mar 1990
married 29 May 1936; [s/o William Harrison Thompson & Nannie Davis]
THOMPSON, David
28 May 1953
 
double stone with next
THOMPSON, Sharon Reedy
5 Aug 1954
22 Jun 2007
 
ASHLEY, Frank M.
19 Jun 1921
24 Feb 1972
double stone with next
ASHLEY, Maxine N.
28 Aug 1925
 
 
PIERCE, John B.
5 Aug 1896
15 Nov 1964
Virginia Pvt Co M 62nd Infantry U.S. Army World War I.
SAGE, George W.
5 Aug 1908
20 Mar 1973
double stone with next
SAGE, Blanch D.
14 Sep 1913
6 Aug 2004
unknown
 
 
concrete block
PEAK, Anita Louise
17 Jan 1964
22 Feb 1965
 
RICHARDSON, William B. "Bill"
24 Apr 1934
 
double stone with next
RICHARDSON, Maxine Sage
23 Feb 1939
14 Dec 2007
 
unknown
 
 
concrete block
DAVIS, Brack
18 Dec 1892
25 Dec 1983
[s/o Melvin Davis & Sarah Jane Waddell]
DAVIS, Alice McGrady
30 Apr 1883
 
double stone with next
DAVIS, Willie
24 Oct 1877
19 Oct 1959
 
DAVIS, Sarah Jane
4 Feb 1856
10 Apr 1940
 
DAVIS, Fitzhugh
5 Aug 1897
19 Nov 1930
 
Row 30
CHATHAM, Mary Jane
1 Apr 1890
14 Jan 1964
 
CHATHAM, John
8 Nov 1873
13 Oct 1950
 
CHATHAM, Nancy C.
6 Nov 1874
17 Jun 1929
 
unknown
 
 
concrete block
DAVIS, Gilmer Arthur
2 Mar 1926
24 Nov 2000
SSMB3 U.S. Navy World War II
DAVIS, Blaine Marvin
1911
1971
 
DAVIS, Oscar
7 Jun 1891
23 Aug 1974
double stone with next
DAVIS, Lucy
29 Jan 1886
11 Nov 1966
 
Row 31
CAMPBELL, William Douglas
11 Dec 1969
13 Dec 1969
s/o Price & Stella Campbell
OSBORNE, Rose Joan B.
20 May 1934
 
double stone with next
OSBORNE, Robert L.
29 Feb 1932
 
 
OSBORNE, Ruby Hall
15 May 1915
21 Dec 1992
 
OSBORNE, Robert E. Lee
22 Mar 1914
30 Oct 1946
 
HOWARD, John
17 Mar 1906
26 Jun 1975
triple stone with next two
HOWARD, Lucy May
3 Jun 1909
22 Dec 1990
 
HOWARD, Naomi
18 Mar 1949
3 Mar 1952
 
PIERCE, James F.
1845
1935
double stone with next
PIERCE, Martha S.
1851
1931
 
SAGE, Weaver Edward
17 Feb 1927
2 Apr 1997
Tec 5 U.S. Army World War II
SAGE, Robert Ray
7 Apr 1932
13 Jun 1932
 
SAGE, Josh J.
18 Aug 1884
9 Apr 1934
double stone with next
SAGE, Sarah Ann
18 Dec 1888
17 May 1968
 
SAGE, James Russell
24 Jul 1938
21 Jul 1955
[s/o Frank Sage]
SAGE, Reba H.
15 Dec 1919
6 Sep 1985
 
unknown
 
 
concrete block
Row 32
REEDY, Lester
14 Nov 1914
14 Nov 1914
s/o Connie & Etta Reedy
HENDERSON, Timothy H.
18 Nov 1868
2 Apr 1911
 
HENDERSON, Melvina E.
11 Jun 1870
21 Sep 1958
 
HENDERSON, Harry R.
29 Jun 1908
2 Nov 1969
double stone with next
HENDERSON, Qualie B.
18 Aug 1909
30 Jul 1991
[Quallie Owdry, d/o Newton Blevins & Betty Sparks]
HENDERSON, Richard Dale
 
26 Jun 1966
infant
HENDERSON, Raymond Lee
[14 Jan 1977]
14 Jan 1977
infant [s/o William Henry Henderson & Dolly Johnson]
HENDERSON, William H.
21 Jul 1942
4 Oct 2001
Pvt U.S. Army Vietnam; double stone with next
HENDERSON, Kay M.
28 Jan 1947
11 May 2002
 
Row 33
HARVEY, Sim B.
13 Dec 1908
23 Aug 1971
 
HARVEY, Olcie Minnie
1 Apr 1918
14 Dec 1980
[d/o Thomas Ashley & Barbara Wyatt; w/o Sim B. Harvey]
HALL, Dennis Clay
28 Jun 1913
12 Mar 1944
 
HALL, Winnie M.
1893
[20 Feb] 1980
double stone with next; [d/o Timothy Henderson & Vina Mink; obit birth date 26 Oct 1892]
HALL, Isome A.
1890
1974
[Isom Ahart]
PIERCE, Rettie
4 May 1882
8 Apr 1964
 
REEDY, J. Margain
1873
1932
[James Morgan]; double stone with next
REEDY, Sarah L.
1885
1932
 
REEDY, Graham, Jr.
27 Mar 1943
27 Mar 1943
 
REEDY, Graham
24 Aug 1907
19 Jan 1964
 
REEDY, Ethel Lee
1910
1975
 
SAGE, Frank E.
17 Jul 1910
27 Jun 2002
 
REEDY, Connie V.
14 May 1891
19 Mar 1977
double stone with next; [s/o John Reedy & Mattie Lou McGrady]
REEDY, Etta L.
8 Apr 1892
6 May 1980
[Ettie Lou, d/o Timothy Henderson & Melvina Mink]
REEDY, Joanne
20 Jun 1941
20 Jun 1941
d/o Ernest & Carrie Reedy
HENDERSON, Jimmy R.
12 Sep 1932
27 Nov 1983
double stone with next; [Jimmy Ray, s/o Harry Ray Henderson & Qualie Blevins]
HENDERSON, Josephine D.
25 Mar 1937
15 Jan 1999
 
Row 34
HASH, W. Albert
24 Apr 1901
23 Dec 1968
double stone with next
HASH, Ida B.
7 Mar 1902
12 Apr 1997
 
HASH, Debra Lynn
2 Dec 1956
9 Dec 1957
 
STUART, Troy W.
6 Jan 1900
28 Sep 1969
double stone with next
STUART, Mattie E.
8 Apr 1898
15 Jul 1962
STUART, Elizabeth Jane
12 May 1925
20 Jun 1943
 
STUART, John S.
1865
1951
double stone with next
STUART, Emma Z.
1877
1933
 
STUART, Hazel
1918
1936
 
SHUMATE, James Lundy
1 Apr 1927
19 Aug 1990
PFC U.S. Marine Corps World War II; [s/o Roy Shumate & Lula Stuart; h/o Patsy N.]
SHUMATE, Roy M.
24 Jul 1904
16 Mar 1935
 
SHUMATE, Jincy Jane
12 Feb 1916
3 Mar 1978
[d/o Tom Shumate & Minnie Riddle]
SHUMATE, Minnie
7 Jan 1883
25 Jan 1914
[w/o Thomas Shumate]; handmade concrete marker
SHUMATE, J.J.
3 Dec ____
23 Jan 1954
[Thomas, s/o Enoch & Jame Shumate; obit info lists birth as 3 Jan 1876]; handmade concrete marker
SHUMATE, Letcher Max
17 Aug 1931
27 Dec 1953
[s/o Beulah Shumate]
SHUMATE, Beulah M.
1 Jan 1907
8 Oct 1982
[Beulah Melinda, d/o Thomas Shumate]
SHUMATE, George C.
18 Jun 1945
 
double stone with next
SHUMATE, Addie Belle
3 Apr 1925
29 Dec 2001
 
unknowns
 
 
3 concrete blocks
Row 35
BLEVINS, Newton
1857
1932
 
Row 36
TESTERMAN, Frances
1886
1947
handmade concrete marker
unknown
 
 
concrete block
SAGE, Mary
24 Sep 1856
24 May 1934
 
SAGE, John
1864
9 Mar 1937
 
RIDDLE, Addie
4 Mar 1886
15 Oct 1945
 
SAGE, James Bruce
12 May 1904
17 Jun 1979
double stone with next
SAGE, Vrina J.
30 Apr 1907
8 Jun 1959
 
SHUMATE, James Breece
29 Feb 1940
23 Aug 1975
 
SHUMATE, Lee R.
29 Sep 1910
20 Oct 1965
 
SHUMATE, Trixie
30 Dec 1915
8 May 2007
 
SHUMATE, Ted P.
4 Sep 1912
8 Jul 1962
Virginia PFC 896 AAA AW Bn CAC U.S. Army World War II; double stone with next
SHUMATE, Virgie G.
15 Aug 1925
27 Jul 1981
[Virgie Marie, d/o Hyter & Bessie May Harris Gillespie]
Row 37
DAVIS, Jincy Z.
22 Feb 1910
14 Jul 2001
 
JONES, Virginia L.
1917
 
double stone with next; [nee Davis]
JONES, Floyd T.
[2 Dec] 1907
[1 Oct] 1979
[Floyd Thomas, s/o Marshal & Eunice Phipps Jones]
JONES, Georgia A.
21 Dec 1914
11 Mar 1980
 
JONES, Ervin Dennis
7 Jan 1911
15 May 1987
PFC U.S. Army World War II
HENDERSON, Lula M.
22 Jul 1905
5 Dec 1986
 
REEDY, Debbie Ann
6 Jan 1956
11 Oct 1980
[d/o Wade & Jessie Shumate Reedy]
REEDY, Wade G.
22 Jul 1915
3 Apr 1982
PFC U.S. Army World War II; [Wade Garnett, s/o Arthur & Nannie Davis Reedy]
REEDY, Jessie L.
2 May 1932
24 Feb 1998
[nee Jessie Lee Shumate; w/o Wade G. Reedt]
GILLEY, Howard Paul
19 May 1911
4 Oct 1973
double stone with next
GILLEY, Pauline Cox
19 Jul 1916
 
 
GILLEY, Joe Allen
25 Aug 1939
26 Dec 1972
double stone with next
GILLEY, Carol Hash
21 Aug 1935
 
 
REEDY, Leonard C.
7 Nov 1888
19 Jan 1967
double stone with next
REEDY, Effie V.
5 May 1898
29 Oct 1968
 
Known to be buried here
BLACKBURN, Aaron Jacob
[28 Sep 1989]
[4 Feb 1990]
[s/o Randy & Nancy Holdaway Blackburn]
GOINS, Polly Cordelia "Delia"
[3 Jun 1889]
[29 Sep 1982]
[d/o William Lee & Mary Ann Reedy Spencer; w/o Swillie Goins]
HASH, Infant
[21 Oct 1983]
[21 Oct 1983]]
[d/o Charles Henderson & Alice Hart]
HOLDAWAY, Randolph Scott, Jr.
[26 Aug 1979]
[10 Oct 1979]
[s/o Nancy Carol Holdaway]
McGRADY, Infant
 
 
[child of Oscar & Mae McGrady]
QUILLAN, Jennie Jane
[ca 1896]
[2 Apr 1952]
[d/o Andy Blackburn & Sally Walton; w/o Jim Quillan]
THOMPSON, William Douglas
[194_]
[194_]
[s/o Greer & Margie Thompson]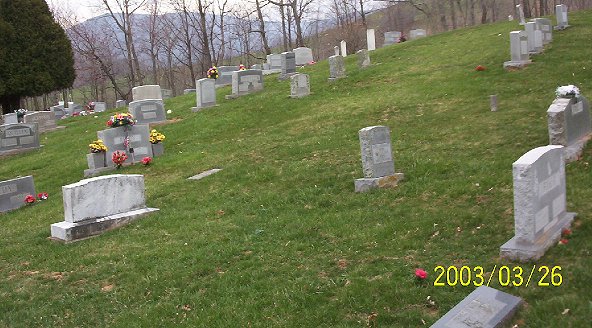 General View of the Corinth Baptist Church Cemetery