Grayson County, Virginia
Location: East of Elk Creek
Directions:
GPS Coordinates: N36.71892 W81.12548
Surveyed by: Scott Trent and Richard Ballard, 19 March 2004.
Comments: This cemetery lies on a hill in a pasture approximately 100 yards from the road. It is surrounded by a white concrete wall topped by red tile and is barely visible from the road due to the growth of small trees and shrubs. There is no gate into the cemetery; a stile once provided access but is now obscured by a large fallen tree. The entire surface of the walled area is covered by concrete. A bronze tablet, set in concrete, reads, "Funk Family Cemetery 1968. Sadly missed, in loving memory of each one". There are probably several more graves here. Cemetery is approximately 20 ft across the rows, with 5 rows in use.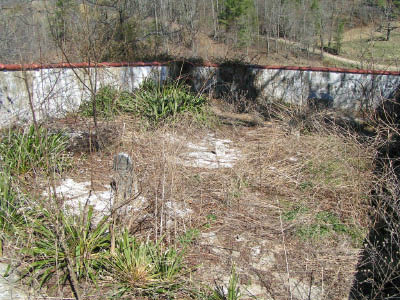 General View of the Andrew Funk Cemetery
Andrew Funk Cemetery, Grayson County, Virginia

| Name | Birth | Death | Comments |
| --- | --- | --- | --- |
| SIMS, L.E. | 8 Jul 1854 | 27 Feb 1897/1894 | [L. Elizabeth, d/o Andrew & Margaret South Funk] |
| FUNK, Andrew | 24 Oct 1809 | 12 May 1893 | A foot stone, "A.F.", is set in the concrete, beside his headstone, possibly to mark another grave. |
| FUNK, Bessie M. | 14 Nov 1886 | 17 Aug 1892 | [Bessie Maiden, d/o P.C. & Rhoda Funk] |
| FUNK, P[eter] C. | 6 Jun 1840 | 21 Jul 1921 | [Peter Columbus, s/o Andrew & Margaret South Funk; h/o Rhoda ____ Matney] |