Grayson County, Virginia
Location: South of Elk Creek
Directions: This cemetery lies in a pasture on a hill west of Elk Creek Pkwy (US 21) and south of Willowshade Ln (Rt 666). It is visible from the highway but certainly not obvious.
GPS Coordinates: N36.70263 W81.17554
Surveyed by: 24 Mar 2004 by Carol Taylor and Rich and Ginger Ballard.
Comments: The cemetery is fenced but not maintained. All stones have fallen and many are broken. There are at least 10 graves marked only by field stones and an indeterminant number of unmarked graves.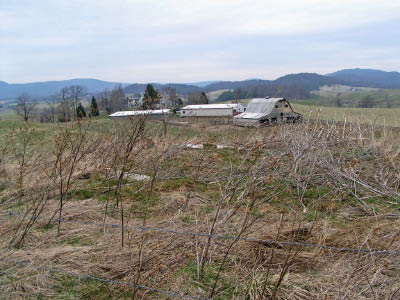 General View of the Stephen Hale Cemetery
Stephen Hale Cemetery, Grayson County, Virginia

| Name | Birth | Death | Comments |
| --- | --- | --- | --- |
| DOUGHERTY, Tabitha |   |   |   |
| unknown |   |   | illegible stone |
| unknown |   |   | illegible stone |
| HALE, Caroline E. |   | 1 Feb 1852 | age 15 yrs 5 mos; [d/o Stephen and Lenora Mitchell Hale] |
| HALE, James R. |   | 24 May 1860 | age 18 yrs 4 mos 6 days; [s/o Stephen and Lenora Mitchell Hale] |
| HALE, Creed B. | 18 Apr 1826 | 21 Jul 1861 | Co F 4th Reg Va Vol; [fell at Manassas; s/o Stephen Hale] |
| HALE, ____ |   | ___ 1858? | _/o Steph___ |