Sixteen Acre Field Cemetery
Grayson County, Virginia
Location: Stone's Chapel
Directions: From Comer's Rock Rd (Rt 658) go south and west 4 miles on Stone's Chapel Rd (Rt 611) to Serenity Rd (Rt. 664). Then go west (left) on Serenity Rd for 0.2 mile. The cemetery is on the left side of the road and visible from the road.
GPS Coordinates: N36.707317 W81.221466
Surveyed by: Mary Taylor Harrington & Susan Taylor Woodson; updated by Ginger & Rich Ballard February 2009
Comments: There is an inscription on a stone erected to Bethania Bryant that states hers was the first burial in this cemetery in 1875. A large marker at the entrance to the cemetery states that the cemetery was established in 1875. Several graves are marked with small stones which in at least some cases appear to have been footstones taken from nearby graves. Initials on these small stones are shown in the listing.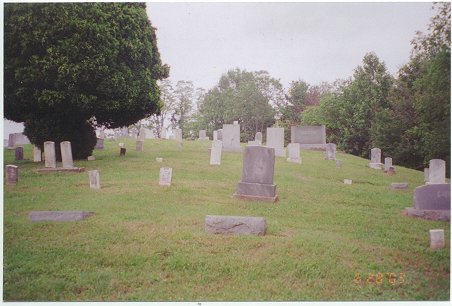 General View of the Sixteen Acre Field Cemetery
(by Susan Taylor Woodson)
Sixteen Acre Field Cemetery, Grayson County, Virginia
Name
Birth
Death
Comments
Row 1
COLLINS, Lola Fay
28 Aug 1903
20 Mar 1957
[d/o J. Kelley & Lula Agnes Collins]
WINGATE, Samuel S.
1871
1948
[Samuel Sherwood, s/o John & Elizabeth Ann Sawyers Wingate]; double stone with next
WINGATE, Molly Ann
1871
1959
[d/o John & Nancy Caroline Barton Collins]
CORNETT, John W.
16 Jul 1871
26 Feb 1944
[s/o William Jasper & Linnie Cannoy Cornett]
CORNETT, Mertie C.
16 Dec 1880
double stone with next; [d/o John H. & Mary A. "Polly" Meredeth Hackler]
Row 2
WARD, W[iley] W.
31 Aug 1853
17 May 1915
[s/o Abigail Ward; gs/o Stephen & Abigail Osborne Ward]
unknown
 
 
small stone
WARD, Rush Floyd
[20 Jan] 1847
[23 May] 1930
[s/o Abigail Ward; gs/o Stephen & Abigail Osborne Ward; Co B 4th VA Reserves CSA]
WARD, Eliza Woods
1851
1908
[Eliza Marguerite "Lisie", w/o Rush Floyd Ward]
WARD, David C.
28 Aug 1871
19 Apr 1930
[s/o Rush Floyd & Eliza Woods Ward]; double stone with next
WARD, Polly J.
6 May 1863
14 Mar 1922
[Polly Jane, d/o John & Julia Hawkins]
POE, Sally
20 May 1895
12 Mar 1918
[d/o Reuben & Emily Wingate Cornett; 1st w/o Loy Poe]
Row 3
ELLER, Clark
29 Feb 1847
18 Dec 1920
[s/o George & Millie Love Eller; birth date sic]; double stone with next
ELLER, Jane
4 Jan 1862
5 Jun 1916
[Isabelle Jane, d/o David J. & Arlacha Harrison Cornett]
COLLINS, Lula Agnes
2 May 1883
7 Apr 1935
[1st w/o J. Kelly Collins]
COLLINS, Maggie Sue
6 Dec 1906
16 Mar 1908
d/o J.K. & L.A. Collins
unknown
 
 
small stone "J.E.C."
COLLINS, Mamie Lee
6 Aug 1902
30 Oct 1902
d/o S.L. & A.R. Collins
COLLINS, John E.
4 Mar 1842
30 Jun 1919
["Squire", s/o Joel & Matilda Poole Collins; Co K 51st VA Inf CSA]
COLLINS, Nancy Caroline
20 Mar 1846
22 Jan 1930
[d/o Isaac & Mary "Polly" Billings Barton; w/o John E. Collins]
WINGATE, Eliza Ann
31 Aug 1835
30 Nov 1915
w/o John Wingate; [Elizabeth Ann, d/o Zachariah & Mary Martin Sawyers]
Row 4
COLLINS, Grover
14 Jul 1885
22 Sep 1889
s/o J[ohn] E. & N[ancy] C[aroline Barton] Collins; separate stones but set in same base with next
COLLINS, Ollie
2 Dec 1888
21 Sep 1889
d/o J[ohn] E. & N[ancy] C[aroline Barton] Collins
WINGATE, Kate Dell
3 Jan 1899
20 Mar 1899
[d/o Samuel Sherwood &Mollie N. Collins Wingate]; all but name portion of this stone is now buried
WINGATE, Mamie Lee
26 Mar 1900
7 May 1900
d/o S[amuel] S[herwood] & Mollie A. Wingate
WINGATE, L. Macka
12 Jul 1904
28 Feb 1905
d/o S[amuel] S[herwood] & Mollie A. Wingate
Row 5
THOMPSON, Farrie Pauline
10 Jun 1926
12 Jun 1926
 
unknown
 
 
small stone "M.L.C."
THOMPSON, L[orenzo] D.
15 Apr 1836
8 Aug 1911
age 75 y 3 m 13 d
THOMPSON, M[ary] E.
[19 Nov 1847]
22 Feb 1934
[Mary Emeline, d/o David J. & Arlacha Harrison Cornett]
unknown
 
 
small stone "L.O.T."
MERIDETH, M[arthy] C.
19 Nov 1847
23 Aug 1910
[Martha Caroline, w/o James Harper Merideth; d/o David J. & Arlacha Harrison Cornett. Other source states death date as 27 Aug 1910.]
BLAND, W. Cleo
26 Nov 1888
13 Oct 1900
[s/o Christopher Columbus & Polly Jane Secton Bland]
BLAND, C.C.
25 Jan 1852
3 Mar 1907
age 55 y 1 m 8 d; [Christopher Columbus, s/o Andrew Jackson & Mary J. Deboy Bland]
TESTERMAN, Polly Jane Bland
5 Jan 1866
21 Sep 1945
[nee Sexton; m1 Christopher C. Bland, m2 J.B. Testerman]; death date below ground level
BLAND, Glenn C.
30 Apr 1884
11 May 1944
[Glenn Cebert, s/o Christopher C. & Polly Jane Sexton Bland; m1 Quincy Hale, m2 Sibbie Comer]
BLAND, Quincy
19 May 1890
22 Jul 1905
[1st w/o Glen Cebert Bland; d/o Tate & Rhoda Cornett Hale; death date should be 22 Jul 1909]; stone located at foot of tree
BLAND, John F.
12 Sep 1881
29 Dec 1928
[John Franklin, s/o Christopher C. & Polly Jane Sexton Bland]; double stone with next
BLAND, Minnie A.
27 Mar 1881
31 Aug 1965
[Minnie Alice, d/o Lorenzo D. & Mary Emeline Cornett Thompson]
Row 6
unknown
 
 
small stone "O._.C."
unknown
 
 
small stone "R.J.W."
unknown
 
 
small stone "M.S.C."
unknown
 
 
small stone "C.E.W."
THOMPSON, Paul L.
17 Sep 1908
8 Jan 1910
THOMPSON, Walter C.
17 Sep 1907
27 Nov 1907
unknown
 
 
small stone "O.E.W."
unknown
 
 
small stone "P.T."
BLEDSO, Walter C.
10 Nov 1904
19 Jan 1905
most of stone now illegible
BLEDSOE, L[eonard] F.
5 Aug 1861
17 Oct 1927
[Leonard Franklin]
BLEDSOE, I[sabell] E.
24 Jun 1865
12 Feb 1947
[Isabell Elizabeth, w/o Leonard Franklin Bledsoe; d/o Stephen Harvey & Mary Melvina Roark Hackler]
WINGATE, George W.
15 Jun 1872
26 Aug 1958
[s/o John & Elizabeth Ann Sawyers Wingate]; double stone with next
WINGATE, Lottie Sue
27 Jan 1884
21 Jul 1937
[d/o John E. & Nancy Caroline Barton Collins]
Row 7
ELLER, Nanie Lee
 
25 Dec 1917
[infant]
HACKLER, John H.
23 Mar 1843
8 Oct 1913
age 70 y 6 m 15 d; [John Henry, s/o Jacob & Nancy Comer Hackler]; stone fallen
HACKLER, Polley A.
19 Jun 1849
22 Jan 1907
age 57 y 5 m 3 d; [Mary Ann, w/o John H. Hackler; d/o Frank Meredeth]
STAMPER, W[illiam] M.
5 Jul 1850
21 Nov 1937
[s/o Elizabeth Stamper]; double stone with next
STAMPER, Adline
26 Feb 1855
1 May 1921
[Helena Adeline, d/o Alfred & Elizabeth Russell Cornett]
unknown
 
 
small stone "A.S."
STAMPER, Rosa D.
24 May 1882
20 Sep 1883
[d/o William M. & Helena Adeline Cornett Stamper]
WRIGHT, Infant
10 Jan 1896
25 Aug 1896
d/o Mr. & Mrs. J.A. Wright
unknown
 
 
small stone "N.C.S."
STAMPER, Lucus S.
25 Nov 1898
8 Oct 1935
[s/o William M. & Helena Adeline Cornett Stamper]
WRIGHT, Clifton C.
19 Feb 1909
17 Feb 1910
s/o Mr. & Mrs. W.E. Wright
Row 8
unknown
 
 
small stone "S.E.W."
WRIGHT, N.J.
 
 
 
unknown
 
 
small stone "C.A. ______"
WRIGHT, Stephen K.
12 Jun 1851
26 Aug 1890
[h/o Susan Robbins; s/o Dennis & Rosamond Cornett Wright]
WRIGHT, Ona Elma
19 Mar 1906
20 Apr 1906
d/o F[oy] L[eftridge] & M[artha] E[lizabeth Taylor] Wright
WRIGHT, Infant
1906
1906
infant of R.L. & M.E. Wright; stone not found 2009
STAMPER, Infant
26 Nov 1952
26 Nov 1952
d/o R. L[eston] & Freda H[arrington] Stamper
STAMPER, Leta Dove
3 Sep 1925
17 Feb 1930
[d/o L. Payton & Dollie C. Stamper]
STAMPER, L. Peyton
21 Apr 1881
12 Feb 1955
[Lee Peyton, s/o William M. & Helena Adeline Cornett Stamper; m1 Amanda E. Carrico, m2 Dollie Cornett]; double stone with next
STAMPER, Dollie C.
16 Dec 1893
29 May 1978
[Dollie Leo, d/o Rufus & Martha Poole Cornett]
CORNETT, Worley S.
10 Aug 1892
17 Feb 1969
Pvt 155 Depot Brigade World War I; [Worley Scott, s/o Flemming H. & Ellen Sutherland Cornett]; double stone with next
CORNETT, Dossie C.
1879
1966
[d/o William M. & Helena Adeline Cornett Stamper]
HALE, Nannie Stamper
31 Aug 1887
14 Dec 1936
[d/o William M. & Helena Adline Cornett Stamper; w/o Everette Hale]
Row 9
ELLER, A. Jackson
1837
1929
age 82; [s/o George & Millie Love Eller; Co C 8th VA Cavalry CSA]
ELLER, Jane
1847
1933
age 86; [w/o A. Jackson Eller; d/o Joseph Poe]
ELLER, James M.
1881
1930
age 51; [s/o A. Jackson & Jane Poe Eller]
CORNETT, Fielden E.
25 Feb 1879
22 Dec 1880
s/o J[ohn] W[esley] & R[hoda] A[ngeline Wright] Cornett
CORNETT, Dollie C.
2 Feb 1877
15 Dec 1897
[d/o William Jasper & Linnie Cannoy Cornett; stone not found 2009]
WRIGHT, Rosamond M.
12 Sep 1825
12 Nov 1899
w/o Dennis Wright; [d/o Archelous & Mary Bourne Cornett]
WRIGHT, Dennis
[ca 1824]
[probably buried here in unmarked grave; s/o Jeremiah & Mourning Fielder Wright; 2 Lt Co B 4th VA Reserves CSA]
CORNETT, Nannie Lee
28 May 1905
28 Jun 1905
d/o S[tephen] R[ush] & Celia [Hale] Cornett
WRIGHT, Polly E.
12 Feb 1863
9 Jan 1949
double stone with next
WRIGHT, W[illiam] B.
8 Aug 1861
17 Mar 1900
age 38 yrs 7 mos 9 days; [s/o William M. & Katherine Cannoy Wright]
WRIGHT, Allie Wright
19 Oct 1883
23 Jan 1930
age 46 yrs 3 mo 4 dys; [d/o William B. & Polly E. Wright]
BARTON, Woodrow W.
16 Jun 1915
27 Mar 1916
 
BARTON, J. Friel
8 Dec 1859
24 Nov 1937
[Joseph Friel, s/o Welborne & Elizabeth Phipps Barton]; double stone with next
BARTON, Della Jane
18 Nov 1878
29 Dec 1966
[d/o Champan & Martha Barton Ward]
Row 10
YOUNG, Sarah
26 Nov 1838
22 Sep 1905
[2nd w/o William Patton Young; d/o John V. & Eve Hackler Cannoy]
CORNETT, Laura E.
16 Nov 1885
20 Sep 1905
d/o [William] Jasper & L[innie] C[annoy] Cornett
unknown
 
 
base only; stone gone
HACKLER, Floyd E.
12 Jun 1896
22 Oct 1900
s/o C[harles] W[illiam] & S[arah] J. [Cornett] Hackler
HACKLER, Kate
27 Jan 1910
13 Jan 1913
[d/o Charles William & Sarah J. Cornett Hackler]
WRIGHT, Infant
 
10 Mar 1890
infant of P[eter] F. & S[arah] E[llen Hackler] Wright
WRIGHT, Cibba E.
19 Aug 1898
22 Jun 1899
[d/o Peter F. & Sarah Ellen Hackler Wright]
WRIGHT, Bessie
12 Dec 1899
4 Oct 1901
[d/o Peter F. & Sarah Ellen Hackler Wright]
WRIGHT, P[eter] F.
4 Mar 1859
5 Mar 1934
[s/o William M. & Katherine Cannoy Wright]; double stone with next
WRIGHT, Sarah Ellen
18 Sep 1867
31 Jul 1927
[d/o Wade Robert & Mary Ann Perkins Hackler]
WRIGHT, W. Forest
12 Jun 1885
1 Jan 1968
[s/o William M. & Martha Shuler Wright]
WRIGHT, Nannie A.
28 Feb 1887
19 Oct 1919
[Nancy A., 1st w/o W. Forest Wright; d/o Stephen Timothy & Amanda M. Hackler Hackler]
CASSELL, John F.
17 Jan 1872
11 Dec 1934
[John Franklin, s/o J.W. Cassell]; double stone with next
CASSELL, Lou Etta
31 Mar 1874
10 Apr 1966
[d/o Josh & Emaline Hayes Jones]
WRIGHT, Maude Cassell
21 Apr 1895
13 Feb 1985
[d/o John F. & Lou Etta Cassell; 2nd w/o W. Forest Wright]
Row 11
CORNETT, Fielden H.
25 Apr 1860
10 May 1931
[s/o David J. & Arlacha Harrison Cornett]
CORNETT, Virginia B.
19 Feb 1864
19 May 1934
[Virginia Belle, w/o Fielden H. Cornett; d/o Jefferson & Eliza Hamins Leonard]
ROBBINS, Lura Ellen
25 Jun 1886
30 Jun 1913
d/o F[ielden] H. & V[irginia] B. [Leonard] Cornett; [1st w/o W.M. Robbins]
BRYANT, Bethania
1807
1875
"first body buried in this cemetery"; [d/o William & R. Hamins, sister to Eliza Hamins Leonard; m1 ____ Legans , m2 William Bryant. By tradition she was visiting in the area when she died and they could not take her body home.]
HACKLER, Edna May
26 Jun 1923
2 Mar 1925
[d/o Arthur O. and Ethel Mettye Funk Hackler]
HACKLER, Emma Ruth
23 Jun 1927
2 Aug 1930
[d/o Arthur Omen & Ethel Mettye Funk Hackler]
WRIGHT, Catherine F.
5 Oct 1835
4 Jun 1880
44 yrs 7 mo 29 days; [d/o John V. Cannoy & Eve Hackler; 1st w/o William M. Wright]
WRIGHT, William M.
20 Dec 1836
6 Apr 1913
[s/o Abner F. & Christina Wright; m1 Catherine Cannoy, m2 Martha Matilda Shuler]; double stone with next
WRIGHT, Martha M.
20 Feb 1861
27 Dec 1953
[Martha Matilda, d/o John & Thursey Poole Shuler; 2nd w/o William M. Wright]
CORNETT, Flem A.
26 Apr 1880
1906
[s/o Armond & Nancy Caroline Smoot Cornett]
CORNETT, Nancy Caroline
4 Jan 1856
1901
[nee Smoot; w/o Armond Cornett]
unknown
 
 
small stone "N.C.C" used from above grave
COLLINS, J. Everett
26 Sep 1902
5 Jun 1923
[s/o John E. & Nancy Caroline Barton Collins]
WINGATE, Thomas Fields
28 Aug 1908
[14 Apr 1993]
[s/o Thomas & Etta Boyer Wingate. His remains were buried in Barberton, OH.]; double stone with next
WINGATE, Vennie Marie
12 Oct 1916
13 Jul 1955
[d/o Robert E. & Cora Ellen Wright Taylor]
BURRIS, Locky N.
29 Jun 1936
29 Jun 1936
[believed to be grandchild of William Jasper & Linnie Cannoy Cornett]
Row 12
TAYLOR, J[ulius] E.
5 May 1870
28 Nov 1880
[s/o John Wiley & Rosamond J. Hale Taylor]
WRIGHT, John F.
11 Dec 1857
26 Jul 1935
[s/o William M. & Katherine Cannoy Wright]; stone off base
WRIGHT, Sarah M.
22 Jun 1859
17 Sep 1881
[d/o John & Mourning Hall Gilbert]; w/o John F. Wright
GILBERT, Morning
15 Aug 1834
25 Mar 1920
[w/o John H. Gilbert, who is buried in/near Augusta, GA; d/o Richard Hall & Sarah Bedwell. John H. Gilbert b 1834, Patrick Co., VA; d Nov 1864, Augusta, GA., of chills and fever. He was serving in Co A, (Day's) 12th TN Cav Bn CSA]
TAYLOR, Robert Lee
27 Jan 1877
18 Apr 1955
[s/o John Wiley & Rosamond J. Hale Taylor]; double stone with next
TAYLOR, Cora Ellen
22 Nov 1880
5 Nov 1962
[d/o John F. & Sarah Gilbert Wright]
unknown
 
 
small stone "S.M.W", probably from grave of Sarah M. Wright
unknown
 
 
small stone "B.B."
unknown
 
 
small stone, unmarked
unknown
 
 
small stone "J.H.H"
CARICO, R. Jean
15 Feb 1923
16 Jun 1923
s/o J.R. & Maud Carico
unknown
 
 
small stone "F.H."
unknown
 
 
small stone "L.M.W."
HALE, Nellie Weatherman
14 Jun 1921
3 Nov 1947
[w/o Ed Hale; d/o Columbus Martin & Ollie Wright Weatherman]
Row 13
WRIGHT, Nellie
 
1903
[probably child of George Churchwell & Dora Taylor Wright]
WRIGHT, Eugene & Lougeil
1909
1909
[probably child of George Churchwell Wright & Dora Taylor Wright]
Row 14
HALE, Jacob L.
25 Feb 1830
[s/o Thomas B. & Elizabeth Burris Hale; Co F 4th VA Inf CSA]; shared stone with next
HALE, Lucinda Elizabeth
 
8 Aug 1909
age 84; [nee Tate]
TAYLOR, Melissa A.
6 Aug 1838
6 Dec 1886
[Melissa Ann, w/o Joseph D. Taylor; d/o Anthony & Polina Smith Taylor. Family bible shows b 6 Aug 1841.]; double stone with next
TAYLOR, Joseph D.
22 Apr 1833
25 Mar 1917
[Joseph Daniel, s/o Daniel D. & Sophia Souther Taylor]
TAYLOR, John W.
4 Jan 1838
18 Jul 1915
"He was a Confederate soldier"; [John Wesley, s/o Daniel D. & Sophia S. Taylor; Co C 8th VA Cavalry CSA]
TAYLOR, Rosa J.
25 Jun 1843
18 Mar 1891
w/o [John W.] Taylor; [d/o Alfred Hale & Elizabeth Jones]; first part of husband's name illegible
unknown
 
 
small stone "M.G."
unknown
 
 
small stone "J.E.T."
unknown
 
 
small stone possibly marked "Sheffey"
unknown
 
 
small stone "R.M.W."
WRIGHT, James Aaron
26 Oct 1874
30 Oct 1953
[s/o Andrew & Josephine McGrady Wright]
WRIGHT, Laura Stamper
11 Feb 1874
15 Jan 1942
[d/o William M. & Helena Adeline Cornett Stamper]
WRIGHT, John B.
1902
1972
[s/o James A. Wright & Laura Stamper]
Row 15
TESTERMAN, Noah Jethro
15 Nov 1883
1 May 1909
[s/o John B. & Ludemia Arkansas Parks Testerman]
HALE, Levi M.
22 Mar 1866
29 Jun 1907
[s/o Jacob L. Hale & Lucinda Elizabeth Tate]
HALE, N[ancy] S.
27 Dec 1866
16 Nov 1907
[w/o Levi M. Hale; d/o David S. & Susan J. Taylor Sexton]
TESTERMAN, J.H.
25 Nov 1905
25 Nov 1906
s/o M.J. & Laura Testerman
HALE, Effie Jane
16 Oct 1895
9 Feb 1897
d/o L[evi] M. & Nancy [Sexton] Hale
SEXTON, David S.
25 Feb 1825
16 Jun 1898
8 Va Cav CSA; [s/o Pror Sexton]; double stone with next
SEXTON, Susan Taylor
2 Aug 1839
5 Jun 1903
[Susan J., d/o Daniel D. & Sophia Souther Taylor]
HALE, R[ush] F.
3 Apr 1854
[s/o Alfred & Elizabeth Jones Hale]; double stone with next
HALE, Nancy C.
31 Aug 1858
22 May 1933
[Nancy Catherine, d/o David J. & Arlacha Harrison Cornett]
ROBBINS, Daniel
[ca 1820]
[Co B 4th VA Reserves CSA; s/o William "Bell Maker Bill" & Mary Izzard Robbins]
ROBBINS, Polly
[ca 1821]
[Mary Ann, w/o Daniel Robbins; d/o John Ellis & Beshaby Bean Jackson]
unknown
 
 
small stone "K.D.W."
SOUTHERLAND, Emma McKinnon
1898
1920
[d/o Wright Melton & Minnie Anne Wright McKinnon]
CORNETT, Ealie P.
11 Jul 1881
22 Oct 1943
[s/o William Jasper & Linnie Cannoy Cornett]; double stone with next
CORNETT, Virginia Cedella
1 May 1881
12 Oct 1945
[d/o John Wiley & Rosamond J. Hale Taylor]
Row 16
CORNETT, W[illiam] D.
Apr 1870
Feb 1931
[s/o William Jasper & Linnie Cannoy Cornett]
unknown
 
 
small stone "L.E.C."
unknown
 
 
small stone "W.J.C."
CORNETT, W[illiam] J[asper]
4 Mar 1849
20 Jul 1916
[s/o David & Arlacha H. Cornett]; double stone with next
CORNETT, Linnie G.
2 Feb 1850
25 Mar 1938
[d/o John V. & Eva Hackler Cannoy]
HACKLER, C. William
10 Aug 1868
[12 Feb 1947]
[Charles William, s/o Stephen Harvey & Mary Melvina Roark Hackler]; double stone with next
HACKLER, Sarah J.
3 Mar 1873
4 Dec 1933
[d/o William Jasper & Linnie Cannoy Cornett]
HACKLER, Kenneth Fred
28 May 1936
25 Jun 1938
[probably s/o Arthur Omen & Ethel Mettye Funk Hackler]
HACKLER, Arthur Omen
[24 Jan] 1900
[3 Feb] 1977
[s/o Charles William Hackler & Sarah J. Cornett]; double stone with next
HACKLER, Ethel Mettye
[4 Aug] 1900
[25 Jan] 1981
[d/o Lewis & Catherine Cannoy Funk]
BRITTAIN, Lawrence O.
12 Jul 1923
 
double stone with next
BRITTAIN, Mabel H.
21 Mar 1924
12 Apr 2006
married 9 Feb 1943
Row 17
STAMPER, Johnson, Rev.
18 Oct 1872
18 Aug 1962
[s/o William M. & Helena Adeline Cornett Stamper; m1 Missouri Belle Cornett, m2 Blanche Poole]
STAMPER, Missourie Belle
23 Jul 1877
3 Sep 1949
[d/o John M. & Sarah Ann Livesay Cornett; w/o Johnson Stamper]
ELLER, Ollie B.
2 Jun 1895
7 Apr 1966
[d/o Johnson & Missouri Belle Cornett Stamper]; double stone with next
ELLER, Floyd J.
17 Sep 1895
15 Jun 1984
[Floyd Jackson, s/o Clark Eller & Isabelle Jane Cornett]
LESLIE, Arlaca Bland
28 Feb 1908
31 Jul 1983
[Arlaca Vena, d/o John F. & Minnie Alice Thompson Bland; m1 James Franklin Leonard, m2 William Leslie]
COLLINS, Marie Bland
27 Aug 1921
2 Jun 1988
[Marie Alice, w/o Harold M. Collins; d/o John F. & Minnie Alice Thompson Bland]
Row 18–lower section
BLEVINS, Stephen E.
[13 Apr] 1927
[21 Mar] 1983
[Stephen Eugene, s/o Harvey Blevins & Bessie Reeves]; double stone with next
BLEVINS, Ruby C.
1924
1986
[nee Bledsoe]
BLEDSOE, Garnett D.
26 Mar 1899
16 Jun 1966
[s/o Leonard Franklin & Elizabeth Hackler Bledsoe]; double stone with next
BLEDSOE, Virginia C.
14 May 1890
25 Nov 1971
[d/o William Jasper Cornett & Linnie Cannoy]
Row 19
TAYLOR, Jincy Alma
14 Nov 2007
7 Dec 2007
 
TAYLOR, J. Maiden
8 Jul 1905
1 Mar 1965
[s/o Robert E. Taylor & Cora Ellen Wright]; double stone with next
TAYLOR, Zollie M.
16 Feb 1906
10 May 1965
[d/o Roby & Agnes Bolt Martin]
Row 20
HAWKS, Robert C.
5 Mar 1916
10 Mar 1970
[s/o Thomas & Elvira Jane Hackler Hawks]; double stone with next
HAWKS, Linnie B.
27 Sep 1892
15 Sep 1959
[d/o Leonard Franklin & Isabel Elizabeth Hackler Bledsoe]
Row 21
CORNETT, Virginia B.
14 Oct 1917
9 Apr 2005
[nee Barton]; double stone with next
CORNETT, Vivian E.
12 Oct 1900
15 Oct 1968
[s/o Stephen Rush & Celia Hale Cornett]
BARTON, Pearl M.
9 Apr 1906
9 May 1986
[d/o Joseph Friel & Della Jane Ward Barton]
WILLIAMSON, Nina Sue
13 Apr 1908
20 Apr 1993
[d/o Joseph Freel & Della Jane Ward Barton]
WRIGHT, Robert M.
21 Jun 1882
5 Oct 1962
[s/o William M. & Martha Shuler Wright. Obit shows death date as 4 Oct 1962]; double stone with next
WRIGHT, Elsie M.
13 Oct 1890
31 Jul 1971
[Elsie Mae, d/o Warner Hall & Sarah Ann Hale]
CORNETTE, Marvin R.
6 Aug 1886
16 Apr 1957
[Marvin Riley, s/o Rufus Cornett & Martha Poole]
CORNETT, Ollie W.
12 Jul 1892
22 Feb 1989
[Ollie May, d/o William & Martha Jane Shuler Wright; m1 Columbus Martin Weatherman, m2 Marvin Riley Cornett]
WEATHERMAN, Herman M.
23 Aug 1914
24 Jan 1952
[Herman Mitchell, s/o Columbus & Ollie Wright Weatherman]
Believed to be buried here
BOLT, Anne
 
 
[d/o J.W. Cassell; 2d w/o Thomas Bolt]