Grayson County, Virginia
Location: Cox's Chapel
Directions: From Maple Road (Rt 711) and Cox's Chapel Rd (Rt 601) at the New River Bridge, go about 0.1 mile on Maple Road to cemetery on right (north). Access to cemetery is through a gate and through the edge of the field.
GPS Coordinates: N36.59439 W81.24464
Surveyed by: Joe W. Phipps; Photos by Larry Hash.
Comments: There are some 11 graves marked only with field stones. Photos courtesy of Larry Hash, Winston-Salem, NC; top photo was taken in 2002 the lower in 1997; note the deterioration of the cemetery in this 5-year span. William & Ellender Osborne Hash are thought to be buried in the lower left corner of the lower photo.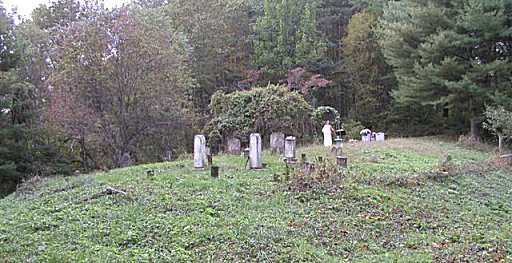 General View of the Silas Ward Cemetery – 2002
General View of the Silas Ward Cemetery – 1997
Silas Ward Cemetery, Grayson County, Virginia
Name
Birth
Death
Comments
Row 1
ROSE, B.C.
10 Nov 1929
10 Nov 1929
[Benjamin Columbus, infant s/o Mastin and Virginia Rutherford Rose]
Row 2
WARD, Sarah Ann
7 Aug 1874
18 Jan 1889
dau. of Silas & Phoebe Jane [Hash] Ward; aged 14 yrs 5 mo 11 da
WARD, Silas
20 Feb 1829
2 Jan 1913
[Co I 51st VA Infantry CSA and 30th Inf Bn; was a prisoner of war; s/o Zachariah and Tabitha Hash Ward; m1 Elizabeth Toliver, m2 Eleanor Long, m3 Phoebe Jane Hash]
WARD, Phoebe Jane
3 Apr 1842
31 Jan 1913
P.J.; wife of Silas Ward; [d/o Harvey and Ruth Ward Hash; m1 Andrew Cox, m2 Silas Ward]
WARD, Cynthia E.
27 Mar 1858
7 Sep 1887
dau. of N.W. & Nancy Phipps and wife of B.F. Ward; [Cynthia Ellen, d/o Noan Webster and Nancy Ann McBride Phipps; 1st w/o Benjamin Franklin Ward]
Row 3
WARD, Eleanor
16 May 1836
5 Oct 1866
wife of Silas Ward and dau. of Eli & Martha Long; age 30 yrs 4 mos 21 ds
COX, Mahalley
3 Jan 1850
12 Jan 1910
"Haley"; [d/o Andrew and Phoebe Jane Hash Cox]
WARD, Mastin
14 Oct 1870
9 Aug 1884
son of Silas & Pheobe Jane Ward; age 13 yrs 9 mo 25 da
Row 4
WARD, Zachariah
17 Aug 1877/1878
17 Aug 1877/1878
son of Silas & Phoebe Jane Ward; age 14 hours
WARD, Robert N.
[3 Aug] 1858
[9 Jan ]1862
son of Silas & Elizabeth Ward; age 3 yrs 5 mo 6 ds
WARD, Elizabeth
3 Dec 1832
11 Jan 1859
[1st] wife of Silas Ward & dau. of William & Elizabeth [Long] Toliver
WARD, Tabitha
3 Dec 1799
1 Mar 1835
wife of Zachariah Ward & dau. of John & Rebecca [Anderson] Hash
WARD, Sally
10 Dec 1805
15 Aug/Nov 1855
[2nd] wife of Zachariah Ward & dau. of Joel & Nancy Richardson
WARD, Zachariah
23 Apr 1793
28 Nov 1878
age 85 yrs 7 mos 5 days; [s/o Nathan & Sarah Ward]
Row ?
RICE, Andrew Jackson
11 Jul 1924
24 Jun 2000
double stone with next
RICE, Nancy Ruth
27 Apr 1934
 
[d/o Walter & Verna Clyde Ward Sexton]
Believed to be buried here
HASH, William
 
[ca 1820]
[believed to be s/o "Old" John Hash]; field stone
HASH, Ellender
 
[ca 1822]
[d/o Ephraim Osborne; w/o William Hash]; field stone