Rock Creek Primitive Baptist Church Cemetery
Grayson County, Virginia
Location: Northeast of Independence
Directions: From Grayson Parkway (U.S. 58) east of Independence go north on Riverside Dr (Rt. 274) about 1 mile. Turn north (left) on Rock Creek Rd (Rt 685). The church and the cemetery will be to the right about a mile up this road.
GPS Coordinates: N36.631109 W81.106179
Surveyed by: Jeff Weaver on 19 Jun 2003; updated by Buford C. Wilson Apr 2008
Comments: The cemetery has a good fence and is in excellent condition. It is probable that some graves in the older section of this cemetery are completely unmarked. Unusually large gaps exist between some the stones that are present.
General View of the Rock Creek Primitive Baptist Church Cemetery
General View of the Rock Creek Primitive Baptist Church
Oldest Individuals Buried at Rock Creek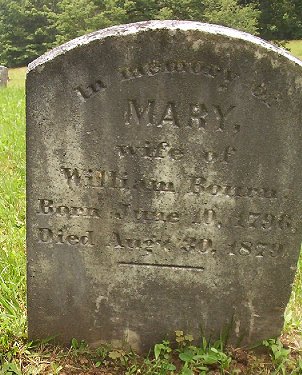 Mary Bourne Grave Stone
William Bourne Grave Stone
Rock Creek Primitive Baptist Church Cemetery, Grayson County, Virginia
Name
Birth
Death
Comments
Row 1
MEDLEY, Jerry Wayne
14 Jan 1965
2 Jan 2004
 
ISOM, Robert Walter
28 Mar 1915
2 Dec 2003
PRTR 3 U.S. Navy World War II
WILSON, Willard
17 Aug 1925
4 Sep 2003
double stone with next
SPRINKLE, Edward A.
19 Nov 1960
4 Oct 2002
[Edward Albert]
ISOM, Foy Junior
11 Jun 1923
20 Mar 2001
 
FITZGERALD, Isaac Harold
25 Sep 1935
 
double stone with next
FITZGERALD, Betty Viars
2 Feb 1937
19 Feb 2006
married 8 Jul 1955
WALKER, Ruby Inez Barnes Clarke
22 Nov 1927
13 Jun 2004
 
WALKER, C.L., Rev.
11 Oct 1923
 
double stone with next
WALKER, Margaret
27 Feb 1923
28 May 1990
[Margaret Bernace, d/o Robert Conley Hudson & Josie Belle Thomas]
COX, Ricky E.
19 Sep 1956
25 Feb 1999
 
HASH, Curtis D., Elder
15 Oct 1931
 
double stone with next
HASH, Wanda E.
21 Jul 1938
 
 
Row 2
JENKINS, William P.
25 Mar 1917
29 Apr 1977
Pvt U.S. Marine Corps World War II; double stone withnext; [William Paul, s/o Charles W. Jenkins & Laura Bell Hall]
JENKINS, Juanita Joines
9 Sep 1916
28 Jan 2005
 
JENKINS, Adda Marie
1937
2008
funeral home marker
OSBORNE, McKinley
24 May 1901
30 Apr 1964
 
OSBORNE, Martha
1 May 1900
21 Aug 1994
double stone with next
OSBORNE, Alice
15 Aug 1902
3 Nov 1995
 
HALL, Jestin
14 Oct 1894
29 Dec 1992
double stone with next; [Jurusha Roberta Jestin Hall;d/o John Allen Hall & Cynthia Cole; w/o William Hall]
HALL, Ruby G.
26 Feb 1923
26 Feb 1991
[Ruby Grace, d/o William Hall & Jestin Ross]
HASH, Paul Dean
4 Mar 1934
7 Jun 2001
double stone with next
HASH, Bessie R.
9 Jul 1937
 
 
WILLIAMS, Charles R.
1911
1977
PFC U.S. Army World War II; double stone with next; [Charles Robert, s/o Pardon Williams & Elizabeth Stone]
WILLIAMS, Zenna M.
1921
1966
 
Row 3
HAMMOND, G. Herbert
1908
1997
double stone with next
HAMMOND, Laurene
1916
1987
 
HALL, Raymond L.
24 Mar 1926
23 Dec 2006
double stone with next
HALL, Nellie C.
7 Apr 1981
5 Jul 2003
 
HALL, Robert Hurley
19 Apr 1895
19 Jun 1969
VA Corp Co B 317th Inf U.S. Army World War I; double stone with next
HALL, Grace M.
3 May 1902
17 Feb 1974
 
HALL, Richard G.
1930
1958
 
CARR, Crockett M.
18 May 1883
28 Apr 1957
[Crockett Muncy, s/o Fielden Carr & Mattie Wysong]; double stone with next
CARR, Rhoda C.
6 Sep 1895
28 Feb 1986
 
CARR, James E.
8 Jan 1934
21 Jun 1998
 
HASH, Ellis Isom
11 Apr 1894
26 Aug 1960
VA PFC Co D 38th Inf U.S. Army World War I; Purple Heart, Silver Star; double stone with next
HASH, Nora E.
11 Dec 1901
17 Apr 1988
 
HASH, Walter Eugene
13 Apr 1935
25 Apr 1979
 
HASH, Talmadge Columbus
31 Jul 1932
22 Sep 2000
Cpl U.S. Army Korea
HASH, Paul
18 Sep 1908
15 Oct 1984
double stone with next
HASH, Annie
28 Jan 1902
24 Mar 1998
 
HASH, Garnett H.
1905
1966
 
SNOW, Robert Monroe
24 Mar 1884
13 Jun 1964
double stone with next
SNOW, Laura Osborne
12 Nov 1890
10 Jan 1976
 
SNOW, Dalton C.
15 Jan 1911
19 Jun 1984
double stone with next
SNOW, Madge B.
4 Nov 1924
 
 
WILLIAMS, Curtis L.
13 Sep 1913
4 May 1981
[Curtis Leo, s/o Bardon Williams & Elizabeth Stone; h/o Marie Billings]
WILLIAMS, Myrtle G.
1899
1963
 
TRENT, Robert R.
24 May 1900
16 Oct 1980
double stone with next; [Robert Roscoe, s/o Stephen A. Trent &Molly Hall; h/o Bertha Elizabeth Redd]
TRENT, Bertha E.
3 Feb 1912
11 Jan 1974
[nee Redd]
Row 4
HAWKS, William A.
1874
1960
double stone with next
HAWKS, Amelia C.
1879
1965
 
HOUK, Mark C.
1903
1954
 
HACKLER, F.M., Elder
3 Dec 1857
11 Apr 1940
double stone with next
HACKLER, Almedia
27 Oct 1860
[10 Mar] 19[51]
 
ISOM, Arbara D.
2 Nov 1947
9 Feb 1970
 
FITZGERALD, William D.
3 Apr 1875
7 Dec 1952
[William David, s/o Thomas Henry Fitzgerald & Nannie Ruth Thornton; h/o Ella]
FITZGERALD, John H.
9 Jan 1898
16 Apr 1944
stone fallen
JONES, Emma F.
22 Jun 1901
8 Jun 1967
 
FITZGERALD, J.C.
16 Apr 1932
30 Oct 1936
 
FITZGERALD, Edna Mae
9 Feb 1951
11 Feb 1953
[d/o William T. Fitzgerald & Nannie RuthThornton]
HALL, W. Edd
1904
1932
double stone with next
HALL, Andy C.
1869
1948
 
JENKINS, Paul, Jr.
13 Dec 1948
13 Dec 1948
 
JENKINS, Laura B.
17 Jul 1876
21 Sep 1941
double stone with next
JENKINS, Charles W.
6 Jan 1878
3 May 1960
 
HALL, James A.
26 Sep 1879
13 Aug 1948
double stone with next
HALL, Sallie E.
16 Jun 1883
 
 
HALL, Fred V.
29 Mar 1929
13 May 1947
 
HAWKINS, B.J.
29 Jul 1860
23 Feb 1931
 
HAWKINS, Bettie
25 Aug 1858
3 Jul 1933
 
BOYER, J.K.
22 Nov 1848
19 Dec 1929
 
CARR, Ernest L.
3 Apr 1920
29 Sep 1951
double stone with next
CARR, Julia U.
25 Feb 1923
9 Jun 1974
 
RECTOR, John B.
3 Oct 1868
30 Jun 1962
double stone with next
RECTOR, Alice C.
14 Feb 1875
7 Sep 1957
[d/o John Choate & Matilda Edwards]
HASH, O.H.
1856
1937
double stone with next
HASH, Amelia R.
1867
1912
 
HUDSON, Myrtle B.
25 Dec 1890
26 Apr 1971
 
MORTON, Harmon C.
2 Jun 1901
26 Aug 1962
double stone with next
MORTON, Georgie H.
19 Sep 1919
10 Feb 1980
 
MORTON, June B.
24 Jun 1912
27 Jun 1969
 
MORTON, Mary E.
15 Jan 1919
20 Apr 2001
 
SEXTON, Thomas H., Sr.
9 Jun 1913
23 Dec 1986
F1 U.S. Navy World War II; double stone with next
SEXTON, Omma M.
26 May 1912
14 Oct 1994
[Omma Mae, d/o Robert Monroe Sexton & Laura Osborne]
SEXTON, Thomas H., Jr.
5 Jul 1939
24 Jan 2007
 
BLEVINS, Stacey Mae
19 May 1975
19 May 1975
infant d/o Sam & Patsy Blevins
Row 5
STAMPER, James Harvey
12 Sep 1890
14 Jul 1961
double stone with next
STAMPER, Rena M.
14 Aug 1893
29 May 1969
 
MORTON, Charlie C.
1 Oct 1907
17 Sep 1976
double stone with next
MORTON, Clettie H.
25 Jan 1913
 
 
MORTON, Sammy
20 Feb 1946
2 Oct 1998
 
Row 6
ISOM, Foy C.
1900
1986
[s/o Fielden Isom]; double stone with next
ISOM, Fammie E.
1905
1962
[d/o G.L. Hackler]
ISOM, Thomas M.
10 Jun 1875
11 Mar/May 1951
double stone with next
ISOM, Hattie L.
15 May 1874
27 Jul 1956
 
TODD, John A.
3 Dec 1870
26 Oct 1937
double stone with next
TODD, Mary Galyean
26 Mar 1890
9 Jun 1934
 
RECTOR, Preston
1859
1943
double stone with next
RECTOR, Matilda
1868
1937
 
HUDSON, Adaline
19 Dec 1862
22 May 1917
 
HUDSON, Robert C.
19 Feb 1892
2 Feb 1951
double stone with next
HUDSON, Josie Belle
28 Sep 1899
1 Jul 1980
[d/o Frank Thomas & Jane Tackett]
HUDSON, Charles Clifton
20 Feb 1918
31 Jul 1994
 
EDWARDS, Starlin
10 Sep 1852
6 Oct 1914
 
OSBORNE, Jessie
1868
1947
 
OSBORNE, Sara
1868
1923
 
LANE, Mary Etta
Jul 1896
Mar 1922
 
OSBORNE, Lester
Apr 1889
Sep 1911
 
OSBORNE, Frank
14 May 1893
13 Nov 1929
double stone with next
OSBORNE, James M.
12 Apr 1916
31 Mar 1936
 
ROE, Shirley
7 Jul 1939
1 Jun 1947
 
STAMPER, William P.
7 Sep 1861
4 Aug 1943
 
STAMPER, Sophina
6 Jul 1873
29 Aug 1906
w/o W.P. Stamper
STAMPER, Kemper
 
23 Oct 1922
Colorado Fireman 3CL U.S. Navy
MARTIN, Mae
Jul 1894
Mar 1940
double stone with next
MARTIN, J.H.
Sep 1878
 
 
MORTON, Joseph W.
9 Aug 1894
18 Dec 1950
double stone with next
MORTON, Madge M.
20 Feb 1895
18 Mar 1983
 
STAMPER, James A.
4 Jul 1932
28 Feb 1995
ET2 U.S. Navy Korea; [James Anderson, s/o Walter E. Stamper & Treva Young; h/o Janie Poe Stamper]
STAMPER, Troy A., Sr.
[22 Feb] 1927
[18 Apr] 1977
S2 U.S. Navy World War II; [Troy Anderson, s/o Walter Eugene Stamper & Treva Rose Stamper; h/o Betty Ruth Osborne]
STAMPER, Betty R.
4 Mar 1932
29 Jun 1997
[nee Osborne]
OSBORNE, K. Swanson
7 Jul 1913
4 Mar 1986
double stone with next
OSBORNE, Bertha B.
22 Feb 1897
21 Jan 1996
[d/o Emory Burris & Sarah Delp]
WOOTEN, William L.
23 Oct 1915
21 Oct 1954
[s/o W.L. Wooten & Sidden; h/o Mabel Wooten]
WOOTEN, Mabel I.
5 Mar 1919
22 Mar 1997
 
RUSSELL, Edward K.
16 Jul 1937
12 Oct 2000
double stone with next
RUSSELL, Joyce W.
1 Jun 1938
 
 
Row 7
TAFT, Sariah
27 Jan 1821
24 Nov 1904
w/o Chas. G. Taft; aged 83 years 9 months 27 days
TAFT, Charles G.
22 Aug 1798
16 Nov 1887
89 yr 2 mo 24 days
unknowns
 
 
two field stones
ISOM, Willie M.
2 Feb 1913
24 Jan 1949
 
GALYEAN, Chapman
15 Sep 1861
13 Oct 1916
double obelisk with next
GALYEAN, Emmaline
24 Apr 1859
11 Aug 1938
 
WILLEY, Bessie
10 Nov 1905
6 Jan 1906
d/o Andy & Ettie Willey
HUDSON, Letcher
23 Mar 1898
19 May 1906
s/o Wiley & Adaline Hudson
WILLEY, Andrew J.
5 May 1885
5 Mar 1920
age 34 years 10 months
HUDSON, Wiley
28 Jan 1914
1 Feb 1914
s/o J.A. & M.D. Hudson
HUDSON, Thomas Glen
31 May 1922
13 Jun 1922
s/o J.A. & M.D. Hudson
HUDSON, William Clarence
3 Mar 1922
7 Aug 1922
s/o R.C. & J.B. Hudson
RECTOR, Haston
18 Sep 1852
26 Jan 1911
stone is broken
RECTOR, Jeston
5 Jul 1853
28 May 1923
[w/o Haston Rector]
RECTOR, Maggie M.
18 Oct 1883
31 Aug 1908
d/o Haston & Jeston Rector; dates almost illegible
RECTOR, Mollie
29 Dec 1876
13 Oct 1960
 
RECTOR, Elsie M.
23 Mar 1898
7 Dec 1970
 
MORTON, W.E.
27 Sep 1874
15 Aug 1945
double stone with next;
MORTON, L.E.
30 Jan 1882
24 Nov 1956
[Lillian Elizabeth; d/o Lewis Farmer]
STAMPER, George F.
4 Apr 1941
10 Jul 1958
[George Franklin]
STAMPER, Walter Eugene
27 Mar 1906
3 Apr 1985
double stone with next
STAMPER, Treva Rose
14 Dec 1906
29 Mar 1985
 
RICHARDSON, Theresa Heron
1959
1988
 
SPRINKLE, Aleene M.
7 Mar 1932
21 Dec 1995
 
Row 8
GALYEAN, H. Edgar
Nov 1881
Feb 1967
double stone with next
GALYEAN, Mazy D.
Dec 1881
Feb 1962
 
HAUN, Floyd W.
18 Mar 1925
22 Mar 1980
GM3 U.S. Navy World War II; double stone with next; [Floyd William, s/o Edward M. Haun & Hazel Bott]
HAUN, Jeanette L.
10 Jan 1927
 
[nee Walters]
RECTOR, James Carico
4 Sep 1921
25 Jan 1973
Virginia AM2 U.S. Navy World War II
RECTOR, J[oseph] P.
4 Jul 1926
22 Apr 1978
Pvt U.S. Army Korea; [Joseph Preston, s/o Ray Rector & Arkie Carico; h/o Barbara Rector]
Row 9
MORTON, J. Henry
1851
1928
double stone with next
MORTON, Elizabeth
1852
1928
 
REEVES, Infant
9 Dec 1906
9 Dec 1906
child of E.J. & C.T. Reeves
HACKLER, Dorcas
31 Mar 1834
8 Dec 1915
 
STAMPER, Jonathan
28 Feb 1828
21 Sep 1900
 
TAFT, A.W.
18 Jan 1857
22 Nov 1934
 
TAFT, Ludemy
2 May 1865
18 Mar 1904
38 yr 10 m 16 d
unknown
 
 
marble stone, no name
CARR, Fielden
21 Aug 1832
26 Jan 1898
 
unknown
 
 
field stone
ROBERTS, G.L.
1 Mar 1884
23 Jun 1927
 
BOYER, Edward H.
6 May 1874
13 Nov 1947
double stone with next
BOYER, Emma Rector
28 Apr 1875
8 Oct 1961
 
COX, J.W.
28 Aug 1869
31 Jul 1929
 
RICHARDSON, Fannie Cox
8 May 1872
12 Mar 1957
 
PULLEN, L. Biola
[12 Jul] 1879
[12 Jul] 1953
double stone with next; [d/o Thomas Morton & Sedelia Cox]
PULLEN, Walter A.
1876
1936
 
FIELDS, Therman
17 Jun 1922
21 Aug 1926
 
unknowns
 
 
2 field stones
GALYEAN, George W.
14 Apr 1886
20 Mar 1917
 
GALYEAN, Anuel
15 Jun 1855
1 Oct 1930
 
GALYEAN, Mary M.
2 Jun 1866
9 Aug 1936
 
YOUNG, Mae V[irginia] Haun
17 Feb 1927
25 Jun 1993
[d/o Edward M. Haun, Sr. & Hazel V. Murphy; w/o Fields R. Young, Sr.]
McBRIDE, Eula Ward
11 Nov 1908
9 Oct 1994
 
McBRIDE, Thomas
30 Oct 1899
13 Jul 1973
 
McBRIDE, Claude S.
30 Dec 1895
3 Aug 1986
double stone with next
McBRIDE, Esther
2 Nov 1899
11 Jul 1982
[Esther Amelia, d/o Fielden Carr & Mattie Wysong]
RECTOR, Ray Van
5 Aug 1895
7 Jun 1969
VA S2 U.S. Navy World War I; double stone with next
RECTOR, Arkie C.
[6 Feb] 1897
[12 Jul] 1981
[Arkie Medora Rector; d/o Robert Daniel Carico & Nancy Hill]
Row 10
REEVES, S.M.
2 Nov 1856
17 Jan 1897
 
CARR, Fielden
21 Aug 1832
26 Jan 1898
Corp Co D 30th Battn Va Inf C.S.A.; double stone with next
CARR, Nancy
27 Jan 1832
4 Aug 1910
 
McBRIDE, Mary S.
12 Jan 1861
11 Sep 1934
w/o J.W. McBride
McBRIDE, J.W.
11 Jul 1847
21 Aug 1920
 
RECTOR, John
1876
1927
 
RECTOR, Mary
9 Sep 1914
28 Sep 1921
d/o J.W. & Flora Rector
BOYER, Iva Gene
29 Aug 1906
9 Dec 1925
 
McBRIDE, Franklin P.
1856
1939
double stone with next
McBRIDE, Alice Sesler
1859
1937
 
MORTON, Dell
28 Mar 1891
5 Jun 1965
 
MORTON, Sedelia
31 Mar 1856
10 Oct 1941
[w/o T.W. Morton]
MORTON, T.W.
30 Jul 1851
6 Jan 1929
 
REEVES, Ruth Z.
14 Oct 1920
23 Jun 1922
d/o G.K. & M.E. Reeves
REEVES, Joseph Wayne
1 Jun 1912
26 Oct 1936
 
POOL, Nettie J. Carrico
12 Jul 1867
28 Oct 1922
w/o George Poole
POOLE, George P.
2 Aug 1869
8 Jul 1918
 
WILLIAMS, Elizabeth C.
30 Jan 1869
16 Jan 1943
 
MORTON, J. Elmo
1897
[4 Mar] 1954
double stone with next; [John Elmo, s/o Sam J. Morton & Cora Mallory]
MORTON, Ruth M.
1904
1973
[nee Hall]
TROXLER, Mary Frances
5 Apr 1925
18 Jan 1993
["Trexler" misspelled; d/o Elmo Morton & Ruth Hall]
REEVES, Glenn K.
[20 Nov] 1883
[21 Oct] 1957
[Glenn Kenneth, s/o Steve Reeves & Ailsey Hackler]; double stone with next
REEVES, Maude E.
1887
1972
[nee Morton; m 3 Feb 1909]
MOXLEY, Ernest Lee
12 May 1921
16 Sep 2000
Tec 5 U.S. Army World War II; double stone with next
MOXLEY, Irene R.
1917
2004
 
FIELDS, Con L.
1886
1967
double stone with next
FIELDS, Mary Albina
1889
1965
 
Row 11
TAFT, Lydia
1 Jan 1852
15 Oct 1862
10 yr 3 mo 14 d
REEVES, Infant Daughter
11 Oct 1888
23 Oct 1888
d/o S.M. & A.C. Reeves
REEVES, Dock R.
1 Nov 1891
20 May 1894
s/o S.M. & A.C. Reeves
REEVES, Alsy
21 Sep 1856
16 Jun 1896
 
Row 12
POOL, S. Drurie
25 Jan 1866
14 Feb 1889
 
POOL, Mary S.
27 Jan 1850
8 Oct 1862
 
POOL, J.F., Jr.
19 Dec 1879
4 Jan 1898
 
POOL, John F.
29 Jan 1828
16 Jul 1896
 
POOLE, Rosamond E.
9 Feb 1830
22 Nov 1908
w/o John F. Poole
RECTOR, Jacob
16 Dec 1826
7 Mar 1901
 
RECTOR, Mahalah
21 Apr 1826
3 Aug 1905
w/o Jacob Rector
RECTOR, Infant Daughter
26 Jan 1908
17 Feb 1908
d/o J.B. & Alice Rector
RECTOR, Carlie P.
2 Oct 1892
18 Feb 1914
s/o J.B. & Alice Rector
HAWKINS, William
18 Oct 1826
22 Nov 1894
ordained to ministry 5 Nov 1870; double stone with next
HAWKINS, Mary Jane
23 Sep 1832
24 Aug 1918
 
[TODD, Ceaddes C.]
23 ___ 1901
19 Jun 1901
[…H.H. & M.E. Todd]; stone broken, top gone
RECTOR, W.M.
6 Nov 1847
30 Jun 1919
 
RECTOR, Nancy Julina
1857
1929
 
McBRIDE, Thomas A.
31 Jan 1853
31 Mar 1931
 
McBRIDE, Mary A.
 
22 Dec 1910
w/o Thomas A. McBride; died age 58 years 9 mos 3 days
McBRIDE, Caroline Cox
25 Mar 1867
15 Oct 1949
 
BOYER, Lee A.
11 May 1839
20 Dec 1917
 
BOYER, Susan
28 Aug 1850
30 Aug 1911
w/o Leander Boyer
BOYER, Herman Lee
17 Dec 1900
11 Apr 1919
 
BOYER, Donna Virginia
4 Jan 1912
9 Jul 1919
 
MORTON, Zenna R.
16 Feb 1900
19 Jun 1908
d/o T.W. & Sedelia Morton; dates are very badly eroded
WILLIAMS, M.P.
13 Aug 1865
10 Jan 1928
 
MORTON, Edna K.
19 Sep 1917
25 Nov 1918
infant d/o T.K. & M.E. Morton
MORTON, Camant
19 Mar 1900
24 Feb 1922
 
MORTON, Madge
22 Dec 1875
12 Aug 1935
 
DRINKHOUSE, Ruby M.
1905
1959
 
MORTON, E.J. "Jack"
1884
1966
double stone with next
MORTON, Mallie Hall
1885
1969
 
POOLE, Harold T.
9 Jul 1915
26 Feb 1998
married 13 Sep 1936; double stone with next
POOLE, Hazel M.
8 Mar 1916
14 Jul 2004
 
COMBS, Claude R.
4 Sep 1905
4 Jan 1990
double stone with next; [s/o William David Combs & Cora Upchurch]
COMBS, Elizabeth V.
7 Jan 1907
8 Dec 1983
[Elizabeth Virginia, d/o Charlie Jenkins & Laura Hall]
Row 13
BOURNE, Infant
 
 
child of R.G. & M.A. Bourne
JENNINGS, Allen
22 May 1853
7 Sep 1910
double stone with next
JENNINGS, Mattie
18 Jul 1855
28 Oct 1921
 
BOYER, Thelma G.
 
25/21 Aug 1902
age 9 mos 9 days; d/o Preston & Leota Boyer
BOYER, Nina Bruce
7 May 1905
20 Aug 1906
d/o Preston [& Leota] Boyer
COMBS, Lucy
24 Mar 1847
1 Aug 1922
double stone with next
COMBS, Joseph F.
20 Nov 1848
14 Sep 1926
 
COMBS, William D.
9 Mar 1877
13 Feb 1945
double stone with next
COMBS, Cora M.
14 Aug 1880
 
 
MORTON, Infant Son
16 Jan 1916
20 Jan 1916
s/o J.W. & Madge Morton
Row 14
REEVES, Mary Ann
[10 Sep 1834]
[6 May 1892]
stone reset in concrete, dates covered; [d/o William Bourne]
BOURNE, Wm.
4 May 1794
15 Oct 1882
 
BOURNE, Mary
10 Jun 1796
30 Aug 1879
[nee Byrd]; w/o William Bourne
BOURNE, M.A.T.
7 Jan 1837
18 Apr 1890
stone toppled
TODD, Jacob J.
10 Jun 1866
15 Jun 1904
double stone with next
TODD, Celia Rector
2 Aug 1866
19 May 1948
 
TODD, Curtis J.
15 Dec 1902
17 Feb 1980
[Curtis Jacob, s/o James Jacob Todd & Celia Rector]
COMBS, Daisy
30 Jul 1901
23 Dec 1901
d/o W.D. & Cora Combs
ISOM, Claude S.
24 Mar 1900
24 Jul 1900
s/o John & Rosa Isom
ISOM, John F.
28 Dec 1877
 
double stone with next
ISOM, Rosa L.
31 Mar 1879
3 Feb 1956
 
RECTOR, Jacob E.
9 Dec 1848
3 Aug 1919
double stone with next
RECTOR, Nancy
5 Aug 1847
8 Mar 1918
 
RECTOR, Laura V.
4 Jul 1884
30 Mar 1907
w/o W.A. Rector
RECTOR, William A.
30 Apr 1875
4 Jan 1945
aged 69 years 8 mos 5 days
RECTOR, Lelia M.
16 Sep 1887
7 Jan 1961
 
RECTOR, William Paul
16 Apr 1914
18 Mar 1915
s/o W.A. & Lelia Rector; age 11 mos 1 day
RECTOR, Bertha L.
1 Jul 1920
4 Dec 1921
d/o W.A. & Lelia Rector
RECTOR, Bula
8 Oct 1905
9 Jun 1931
 
RECTOR, Cora
19 Dec 1901
19 Sep 1938
 
MORTON, Samuel T.
25 Dec 1876
24 Nov 1947
double stone with next
MORTON, Cora L.
7 Sep 1876
17 Sep 1945
 
MORTON, Phyllis Ann
12 Apr 1930
22 Jul 1930
 
Row 15
COMBS, Thelma E.
5 Jul 1928
 
double stone with next
COMBS, Ellis W.
25 Apr 1918
7 Oct 1980
 
RUTHERFORD, Beulah C.
24 Nov 1915
23 Jan 1995
double stone with next; [d/o William David Combs & Cora Sparks]
RUTHERFORD, Thomas P.
6 Sep 1927
8 Jun 1975
Tec 5 U.S. Army World War II
Believed to be buried here
DAVIS, Matilda Adeline
[ca 1871]
[25 Apr 1952]
[nee Brown]
RECTOR, daughter
 
[27 Aug 1886]
[d/o S.H. & S.A. Rector; not found in 2003 or 2008; included in earlier listing between Mary Pool & Rosamond Pool]
Charles C. Taft Grave Stone