New Hope Methodist Church Cemetery
Grayson County, Virginia
Location: Flatridge/Barton's Crossroads
Directions: The New Hope Methodist Church Cemetery is near the intersection of Flatridge Rd (Rt 658) and Pine Branch Rd. (Rt 733).
GPS Coordinates: N36.658393 W81.351214
Surveyed by: Ginger Ballard and Jeff Weaver 4 Mar 2003
Comments: The Methodist Church which is located in front of the cemetery is no longer active but occasionally family and community events are held there. The cemetery is well maintained and neat.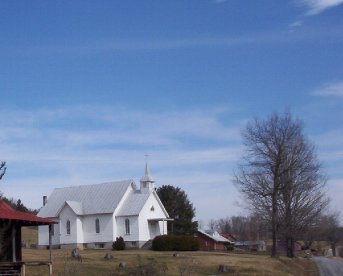 General View of the New Hope Methodist Church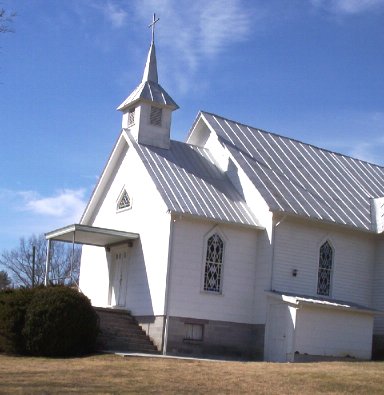 General View of the New Hope Methodist Church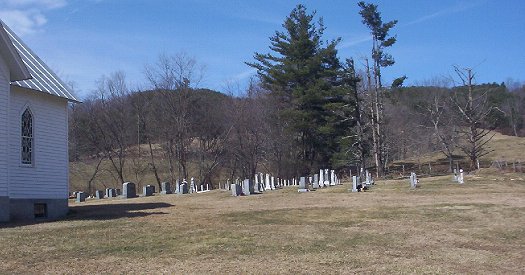 General View of the New Hope Methodist Church Cemetery

General View of the New Hope Methodist Church Cemetery
New Hope Methodist Church Cemetery, Grayson County, Virginia
Name
Birth
Death
Comments
Row 1
CLARK,Vida Ilene
3 Apr 1930
4 Dec 1999
 
WARREN, Preston G.
20/24 Jan 1902
15 Jun 1972
[Preston Gambler]; "Press"; double stone with next
WARREN, Rose Ellen
19 Aug 1916
28 Oct 1986
[nee Blevins]
Row 2
JONES, Faye Anderson Moss
23 Mar 1925
 
same style stone as next
MOSS, James D.
21 Oct 1914
1 Aug 1968
[James Daniel]
Row 3
YOUNG, William Woodrow
17 Aug 1925
27 Jun 1996
TSgt U.S. Marine Corps, U.S. Air Force World War II Korea Vietnam; [s/o Marshall Cleon & Ona Virginia Young Young]
YOUNG, Ona V.
[14 Dec 1898]/1897
[18 Apr] 1957
[Ona Virginia, d/o James Addison and Emma Robena Senter Young]; double stone with next
YOUNG, M. Cleon
[3 Sep] 1896
[14 Jun] 1955
[Marshall Cleon, s/o Calvin H. & Mary Marintha Kilby Young]
YOUNG, James Cleon
14 July 1922
21 Aug 1998
MSgt U.S. Army World War II Korea Vietnam; [s/o Marshall Cleon & Ona Virginia Young Young]
ROBERTS, Clyde Elizabeth
14 Nov 1880
10 Sep 1966
[d/o Jarvis C. and Orlean Perkins Roberts]
GREER, Lelia R.
29 Apr 1885
2 Feb 1965
[d/o Jarvis C. and Orlean Perkins Roberts]
GREER, Edwin J.
6 May 1913
2 Mar 1971
[s/o Lelia Roberts Greer]
Row 4
HARRINGTON, Charles Wesley
13 Mar 1871
8 Oct 1948
double stone with next
HARRINGTON, Ruth
28 Sep 1873
18 May 1960
[nee Roberts]
ROBERTS, Jarvis C.
4 May 1849
7 Oct 1929
[s/o Jonathan & Matilda Perkins Roberts]; double stone with next
ROBERTS, Orlean
24 Feb 1850
26 Mar 1917
[Margaret Orlean, d/o Samuel Perkins]
PHIPPS, Harvey
20 Jul 1844
19 May 1915
Co C 45th Va Inf CSA; double stone with next
PHIPPS, Drucilla
6 Mar 1850
20 Jan 1931
 
BARTON, Wilborne
24 Feb 1834
3/4 Nov 1929
1st Va Regt, Company K 51st Va Regt CSA
BARTON, Elizabeth
1839
1 Jan 1914
wife of Wilborn Barton
LIVESAY, James
15/25 Nov 1840
28 Jun 1908
CSA; [Confederate Navy, based on anchor on stone]
unknown
 
 
illegible stone
Row 5
unknown
 
 
illegible stone
TESTERMAN, F.E.
2 May 1852
8 Jan 1915
 
unknowns
 
 
seven concrete stones which have become illegible
GORE, Hallie A.
1894
1964
[d/o Franklin Anderson]; double stone with next
GORE, Calvin H.
[26 Mar] 1888
[17 Apr] 1955
[Calvin Harrison, s/o Alex & Delia Shupe Gore]
Row 6
DUNCAN, Cynthia Byrd
25 Nov 1892
18/28 Jan 1974
[d/o John & Celia J. Tucker; m1 James Edd Byrd]
BYRD, James Edd
14 Mar 1888
8 Feb 1928
[s/o David Byrd]
BYRD, James Garfield
9 Feb 1916
15 Feb 1920
 
PENNINGTON, Ethel L.
17 Jan 1915
19 Apr 1917
d/o A. F. and Callie Pennington
BYRD, R.C.
20 May 1888
21 Dec 1908
[Roscoe, s/o John & Mary Byrd; accidentally shot]
unknown
 
 
stone worn smooth
STAMPER, J.R.
26 Jan 1884
23 Sep 1904
d/o J.T. and N.J. Stamper
unknown
 
 
stone worn smooth
BALL, John Elbert
30 May 1838
3 Dec 1925
CSA
BALL, Lyda
16 Apr 1842
9 Jan 1920
w/o John Elbert Ball
HARRIS, Thomas
20 Mar 1877
5 Sep 1948
double stone with next
HARRIS, Nellie R.
1 Jul 1867
[13 May 1960]
[d/o Thompson and Melvina Rutherford; w/o Thomas Harris. Funeral card shows birth year as 1876.]
Row 7
RUTHERFORD, Mary M.
16 Feb 1922
22 Aug 1996
[Mary Magdalene, d/o Paul & Virgie Anderson Halsey]; double stone with next
RUTHERFORD, Virgil J.
15 Sep 1917
17 May 1992
[Virgil James, s/o Charlie & Lizzie Brewer Rutherford]
RUTHERFORD, James F.
25 Sep 1939
4 Feb 1982
[James Fitzhugh, s/o Virgil and Mary Halsey Rutherford]
RUTHERFORD, Cecil Allen
30 Dec 1947
8 Oct 1955
s/o Mr. and Mrs. Virgil J. Rutherford
unknown
 
 
stone worn smooth
JONES, ____
 
 
w/o Granville Jones; stone worn smooth
JONES, Granville
4 Mar 1833
20 Mar 1911
[Granville A., s/o Patsy Jones; m Juley Ann Cress 14 Mar 1858]
unknowns
 
 
two stones worn smooth
HALSEY, Infant
5 Jul 1912
5 Jul 1912
d/o J.E. and Minnie A. Halsey
HALSEY, Minnie A.
3 Jun 1891
7 Jul 1912
w/o Rev J.E. Halsey
HALSEY, Infant
5 Jul 1912
30 Jul 1912
s/o J.E. and Minnie A. Halsey
JONES, Arlene P.
23/30 Nov 1865
24 Dec 1941
w/o N.F. Jones; [d/o Bradley T. and Rose Jones Sells]
JONES, N.F.
7 Feb 1864
22 Aug 1926
"Norah"
SELLS, Clarence
14 Aug 1912
29 Nov 1915
[s/o Bradley T. and Rose Jones Sells]
JONES, Walter L.
1893
1945
[s/o N.F. Jones]
SELLS, Bradley T., Rev.
8 Sep 1890
8 Oct 1957
member of the Holston Conference 43 years; double stone with next
SELLS, Leonard
 
 
[s/o Rev. Bradley T. and Rose Jones Sells]
SELLS, Rose E.
14 Oct 1888
31 Jan 1962
[nee Jones]
SPENCER, Bertha J.
1895
1973
[d/o N.F. Jones]; double stone with next
SPENCER, H[umphrey] Kilby
28 Jun 1895
10/19 Jan 1976
Pvt U.S. Army World War I
Row 8
unknowns
 
 
three concrete stones, which have become illegible
BARTON, Sallie J.
12 Jul 1835
7 Aug 1914
w/o Levi G/C. Barton
BARTON, L[evi] G.
17 Aug 1836
27 Feb 1904
[s/o John & Jane Barton; m1 Nancy Phipps, m2 Sarah Phipps, both daughters of Benjamin and Nancy Phipps]
LIVESAY, Cena/Edna
22/28 May 1892
14 Mar 1898
[d/o Byrum and Phoebe H. Livesay]
LIVESAY, Fielden B.
15 Oct 1881
30 Aug 1902
[s/o Byrum and Phoebe H. Livesay]
LIVESAY, Phoebe H.
28 Oct 1849
30 Mar 1949
[d/o Joseph R. & Polly Hash; w/o Byrum Livesay]
LIVESAY, Byrum
19 May 1843
28 Feb 1926
[s/o Fielden & Evy Livesay]
LIVESAY, Ella V.
11 Aug 1873
11 Feb 1955
[Ella Virginia, d/o Byrum and Phoebe Hash Livesay]
LIVESAY, Gariedine/Caridine
6 Oct 1908
12 Oct 1908
aged 6 days; [d/o Grover Cleveland and Mary Bell Livesay]
LIVESAY, Grover Cleveland
16 Aug 1884
14 Nov 1970
[s/o Byrum Livesay]
Row 9
HOFFMAN, Cora C.
26 Dec 1886
9 Jan 1961
[Cora Cleopatra, d/o John Kenley and Virginia Victoria Schuler Cornett; 2nd w/o Stonewall Jackson Hoffman
HOFFMAN, Mattie E.
19 Dec 1881
14 Dec 1905
[d/o John Kenley and Virginia Victoria Schuler Cornett; 1st w/o Stonewall Jackson Hoffman]
HOFFMAN, S.J.
19 Apr 1875
12 Aug 1946
[Stonewall Jackson, s/o Charles H. Hoffman]
JENKINS, Lura C.
12 May 1878
16 Jun 1913
[d/o John Kenley and Virginia Victoria Schuler Cornett; w/o John Munsey Jenkins]
CORNETT, Virginia V.
16 Jan 1859
5 Jan 1944
[Virginia Victoria, d/o John Kenley Cornett]; broken stone
CORNETT, J.K.
15 Feb 1853
30 Jan 1923
[John Kenley, s/o Lloyd Cornett]
CORNETT, Grover
20 Aug 1893
23 Aug 1978
[Grover Hurley, s/o John Kenley and Virginia Victoria Schuler Cornett]; double stone with next
CORNETT, Zollie H.
1 Feb 1896
25 Mar 1985
[nee Zollie Luzena Hash]
CORNETT, Earl H.
18 Nov 1914
20 Jul 1999
 
Row 10
RUTHERFORD, Curtis H.
2 Oct 1928
21 Sep 1996
[Curtis Hoover, s/o Charlie & Lizzie Brewer Rutherford]
RUTHERFORD, Elizabeth B.
11 Apr 1897
22 Mar 1994
[nee "Lizzie" Brewer]; double stone with next
RUTHERFORD, Charlie F.
28 Jun 1891
3 Aug 1980
[Charlie Fitzhugh, Thomas & Hester Hawkins Rutherford]
RUTHERFORD, Charlie, Jr.
29 Aug 1936
28 May 1957
[Charlie Fitzhugh,Jr., s/o Charlie Fitzhugh and Lizzie Brewer Rutherford. Obit info lists birth 29 Aug 1937.]
ANDERSON, Lillie Dell
12 Aug 1888
23 Jun 1958
d/o E.W. and Mary Lutitia Anderson
ANDERSON, Mary Lutitia
3 Jun 1854
21 Mar 1917
w/o E.W. Anderson; [d/o Jared & Rachel Perkins]
ANDERSON, E.W.
29 Mar 1852
30 Apr 1933
[Elbert W. "Ebb", s/o Elisha & Thursey Anderson]
ANDERSON, Claudie
5 Oct 1897
28 May 1940
[d/o E.W. and Mary Lutitia Anderson]
ANDERSON, ____
 
 
[three children of E.W. and Mary Lutitia Anderson]; three illegible concrete markers
ANDERSON, Burl E.
16 Nov 1903
6 Nov 1927
[s/o E.W. and Mary Lutitia Anderson]; stone marker, broken off
CHATHAM, _____
 
 
[child of Phlett Chatham]; illegible concrete marker
CHATHAM, William Phlett
1910
1940
 
Row 11
SUMMERS, Bertha M.
13 Apr 1881
15 Jan 1955
 
unknowns
 
 
two illegible concrete markers
HASH, A. C[olumbus]
12 Aug 1844
9 Apr 1923
A Confederate soldier; double stone with next
HASH, Mary A.
26 Oct 1847