Little Wilson United Methodist Church Cemetery
Grayson County, Virginia
Location: Volney
Directions: From Independence take Wilson Hwy (US 58) from Independence to Mouth of Wilson and continue north on US 58/SR 16, staying on Troutdale Hwy (SR 16) at Volney. Watch for a sign on the left for Little Wilson Church and turn west onto Little Wilson Road (Rt 738). The cemetery entrance is about a tenth of a mile south of the Little Wilson Methodist Church. To enter you cross Little Wilson Creek and then drive up a winding driveway through the woods. Once at the top of the hill you will find the cemetery.
GPS Coordinates: N36.631378 W81.406326
Surveyed by: Jeff Weaver, 7 Mar 2003; updated by Ginger Ballard Apr 2008
Comments: The sign approaching Little Wilson Methodist Church Cemetery indicates that the graveyard was established in 1830; however, the first known burial in his cemetery was in 1826. The earliest marked burial found during this survey was 1837. This cemetery appears to have started as a Perkins family cemetery. Much of this information comes from Minnie Hall via Paul Herndon's files.
General View of the Little Wilson United Methodist Church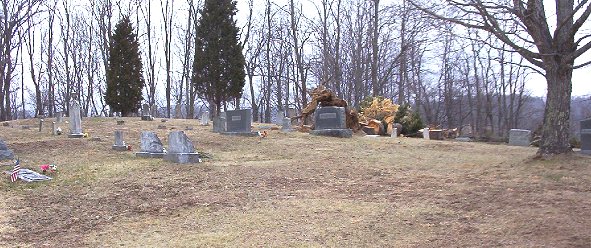 General View of the Little Wilson United Methodist Church Cemetery
General View of the Little Wilson United Methodist Church Cemetery
Little Wilson United Methodist Church Cemetery, Grayson County, Virginia
Name
Birth
Death
Comments
Row 1
WALLS, William Wesley
16 Sep 1860
12 Mar 1939
[s/o P. and J. Walls]
WALLS, Emaline Peak
16 Mar 1859
23 Dec 1938
[Matilda Emeline, d/o Hugh and Marjory Hart Peak]
unknowns
 
 
three concrete block markers
PLUMMER, Elmer Lee
21 Oct 1918
21 Oct 1918
s/o Mr. & Mrs. Vester Plummer
PLUMMER, Ola P.
11 Dec 1897
3 Apr 1993
[Ola Virginia, d/o Robert Lee & Delta Mink Perkins; w/o Vester Plummer]
SEBASTIAN, Carrie Elizabeth Pugh "Aunt Bet"
19 Dec 1876
4 May 1959
Buried Cherokee Memorial Park, Lodi, California; [w/o Worth Sebastian; d/o Robert Pugh & Nancy McMillan]
Row 2
SEBASTIAN, Mattie
[18 Apr 1901]
[23 Dec 1914]
age 13 years 8 months 5 days; d/o Worth & Bettie Sebastian
Row 3
CORNETT, Ira Isom
1858
1943
double stone with next
CORNETT, Mary E.
[1 May] 1859
1947
 
PERKINS, Mack
29 Dec 1871
18 Dec 1941
[s/o Robert H. Perkins & Elizabeth J. Jones; his wife, Fannie Spencer, may be buried in a nearby unmarked grave]
PERKINS, Robert H.
[18 Sep 1829]
 
Co D 50th Va Inf C.S.A.; [s/o Temperance Perkins; his wife, Elizabeth J. Jones (19 Sep 1835 – 2 Jan 1907), may be buried in a nearby unmarked grave]
unknowns
 
 
four concrete blocks
unknown
 
 
field stone with partial marking "AN born April 11"
unknowns
 
 
two eroded soapstone
MINK, Arthur A.
 
17 Nov 1889
age 6 yrs, 6 mos, 16 days; s/o W.H. & A.M. Mink
MINK, Thorban J.
 
4 Jul 1864
age 2 yrs, 2 mos, 6 days, s/o W.H. & A.M. Mink
MINK, John A.
 
10 Sep 1858
age 7 days; s/o W.H. & A.M. Mink
Row 4
HAMM, Clara Donne
29 Nov 1916
9 Dec 1916
died age 10 days; d/o George W. & Virginia L. Hamm
CORNETT, Zenna Mae
18 Aug 1901
28 Feb 1902
age 6 mos, 5 ds; d/o I[ra] I[som] & M[ary] E. [Perkins] Cornett
unknown
 
 
"C.P."
PENNINGTON, Charity Celena Perkins
3 Jul 1834
15 Oct 1910
wife of Clayborn H. Pennington; [d/o Rev. Philip Perkins & Rebecca McGrady]
PUGH, Mahala
5 Dec 1829
5 Apr 1902
[1st] wife of Stephen Pugh; [d/o Rev. Philip Perkins & Rebecca McGrady]
WEISS, Emeline
27 Apr 1832
12 Mar 1881
wife of S[ilas] M[ontgomery] Weiss; [d/o Rev. Philip Perkins & Rebecca McGrady]
PERKINS, Rebecca
 
21 Jan 1876
age 72 years 2 mos [19] days; wife of Rev. Philip Perkins
PERKINS, Philip, Rev.
 
23 Mar 1886
age 82 years mos [25] days; [s/o Jared Perkins & Phebe Russell]
unknown
 
 
concrete block
unknowns
 
 
three eroded soapstones
PERKINS, Arad
 
27 Sep 1837
age 23; [s/o Jared Perkins & Phebe Russell; his widow, Elizabeth Anderson, later married Joseph Perkins]
unknowns
 
 
two eroded soapstones
Row 5
RUTHERFORD, Robert Lee
15 Jul 1908
19 Jun 1998
double stone with next
RUTHERFORD, Cora Alma
21 Mar 1916
22 May 2005
 
RUTHERFORD, Dennis Ray
16 Feb 1937
14 Jan 1997
[s/o Robert L. & Cora Alma Sells Rutherford]
TOMPKINS, Gilmer W.
8 Feb 1902
3 Feb 1986
PFC U.S. Army World War II; [s/o Phocion Hezekiah & Elizabeth T/Pickle Tompkins]
TOMPKINS, Dixie N.
17 Dec 1893
8 Apr 1983
Pvt U.S. Army World War I; [Dixie Newton, s/o Phocion Hezekiah & Elizabeth T/Pickle Tompkins; h/o Fleeta Phipps]
TOMPKINS, Roscoe
7 Oct 1891
4 Nov 1982
PFC U.S. Army World War I; [s/o Phocion Hezekiah & Elizabeth T/Pickle Tompkins]
TOMPKINS, Robert M.
18 Feb 1886
20 Aug 1957
age 71 years 6 mos. 2 days; [Robert Martin, s/o Phocion Hezekiah & Elizabeth T/Pickle Tompkins]
TOMPKINS, Elizabeth
1866
1963
[d/o Minerva Tickle or Pickle of Smyth Co]; double stone with next
TOMPKINS, P.H.
1861
1935
[Phocion Hezekiah, s/o Phocion L. Tompkins & Sarah Susann Perkins]
EMERSON, June Elizabeth
1917
1917
[infant d/o John Emerson & Ann Tompkins, gd/o Phocion H. & Elizabeth Tompkins]
TOMPKINS, Lloyd Bowers
4 Mar 1897
26 Jan 1898
[s/o Phocion & Elizabeth Tompkins]
TOMPKINS, Rose
14 Feb 1896
18 Feb 1896
[d/o Phocion & Elizabeth Tompkins]
MINK, Calvin
28 Jan 1842
27 Oct 1900
Co D 50 Va Inf CSA; [s/o John Mink & Amy Hackler; 2nd h/o Sarah Susann Perkins Tompkins]
unknown
 
 
concrete block
MINK, Amy
17 Sep 1811
17 Apr 1877
[d/o John Delp & Catrina Hackler; w/o John Mink]
unknowns
 
 
three concrete blocks
PERK__S, J.E.
[27 Aug 1820]
[11 Apr 18__]
handcarved field stone; dates now illegible but as shown in Herndon files. Weaver file shows "1827." Mr. Herndon read the initials as "J.L." and thought this might have been Joseph Perkins, 2nd h/o Eliza Anderson Perkins.]
unknowns
 
 
four concrete blocks
Row 6
MINK, George W.
6 Jul, 1874
15 Oct 1960
 
MINK, John B.
14 Apr 1878
21 Feb 1919
 
unknowns
 
 
two concrete markers, flat stone, concrete marker, rock
MINK, Jacob T.
1 Jul 1840
20 May 1931
Co D 50th Va Inf CSA
MINK, Catherine
5 Sep 1843
3 Jul 1932
 
unknown
 
 
concrete marker
Row 7
PERKINS, John W.
17 Nov 1854
2 Oct 1940
"Father"
PERKINS, Oletha J.
23 Mar 1861
2 Dec 1945
"Mother"
REEDY, Deloris
21 Oct 1926
22 Oct 1926
 
unknown
 
 
concrete marker
PERKINS, Wiler Vantee
7 Jan 1889
21 Feb 1920
 
PERKINS, Chester
4 Jun 1904
21 Nov 1908
 
unknowns
 
 
concrete markers, open space
PERKINS, Nonie
8 Feb 1878
21 Oct 1934
 
Row 8
SELLS, Carl D.
13 Oct 1915
1 Jan 2001
PFC U.S. Army World War II; double stone with next
SELLS, Inez S.
11 Aug 1924
13 Sep 2005
 
BROWN, John H.
15 Sep 1910
[3 Jun 1990]
[buried at West Jefferson]; double stone with next
BROWN, Ruth G.
30 Aug 1913
10 Sep 1971
 
MINK, W.E.
19 Sep 1865
23 Jan 1889
 
MINK, John A.
30 May 1870
19 Aug 1885
 
MINK, Sarah A.
3 Mar 1842
13 Feb 1884
 
MINK, Hyram R.
6 May 1837
31 Oct 1883
 
MINK, David W.
20 Feb 1862
5 Jul 1882
 
unknowns
 
 
six concrete blocks, open space
Row 9
BROWN, Doris H.
27 Mar 1932
24 Feb 2001
 
unknowns
 
 
8eight concrete blocks, open space
HASH, Virgie A.
8 Sep 1884
10 Sep 1916
d/o Mr. & Mrs. E.C. Hash; age 32 yrs 2 days
Row 10
unknown
 
 
concrete block
PERKINS, Braties Nelson
16 Dec 1880
26 Dec 1918
[Braties Perkins, d/o John W. Perkins and Oletah Stamper; w/o Conley Irvin Nelson]
unknowns
 
 
three concrete blocks, open space
BURNOP, Infant Daughter
4 Jan 1940
4 Jan 1940
d/o Carl & Faye Burnop
PEAK, Robert H.
19 Jan 1870
30 Jan 1870
s/o J.A. & A. Peak
Row 11
MITCHELL, Sarah Barrett
30 Dec 1814
14 Apr 1893
[nee Barrett, w/o Rev. Charles Mitchell. She donated the land lot for Little Wilson Church.]
unknowns
 
 
seven concrete blocks
SELLS, Mintie M.
11 Sep 1884
21 Apr 1898
[d/o William Franklin Sells & Louisa Caroline Perkins]
SELLS, Charity C.
28 Mar 1879
24 Jan 1891
[d/o William Franklin Sells & Louisa Caroline Perkins]
SELLS, Nannie F.
9 Jun 1881
12 Jan 1888
[Nannie F., d, d/o William Franklin Sells & Louisa Caroline Perkins]
SELLS, Carrie
14 Oct 1871
18 Jan 1872
[d/o William Franklin Sells & Louisa Caroline Perkins]
SELLS, Louisa C.
19 Apr 1845
11 Jan 1917
age 71 yrs 8 mos 22 days; wife of W.F. Sells; [Louisa Caroline, d/o Philip Perkins & Rebecca McGrady]
SELLS, William F.
15 Oct 1838
22 Mar 1910
[Co D 50th VA Inf CSA; s/o William H. Sells & Mary Musser]
Row 12
NEALY, Irvin
 
 
heavy wooden cross without name
NEALY, Edna
 
 
heavy wooden cross without name
unknowns
 
 
2 concrete blocks
NELSON, ____
6 Aug 1894
6 Aug 1894
[child of] Mr. & Mrs. C.B. Nelson; stone is broken and top is gone
unknown
 
 
concrete block, open space
TEASTER, Mittie M.
14 Jun 1870
31 Jan 1879
age 8 yrs 7 mos 17 days
TEASTER, Isabel Jones
15 Oct 1833
21 Jun 1890
age 56 yrs 8 mos, 6 days; wife of James Teaster
TEASTER, James
26 Dec 1841
4 Jan 1878
stone is broken, parts are present
unknowns
 
 
3 concrete blocks
Row 13
RUTHERFORD, Charles Harold
28 Nov 1932
1 Apr 2002
double stone with next
RUTHERFORD, Shirley Sells
28 Oct 1935
 
 
SELLS, Reva R.
22 Feb 1931
4 Jan 1976
 
SELLS, Troy Lee
3 Jan 1896
11 May 1978
[s/o Frank Mack & Phina Rutherford Sells]; double stone with next
SELLS, Lizzie C.
24 Dec 1898
12 Feb 1975
[Elizabeth Catherine, d/o Robert Lee Perkins; w/o Troy Lee Sells]
SELLS, Stanley Gale
12 Dec 1928
19 Mar 1966
 
SELLS, Dewey Lee
25 Sep 1924
26 Sep 1979
[s/o Troy L. & Elizabeth Perkins Sells; h/o Ruby Winslow]
unknowns
 
 
open space with no markers but apparent graves
SELLS, Mack
14 Dec 1872
5 Dec 1948
double stone with next
SELLS, Phina
1 May 1876
28 May 1949
SELLS, Mintie L.
20 Jan 1911
19 Dec 1911
 
unknown
 
 
concrete block
SELLS, Wayne
18 Feb 1906
28 Jan 1976
double stone with next
SELLS, Helen M.
13 Jan 1917
7 Feb 1979
[d/o Carl & Kate Branson Monk; m1 Wayne Sells, m2 Herman Henderson]
SELLS, Infant
15 Nov 1935
15 Nov 1935
s/o Wayne & Helen Sells
Row 14
PERKINS, Graham Ford
20 Jan 1918
21 May 1969
 
REEVES, Ralph B.
3 Feb 1923
26 Oct 1996
[Ralph Bedwell, s/o Mack & Blanche Bedwell Reeves]; double stone with next
REEVES, Madelene P.
4 Oct 1921
9 Apr 1989
[Doris Madelene, d/o Burton & Blanna Sebastian Perkins]
PERKINS, Ardith Woodrow
19 Feb 1915
30 Nov 1963
Va SSgt Co G 116th Inf World War II, Silver Star, Bronze Star, Purple Heart with oak leaf cluster; double stone with next
PERKINS, Guida Rose
10 Jul 1923
15 Jun 2006
 
PERKINS, Lyal Layfam
5 Aug 1912
17 Jul 1914
s/o J.B. & Blanna Perkins
PERKINS, Burton J.
22 Jul 1884
19 Nov 1946
double stone with next
PERKINS, Blanna A.
8 Feb 1885
27 Oct 1961
 
MINK, Joe E., Jr.
19 Sep 1912
23 Dec 1913
s/o Joe. E. & Jincie Mink
SMITH, Joseph C.
27 Jun 1934
27 Jun 1934
s/o Carl & Kate Smith
Row 15
WALLS, Joseph Garl, Sr.
21 May 1941
3 Nov 1995
[s/o Chester Lee & Gertie Mae Perkins Walls]; double stone with next
WALLS, Rhonda Richardson
12 Apr 1947
 
married 31 May 1969
WALLS, Elbert Lee
2 Mar 1971
2 Mar 1971
s/o Mr. & Mrs. Garl Walls
WALLS, Chester L.
5 Jul 1909
21 Dec 1968
double stone with next
WALLS, Gertie M.
9 Oct 1900
8 Feb 1984
 
PHIPPS, Bonnie S.
16 Oct 1956
17 Nov 1957
 
WARREN, Treva B. Perkins
26 Jun 1910
15 May 1939
wife of Press Warren
WARREN, Sandra Leah
2 Sep 1948
6 Dec 1948
 
WARREN, Kenneth Hal
1 Jul 1928
17 Mar 1979
YOUNG, Walter H.
25 Mar 1886
16 Mar 1967
[Walter Hardin, s/o Franklin Lecher & Martha A. Hardin Young]
YOUNG, Laura N.
9 Jul 1889
20 Apr 1977
[Annie Laura, d/o Ezra & Rebecca Jane Brewer Nelson; w/o Walter H. Young]
YOUNG, Bryant Odell
11 Oct 1907
30 Apr 1925
d/o W.H. & A.L. Young; [w/o James Young]
YOUNG, E. Hix
11 Jul 1930
18 Sep 1993
[Edwin Hix, s/o Walter & Laura Nelson Young]; double stone with next
YOUNG, Betty P.
27 Aug 1931
6 May 1993
wed 24 Sep 1948; [Betty Jean, d/o Steve & Jeston Wells Plummer]
YOUNG, Infant
Feb 1936
Feb 1936
s/o Mr. & Mrs. Lawrence Young
YOUNG, Joseph E. "Pat"
1 Jan 1952
21 May 2001
double stone with next
YOUNG, Tammy H.
25 Nov 1961
 
[nee Hill]
Row 16
WELLS, Otha G.
5 Jul 1925
 
double stone with next
WELLS, Mary E.
3 Jul 1930
7 Feb 2007
 
WELLS, James B. "Pete"
24 Aug 1919
22 Nov 2006
PFC U.S. Army World War II
WELLS, James A.
20 Apr 1893
15 Jun 1964
double stone with next
WELLS, Grace E.
20 Sep 1892
6 May 1983
[Eva Grace, d/o Jacob & Catherine Perkins Wells]
SELLS, Billy C.
4 Apr 1942
2 Sep 1986
Sp4 U.S. Army
SELLS, Dewey
7 Feb 1913
1 Jul 1995
[George Dewey, s/o Mack & Phina Rutherford Sells]; double stone with next
SELLS, Georgia W.
25 Feb 1917
25 Mar 2006
[nee Wells]
SHUMATE, Tracy L.
24 Jan 1922
28 Apr 1949
 
PERKINS, Bertha Juanita
14 Oct 1939
14 Oct 1939
d/o J.S. & Alma Perkins
PERKINS, Robert Lee
28 Feb 1868
28 Aug 1948
double stone with next
PERKINS, Delta Mink
15 Oct 1872
24 Jun 1933
 
PERKINS, Joseph Swanson
3 Jul 1903
26 Mar 1983
 
Row 17
CAMPBELL, Carl W.
15 Feb 1921
10 Dec 2000
Corp U.S. Army Air Force World War II; double stone with next
CAMPBELL, Lila R.
5 Apr 1928
 
married 30 Jun 1955
REEDY, Swan L. "Bob"
6 Dec 1929
 
double stone with next
REEDY, Doris Sebastian
18 Nov 1927
26 Mar 1998
 
REEDY, Charlie S.
[13 Oct] 1896
[18 Feb] 1961
Pvt U.S. Army World War I; double stone with next
REEDY, Ossie D.
[16 Oct] 1895
[7 Apr] 1959
 
MATNEY, David E.
[3 Apr] 1902
[30 Aug] 1970
double stone with next; [David Earl]
MATNEY, Addie L.
[28 Mar] 1900
[7 Jul] 1980
[d/o James Addison & Emma Senter Young]
YOUNG, Cora Sells
6 Feb 1877
4 Dec 1960
 
YOUNG, James Albert
26 Apr 1908
14 Jun 1990
double stone with next
YOUNG, Edith Taylor
26 Jul 1914
5 Apr 1969
 
SELLS, Arthur R.
16 May 1910
5 Jul 1958
 
GUNNETT, Golda Sells
15 Sep 1911
16 Apr 1979
[Golda Hilda, d/o Bletcher & Kate Handy Pollard; w/o Harry M. Gunnett]
SELLS, Charlie
18 Dec 1869
15 Feb 1962
double stone with next
SELLS, Laura
21 May 1874
26 Dec 1935
 
MINK, James C.
[21 Feb] 1877
[9 Jun] 1948
 
Row 18
SPENCER, Fred L.
1 Jul 1916
13 Oct 1983
TSgt U.S. Army World War II; [Fred Lee, s/o Isaac Greely & Maggie Sturgill Spencer]; double stone with next
SPENCER, Selma P.
23 Sep 1913
8 Sep 2001
[nee Perkins]
PERKINS, Fitzhugh L.
1886
1958
[s/o John A. Perkins]; double stone with next
PERKINS, Eula D.
[22 Sep 1894
[23 May] 1977
[Eula Dare, d/o Columbus & Dora Parsons Sebastian]
BARKER, Ray Reed
26 Dec 1922
25 Jan 1999
Corp U.S. Army World War II; double stone with next
BARKER, Maxine Perkins
28 May 1922
28 Aug 2005
 
REEDY, William Ralph, Jr.
15 Feb 1959
16 Feb 1959
 
PARSONS, Jess J.
22 Oct 1895
6 Sep 1954
[s/o Steve & Emeline Ingram Parsons]; double stone with next
PARSONS, Mary W.
3 Jul 1897
12 Feb 1971
[nee Wells]
PARSONS, James S., Sgt.
21 Feb 1923
4 Dec 1950
 
PARSONS, Robert H.
10 Mar 1926
3 May 1959
 
Row 19
PLUMMER, Harold D.
10 Mar 1937
28 Sep 1991
 
PLUMMER, Mildred Ione
17 Feb 1916
16 Feb 1957
[d/o F.L. & Eula Sebastian Perkins; w/o Max Plummer]
PLUMMER, Steve M.
14 Apr 1919
5 Oct 1974
S2 U.S. Navy World War II
PLUMMER, Alex Ted
1915
1982
 
PLUMMER, Steve M.
4 Mar 1893
18 Jan 1956
[Steve Mack, s/o Wilson & Valerie Peak Plummer]; double stone with next
PLUMMER, Jeston W.
6 Apr 1895
28 Oct 1985
 
PLUMMER, Billy Dean
27 Aug 1931
17 Jan 1951
 
WELLS, George Con
2 Apr 1891
17 Mar 1960
 
PARSONS, Bural Wells
6 Nov 1915
23 Feb 1997
SSgt U.S. Army World War II, Purple Heart; [s/o Jess J. & Mary Wells Parsons]; double stone with next
PARSONS, Audrey Perkins
12 Jun 1919
30 Jan 2003
 
PARSONS, Larry S.
2 May 1946
20 June 2002
double stone with next
PARSONS, Irma J.
22 Jan 1938
 
 
WELLS, Frank
19 Feb 1901
2 May 1943
double stone with next
WELLS, Anna Cox
19 Jan 1899
22 Feb 1980
[Cynthia Anna, d/o Newton & Minnie McMillan Cox]
McGRADY, Sue Wells
29 Aug 1935
23 Dec 1994
[d/o Frank & Anna Cox Wells]
HALL, Minnie Wells
29 Mar 1923
7 Sep 2005
[d/o Frank & Anna Cox Wells]
Row 20
MINK, Joe E.
20 Feb 1871
11 Jun 1951
double stone with next
MINK, Jincie W.
8 Apr 1882
17 Mar 1968
 
PERKINS, Coleen Margaret
21 Sep 1923
23 Jul 2005
 
PERKINS, Lewis K.
30 Dec 1929
7 Jan 1979
Pvt U.S. Army Korea; [Lewis Kenneth, s/o Lahr Bryan & Zenna Sebastian Perkins]
PERKINS, Lahr Bryan
18 Feb 1897
31 Mar 1981
[s/o John W. & Oletha Stamper Perkins]
PERKINS, Zenna Mae
17 Jan 1903
4 Jul 1948
[nee Sebastian; w/o Lahr Bryan Perkins]
Row 21
STOOTS, Carl L.
1926
1986
U.S. Navy World War II; double stone with next
reserved
 
 
footstone "NPS"
RADER, Helen Perkins
30 Dec 1927
12 Nov 1995
[Helen Aileen, d/o Bryan & Zenna Sebastian Perkins]
MILLER, Thomas Larry
2 Dec 1953
24 Sep 1988
[s/o Thomas Martin & Helen Perkins Miller]
RADER, William Darel
12 May 1927
13 Jan 1976
U.S. Army World War II
Known to be buried here, locations unknown
PERKINS, Granville Henderson
[2 Sep 1826]
24 Aug 1827
[A child, mentioned in 1926 narrative as the 1st interment in this cemetery although there appears to be another who has that distinction.]
PERKINS, Temperence
[5 Aug 1800]
[29 Dec 1837]
[No stone is listed on recent inventories of this cem. However, a 1926 narrative states she and Johannah Perkins have markers bearing 1837 and that Temperence was dumb and deaf.]
PERKINS, Johannah
 
[1837]
[See notes for Temperence Perkins.]
CREECH, ____
 
 
["Granny Screech" is known to be buried here. An unrepentant Loyalist who lived into the late 1830s, she is said to have lifted her cup "To the King!" until her dying day. In her old age she lived with some of her Perkins kin.]