Fielden Mack Young Cemetery
Grayson County, Virginia
Location: Mouth of Wilson
Directions: From the junction of Troutdale Hwy (SR 16) and Little Wilson Rd (Rt 738) go west approximately 0.3 mile on Little Wilson Rd to bridge entrance to Little Wilson Methodist Church. Take this bridge entrance; then turn right passing Little Wilson Church and continue on dirt road past the church approximately 0.4 mile up the draw to cemetery on right (north) side of road. The cemetery is approximately 300 feet from the road but is not visible from the road.
GPS Coordinates: N36.633327 W81.412761.
Surveyed by: Jeff Weaver 3 Apr 2003
Comments: The cemetery has a good fence around it but it has not been tended for some time and is overgrown with briars.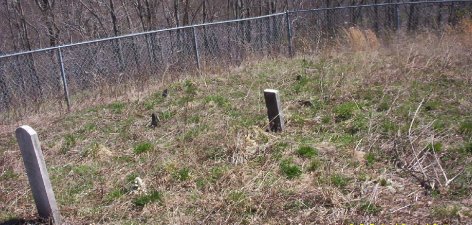 General View of the Fielden Mack Young Cemetery
Fielden Mack Young Cemetery, Grayson County, Virginia
Name
Birth
Death
Comments
Row 1
YOUNG, Fielden Mack
26 Feb 1868
4 Feb 1959
[father of Earl and Bill Young]
YOUNG, Caroline Alice
28 Jul 1869
3/8 Apr 1930
wife of Mack Young
YOUNG, Oscar McTeer
3 May 1901
9 Feb 1937
marker placed in 2008; [s/o Mack and Caroline Young]
Row 2
unknowns
 
 
four field stones
Row 3
YOUNG, Blair
1915
1917
 
YOUNG, Gladys
1918
1920
 
YOUNG, Gail
1925
1938