White Top, Grayson County, Virginia
Location: White Top Community
Directions: The Byars Cemetery is on the north side of Highlands Pkwy (US 58) near the junction with Old Park Road (Rt 754).
GPS Coordinates: N36.615394 W81.597619
Surveyed by: Jeff Weaver and Ginger Ballard 21 March 2003; miscellaneous notes from Bette Nelson; updated May 2007
Comments: This cemetery is neat and well maintained, although portions of it are steep. The oldest identifiable grave dates from 1870.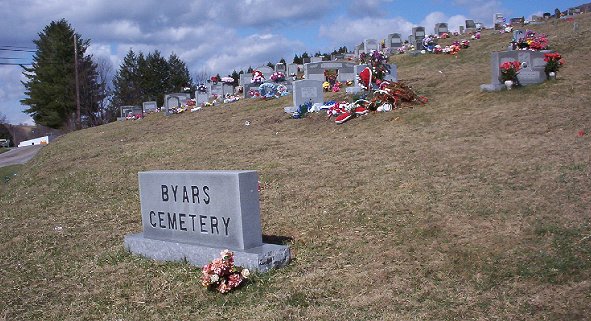 General views of the Byars Cemetery, White Top, Grayson County, Virginia
Byars Cemetery, White Top, Grayson County, Virginia
Name
Birth
Death
Comments
Row 1
STURGILL, Stacy
17 Apr 1915
8 Jan 2006
SHEPHERD, Amanda
1892
1981
funeral home marker
SHEPHERD, Rudy
1877
1959
funeral home marker
SHEPHERD, Izora Kilby
5 Jun 1923
30 Jan 1962
SHEPHERD, Lennie J.
18 Mar 1929
17 May 1965
STAMPER, Bleinda J.
funeral home marker
BLEVINS, H. Spain
1910
1984
double stone with next
BLEVINS, A. Catherine
1906
1992
wed 31 Dec 1929
PARKER, Teresa
1943
1991
funeral home marker
ROOP, Roscoe H.
15 Mar 1890
7 Sep 1982
double stone with next
ROOP, Garthia
5 May 1892
12 Jan 1995
SHEPHARD, Kester
3 Mar 1932
28 Jul 1975
Pvt U.S. Army Korea
SHEPHARD, Dennis Wayne
17 Mar 1956
17 Mar 1956
s/o Mr. and Mrs. Kester Shephard
SHEPHARD, Isaac F.
16 Oct 1897
24 May 1953
double stone with next
SHEPHARD, Georgia Mae
12 Aug 1898
26 Oct 1975
SHEPHARD, Talty Monroe
6 Mar 1902
22 Aug 1976
REEDY, Robert R.
17 Jan 1918
27 Nov 1991
double stone with next
REEDY, Dorothy S.
14 May 1922
HAMM, Lockie A.
13 Mar 1908
4 Dec 1972
BLEVINS, Carl G.
22 Apr 1905
2 Oct 1949
HAMM, Thomas W.
31 Jul 1872
31 Dec 1948
double stone with next
HAMM, L. Ettie
28 Sep 1879
15 Aug 1979
[d/o John A. Johnson & Phoeba Lyons]
HAMM, James Garfield
17 Mar 1920
4 Jul 1964
Va S1 USNR World War II; double stone with next
HAMM, Lillian F.
29 Jun 1918
13 Dec 1992
[d/o John Finley & Susie Blevins]
HAMM, James A.
8 Jul 1939
25 Mar 1987
double stone with next
HAMM, Theresa E.
4 May 1941
HAMM, Arthur W.
1904
1987
double stone with next
HAMM, Ivory A.
1932
BLEVINS, Franklin D.
17 Oct 1936
23 Oct 1988
Row 2
DOLINGER, H.
wooden cross
DOLINGER, P.
wooden cross
DOLINGER, Joseph Lee
23 Dec 1914
4 Apr 1998
PFC U.S. Army Air Corps World War II; double stone with next; [s/o Floyd W. Dolinger & Bertha J. Walls]
DOLINGER, Thelma P.
12 May 1915
17 Jun 1969
DOLINGER, Duane Leeroy
18 Dec 1951
20 Dec 1951
s/o Joe and Thelma Dolinger
DOLINGER, Oscar M.
2 Feb 1899
22 Aug 1973
double stone with next
DOLINGER, Dora S.
6 Apr 1902
22 Sep 1986
DOLINGER, Ernest Lee
20 Feb 1922
8 Jun 1988
Pvt U.S. Army World War II
Row 3
RICHARDSON, Alma Rupart
1929
2007
RUPARD, Alvin Garfield
11 Dec 1944
5 Apr 1968
RUPARD, William P.
22 Jun 1894
24 Mar 1971
Pvt U.S. Army World War I; double stone with next
RUPARD, Mecie H.
10 May 1913
10 Dec 2006
[nee Hamm]
DOLINGER, Noah L.
9 Oct 1936
14 Dec 1998
DOLINGER, Mary R.
21 Nov 1931
16 Dec 1994
DOLINGER, Ambrose W.
15 Apr 1938
26 Dec 1952
[Ambers Winton Dolinger; s/o Charlie Dolinger & Emma Powers]
BARLOWE, Bertie Dolinger
10 Nov 1928
18 Nov 1984
STAMPER, Ethel M.
8 Aug 1915
2 Jun 2004
STAMPER, Loreen
funeral home marker
STAMPER, Claude Lee
13 Jun 1924
3 Aug 1974
double stone with enxt
STAMPER, Dessie B.
2 May 1927
STAMPER, F.H.
funeral home marker
STAMPER,
funeral home marker
STAMPER, Loreen
metal marker
HART, Charles F.
8 Nov 1942
6 Jan 1971
Va SP4 U.S. Army Viet Nam
STAMPER, Helen M.
30 Jan 1930
16 Aug 1954
STAMPER, Michael W.
21 Feb 1948
5 Mar 1948
son
DOLINGER, Fred R.
1927
2005
U.S. Army World War II; [Fred Roosevelt]; shared stone with next
DOLINGER, Doris M.
1928
DOLINGER, Floyd W.
12 Nov 1881
27 Mar 1973
double stone with next; s/o William W. Dolinger & Ludema Davis
DOLINGER, Bertha J.
5 Aug 1888
12 Sep 1960
[nee Bertha Jane Walls; 2nd w/o Floyd W. Dolinger]
DOLINGER, Johnny R.
12 May 1911
4 Mar 1949
Row 4
HAYES, James W.
19 Jul 1900
5 Mar 1963
HAYES, Lillie D.
1 Jun 1905
2 Jul 1994
EDWARDS, Beulah M
30 Oct 1921
w/o Chester C. Edwards
McALLISTER, Cecil G.
6 Aug 1930
double stone with next
McALLISTER, Elsie Miller
8 Jul 1924
25 Dec 1997
MILLER, Charles G.
29 Oct 1889
23 Oct 1982
VFW marker; [Charles Gilliam, s/o Troy Miller & Silena Wyatt]
MILLER, Ettie L[ou]
28 Feb 1904
12 Dec 1979
[d/o Charles Dolinger & Cordelia Baker; w/o Charles G. Miller]
MILLER, Doris
1931
1932
MILLER, Dorsey
1927
1927
same stone with next
MILLER, Dorothy
1927
1927
MILLER, Wilhelm
1925
1926
MILLER, Blanche
1920
1921
DOLINGER, Emma
14 Mar 1898
2 Apr 1959
w/o C.F. Dolinger
DOLINGER, Charles F.
6 Jul 1882
25 Oct 1961
DALINGER, Cordelia
21 Jan 1882
16 Aug 1920
w/o C.F. Dalinger; [surname sic]
DOLINGER, Dewey Franklin
4 Nov 1905
14 Sep 1908
DOLINGER, Sarah Elizabeth
12 Feb 1911
7 Jun 1913
DOLINGER, Harison C.
21 Nov 1921
31 Mar 1925
DOLINGER, Robert C.
27 Oct 1925
3 Jul 1951
STAMPER, Glen Earl
11 Jan 1920
3 Jul 1948
STAMPER, William Delmer
13 Jul 1913
26 Feb 1914
STAMPER, F.E.
11 Aug 1890
6 May 1925
STAMPER, Lessie
27 Apr 1894
2 Jun 1961
STAMPER, Durphy McKinney
24 Feb 1923
24 Feb 1923
STAMPER, Robert Paul
26 Mar 1919
17 Apr 1919
STAMPER, Roy Lee
2 Aug 1914
27 Mar 1918
STAMPER, Mary Ruth
7 Dec 1917
17 Jan 1918
STAMPER, William Harrison
25 May 1889
1 Sep 1937
STAMPER, Polly Jane
15 Apr 1886
29 May 1973
STAMPER, Elsie B.
31 May 1928
16 Mar 2006
DOLINGER, William
15 Oct 1921
1 Sep 1922
DOLINGER, Ruth I.
17 Nov 1916
19 Nov 1917
Row 5
STAMPER, William Michael
11 Mar 1970
4 May 1999
SP4 U.S. Army
STAMPER, Rita Mae
10 Sep 1938
10 Sep 1938
Infant d/o Worth and Rosie Stamper
STAMPER, William Worth
20 Mar 1916
15 Aug 1998
STAMPER, Rossie
15 Aug 1912
12 Jun 1969
SHEPHEARD, Franklin D.
20 Jun 1851
1 Jan 1936
SHEPHERD, Miley
20 Aug 1852
7 May 1930
SHEPHERD, Wilburn
13 Sep 1872
9 Feb 1948
DOLINGER, Roby F.
7 Jan 1885
7 Mar 1958
double stone with next
DOLINGER, Lydia C.
20 Oct 1883
27 Jul 1965
DOLINGER, Elmer
29 Apr 1915
2 Apr 1938
DOLINGER, Lida A.
6 Apr 1917
1 Nov 1920
HOWELL, James M.
16 Jan 1910
18 Dec 1986
PFC U.S. Army World War II; double stone with next
HOWELL, Zenna D.
27 Jul 1919
married 25 Jan 1946
Row 6
PENNINGTON, James
9 Feb 1883
11 Mar 1963
SURBER, Donald L., Sr.
15 May 1930
double stone with next
SURBER, Hazel M.
13 Nov 1931
STAMPER, Lloyd Laverne
3 Sep 1946
double stone with next
STAMPER, Belinda Bowman
24 Mar 1952
STAMPER, Lee Ola Surber
13 Oct 1919
Eastern Star symbol; double stone with next
STAMPER, Arthur L.
6 Feb 1919
12 Jan 1974
Va Tec 4 U.S. Army World War II; Masonic symbol
STAMPER, Thomas A.
31 Dec 1929
13 Feb 1939
DOLINGER, Della S.
19 Sep 1938
21 Oct 2001
double stone with next
DOLINGER, John Q.
7 Mar 1934
8 Jul 1995
ch: Darlene, John, Jewel, Norma
unknown
field stone
WALLS, C. Vurlie
12 Apr 1909
22 Nov 1965
WALLS, George W.
19 Apr 1871
11 Jan 1968
WALLS, Malinda
10 Mar 1891
12 Apr 1915
WALLS, Harvey
14 Jun 1914
30 Oct 1916
WALLS, Daley
31 May 1919
17 Jun 1919
WALLS, Martha
8 Feb 1920
8 Feb 1920
twin; same stone as next
WALLS, Mary
8 Feb 1920
8 Feb 1920
twin
WALLS, Arlie C.
23 Dec 1906
26 Apr 1921
WALLS,Mindie E.
10 May 1892
4 Jan 1946
unknown
3 field stones
SHEPHERD, Lundy
23 Sep 1907
5 Jan 1909
s/o S.S. and Sarah Shepherd
STAMPER, Abraham L.
27 Mar 1866
23 Jan 1959
double stone with next
STAMPER, Ruth Emaline
15 Dec 1870
22 Nov 1928
STAMPER, Claudie M.
27 Apr 1898
21 Dec 1922
s/o A.L. and R.E. Stamper
GILLEY, Paul W.
15 Sep 1911
17 Feb 2005
double stone with next
GILLEY, Stella Faye
6 Oct 1913
19 Aug 1970
GILLEY, Patsy L.
23 Nov 1952
Row 7
PENNINGTON, Harry H.
19 Jun 1924
25 Oct 1968
SURBER, Donald L., Jr.
28 Oct 1962
14 May 1996
"Don Don"; [Donald Lee, s/o Don L. Surber & Hazel May]
SURBER, John A.
15 Jul 1917
22 Oct 1981
double stone with next; [John Andrew, s/o Robert Lee Surber & Mountie Taylor]
SURBER, Lourine M.
5 May 1919
13 Mar 1995
[nee Farmer]
STAMPER, James Willard
24 Apr 1920
7 Apr 1957
Tec 4 U.S. Army World War II
STAMPER, Banie Agnes
5 Apr 1921
29 Aug 1971
SURBER, Robert Lee
17 Sep 1898
7 Mar 1953
double stone with next
SURBER, Mountie C.
28 Sep 1898
21 Nov 1962
HARVEY, Kenneth E., Jr.
26 Jan 1932
4 Jun 1998
HARVEY, Beryl Surber
13 Jul 1934
BLEVINS, Hugh Bradley
18 Apr 1926
22 May 1989
PFC U.S. Army World War II; double stone with next
BLEVINS, Eleanor S.
8 Mar 1928
BLEVINS, Hugh Bradley, Jr.
30 Dec 1947
28 Apr 1969
PFC Co K 9th Mar 3 Mar Div U.S. Marine Corps Vietnam
BLEVINS, Randell Scott
6 Oct 1949
17 Dec 1949
s/o Mr. & Mrs. Hugh Blevins
DOLINGER, Columbia
1873
1961
double stone with next
DOLINGER, Harrison
1871
1904
JOHNSON, Melvina
19 Feb 1848
16 Sep 1940
unknown
field stone
FARMER, Henry
26 Feb 1825
28 Apr 1903
FARMER, Nancy
2 Jan 1830
22 Mar 1926
unknowns
6 field stones
BLEVINS, Delmer
6 Aug 1922
8 Oct 1922
STAMPER, Atha V.
11 Apr 1901
24 Jan 1981
double stone with next
STAMPER, Coy L.
23 Oct 1900
4 Nov 1933
STAMPER, Ernaver
5 Jun 1924
9 Aug 1925
COE, Bracel S.
10 Oct 1921
double stone with next
COE, Charlie W.
19 Jun 1912
9 Oct 2000
PFC U.S. Army World War II
RICHARDSON, Bayne
11 Sep 1927
4 May 1976
PFC U.S. Army Korea
Row 8
OSBORNE, Hider G.
10 Aug 1910
double stone with next
OSBORNE, Dora P.
11 Mar 1916
BLEVINS, Hattie Mae S.
26 May 1906
16 May 1995
double stone with next
BLEVINS, Millard Gray
10 Mar 1905
21 Mar 1979
BLEVINS, Conley
2 May 1901
6 Aug 1964
double stone with next
BLEVINS, Bonnie
2 Mar 1902
13 Feb 1965
BLEVINS, Ola Mae
26 May 1925
1977
ROBERTS, J. W
23 Apr 1852
26 Feb 1914
BLEVINS, Clarence
9 Jul 1923
18 Mar 1976
BLEVINS, Wiley W.
4 Mar 1897
17 Mar 1975
unknowns
2 field stones
DOLINGER, Franklin
20 Feb 1836
16 Mar 1893
Co D 50th VA Inf CSA;s/o William W. Dolinger & Catherine Long; m Elizabeth Cook]
DOLINGER, Thomas P.
25 Dec 1873
20 Jul 1959
DOLINGER, Billy Marshall
16 May 1927
24 Oct 2001
double stone with next
BLEVINS, James Oscar
15 Apr 1900
8 Feb 1972
double stone with next
BLEVINS, Mattie W.
1 May 1900
31 Aug 1992
BLEVINS, Willard
2 May 1921
18 Oct 1955
Maryland Tec 5 66 Armd Regt 2nd Armd Div U.S. Army World War II
unknown
5 field stones
BLEVINS, Hamp
hand carved field stone
BLEVINS, Nancy Jane
30 Jun 1871
25 Nov 1950
wife of Hamp Blevins
unknown
field stone
CHAPPELLE, Lura Richardson
3 Mar 1920
8 Aug 2000
BLEVINS, Georgie Richardson
2 Mar 1916
21 Mar 1968
FARMER, Stephen
26 Apr 1970
28 Apr 1970
s/o Stephen & Terri Farmer
RICHARDSON, Lester
5 Jan 1918
19 May 1979
Co L 116th Inf 29th Inf Division U.S. Army World War II; [s/o John Richardson & Molly Dolinger; h/o Mae Reedy]
RICHARDSON, Nelson John
13 Dec 1964
1 May 1980
[s/o Lester Richardson & Mae Reedy]
Row 9
BLEVINS, Dail E.
17 Jan 1908
3 Mar 1995
double stone with next; [Dail Edward, s/o Elzie Blevins & Polly Farmer]
BLEVINS, Eula R.
20 Jul 1910
1 Jul 1995
[d/o Arthur Rose & Rosa Rupard]
BLEVINS, Lane
24 Jul 1941
23 Nov 1957
s/o Dail & Eula Blevins
BLEVINS, Jim
25 Jan 1936
15 Jan 1992
s/o Dail & Eula Blevins
BLEVINS, Stanley H.
20 Jan 1927
20 Nov 1970
Va Pvt U.S. Army World War II
BLEVINS, Flossie
7 Jun 1930
7 Jun 1930
BLEVINS, Dewey R.
29 Sep 1902
11 Feb 1983
BLEVINS, Minnie Marie
11 Mar 1916
2 Oct 2002
unknowns
3 field stones
BLEVINS, W. M.
22 Jun 1860
27 Mar 1940
BLEVINS, Roscoe J.
15 Dec 1891
16 Jan 1949
Va Pvt 128th MG Battn 35th Inf Div U.S. Army World War I
OSBORNE, Allie
1902
1971
WEAVER, Lessie Ann
1876
1956
JONES, Mary
5 May 1870
21 Dec 1956
unknowns
2 field stones
RICHARDSON, William T.
1899
1962
RICHARDSON, Maude E.
1896
1934
double stone with next
RICHARDSON, Elmer L.
26 Dec 1911
12 Feb 1923
RICHARDSON, John H.
26 Feb 1885
17 Sep 1955
RICHARDSON, Mollie D.
27 Sep 1889
31 Aug 1973
RICHARDSON, Blaine F.
16 Apr 1908
16 Sep 16 1972
RICHARDSON, Isabell M.
9 May 1900
21 Dec 1972
double stone with next
TAYLOR, Albert
8 May 1917
22 Nov 1999
Sgt U.S. Army World War II
TAYLOR, Judy
22 Mar 1919
double stone with next
Row 10
HART, Mamie
25 Oct 1917
15 Jun 1979
[Mamie Olivene, d/o Robert Davison & Mary Guy; w/o Lee Hart]
HART, Vernie Lee
6 Nov 1918
10 Aug 1998
HART, Hazel
18 Dec 1928
30 Oct 1958
BLEVINS, Jewel D.
16 Jul 1928
31 Dec 1998
BLEVINS, Stella M.
5 May 1902
2 Aug 1976
BLEVINS, Elijah
13 Feb 1883
27 Sep 1963
BLEVINS, Minnie C.
5 May 1889
19 Oct 1907
DOLINGER, Ludema
26 Apr 1846
4 Dec 1928
[d/o John Davis & Sarah Parsons]
DOLINGER, William D.
8 Sep 1907
Age 70 years
BLEVINS, Caroline V.
3 Sep 1866
20 May 1882
Age 15 years 8 mos 28 days
DOLINGER, Catherne
28 Aug 1878
Born in Germany
DOLINGER, William W., Sr.
4 Apr 1870
Born in Germany
unknown
field stone
DAVISON, Robert
1895
1966
funeral home marker
DOLINGER, John
2 Nov 1821
2 Nov 1916
unknown
2 field stones
FARMER, John C.
[12 May] 1915
[16 Apr] 1991
double stone with next; [John Clyde, s/o Wiley Thomas Farmer & Rebecca Coe]
FARMER, Dorotha R.
[30 Jan] 1910
[21 May] 1993
[d/o George Washington Roop & Gertie Lou Richardson]
FARMER, Doris Ann
7 Nov 1936
21 Nov 2001
RICHARDSON, Mary Lu Girtie
26 Aug 1888
30 Jul 1918
RICHARDSON, Margaret Cordelia
9 Feb 1896
12 Jun 1897
RICHARDSON, Katherine H.
8 Dec 1858
7 Mar 1940
double stone with next.
RICHARDSON, Lee A.
24 May 1860
26 Jan 1930
unknown
field stone
RICHARDSON, Sallie
14 Feb 1882
16 Sep 1973
RICHARDSON, Shelia Kathryn
9 May 1959
5 Jul 1959
BALDWIN, Bertha Jane
2 Jan 1892
20 Jun 1952
RICHARDSON, Wetsel D.
8 Sep 1927
6 Jul 2003
double stone with next
RICHARDSON, Helen M.
22 Apr 1927
TOWNSEND, Lessie Taylor
23 Aug 1919
14 Jul 2004
MAX, Velva Taylor
16 Apr 1923
30 Jun 2006
Tec 5 U.S. Army 29th WAC Hosp Co (Z1)
Row 11
TESTERMAN, Mary Sue
3 Sep 1926
18 Jun 2004
TESTERMAN, Sebert
21 Apr 1927
double stone with next
TESTERMAN, Grover E.
10 May 1898
29 Feb 1972
double stone with next
TESTERMAN, Pearlie M.
14 Mar 1908
31 Jan 1978
[obit lists birth as 14 Mar 1910; d/o John Wyatt & Malissa Baldwin]
TESTERMAN, T.A.
funeral home marker
TESTERMAN, Shirley
funeral home marker
DOLINGER, Catherine B.
27 Jun 1865
31 Dec 1946
double stone with next; [d/o Noah C. Baldwin & Mahala Blevins]
DOLINGER, Andrew J.
1 Jan 1861
31 Mar 1937
[s/o John H. Dolinger & Elizabeth Caldwell]
unknowns
15 field stones
BLEVINS, William C.
7 Oct 1872
2 Dec 1885
BLEVINS, Dora E.
27 Jun 1885
2 Jul 1885
unknowns
2 field stones
HART, William B.
16 May 1917
6 Jan 1928
Row 12
TESTERMAN, Harold Cecil
26 Aug 1949
shared stone with next
TESTERMAN, Wanda Jane
24 Mar 1947
3 Sep 2004
TESTERMAN, Howard W.
18 Nov 1925
30 Sep 1983
shared stone with next
TESTERMAN, Lucy C.
10 Mar 1930
double stone with next
HAGA, Bertha B.
20 Jun 1903
3 Apr 1973
double stone with next
HAGA, William E.
4 Apr 1888
28 Mar 1968
HAGA, William H.
25 Feb 1859
7 Jan 1935
[William Henry, s/o Henry Haga & Elizabeth Rimer]
HAGA, Margarett E.
31 Mar 1863
27 Feb 1933
[d/o John H. Dolinger & Elizabeth Caldwell]
DOLINGER, William
1848
[Feb 1918]
[s/o John H. Dolinger & Elizabeth Caldwell; other sources list birth as 10 Feb 1850]
DOLINGER, Nancy B.
1849
[d/o Andrew Z. Blevins & Charity A. Wyatt; w/o William Dolinger; other sources list birth as 3 Jan 1850]
unknowns
7 field stones
BLEVINS, Cora
1888
1951
double stone with next
BLEVINS, Abe
1886
1942
BLEVINS, Lester
1914
1989
BLEVINS, Sarah
6 May 1852
18 Mar 1924
BLEVINS, Drucie N.
4 Nov 1881
13 Feb 1882
unknowns
5 field stones
RICHARDSON, Delmer
1922
1998
funeral home marker
Row 13
POWERS, William H.
1 Mar 1891
2 Apr 1986
double stone with next
POWERS, Bessie Little
5 Apr 1900
28 Mar 1998
unknowns
20 field stones
Row 14
BLEVINS, Ralph Ardee, Jr. "Tiny"
3 Mar 1964
8 Jan 2003
BLEVINS, Ralph A.
16 Mar 1929
29 Jan 2002
double stone with next
BLEVINS, Jessie V.
10 May 1942
SARGENT, Brian Kristoff
7 Oct 2001
23 Nov 2001
[s/o Kilberly Testerman and John Francis Sargent]
unknown
field stone
OSBORN, Nancy
12 Jul 1836
9 Nov 1932
d/o William W. Dolinger & Catherine Long; w/o Noah Osborn]
OSBORN, Noah
29 Feb 1842
31 Mar 1926
[s/o James Osborn & Rachel Blevins]
unknown
field stone
OSBORN, William H.
7 Nov 1864
11 Apr 1877
s/o Noah Osborne & Nancy Dolinger
unknowns
11 field stones
Row 15
GREER, Billie A.
31 Aug 1887
13 Jan 1976
double stone with next
GREER, Hester B.
5 Oct 1894
19 Apr 1976
CALDWELL, Beatrice Adams
4 Jun 1910
9 May 1996
double stone with next; [obit dob 4 Jun 1916; d/o Rufus Adams & Eliza Wyatt]
CALDWELL, William Robert
22 Sep 1891
12 Mar 1957
CALDWELL, D.H. "Bill"
19 Nov 1861
21 Oct 1948
s/o Jackson Lewis Caldwell & Nancy Caldwell.
CALDWELL, Mary E.
17 Jun 1866
21 Nov 1939
[w/o D.H. Caldwell; d/o Noah Osborne & Nancy Dolinger]
unknowns
6 field stones
Row 16
DOLINGER, Thomas L.
23 Oct 1953
DOLINGER, Prince J.
26 Sep 1927
14 Aug 2004
POWERS, W. Kermit,
31 Oct 1927
18 Feb 2005
married 3 Mar 1944
POWERS, Blanche B.
26 Aug 1927
12 Jan 1989
double stone with next
ROOP, Howard S.
15 Jul 1911
3 Nov 1947
ROOP, Grace L.
19 Oct 1907
15 Dec 1981
double stone with next; [Grace Lavonne, d/o Elijah Blevins & Minnie Dolinger; w/o Howard Roop]
ROOP, Benny E.R.
9 Feb 1961
21 Mar 1983
Sgt U.S. Army; [s/o Junior Garfield Hamm & Peggy Ellen Hamm]
HAMM, Edward J.
19 Feb 1967
25 Mar 1989
[s/o Junior Garfield Hamm & Peggy Roop]
HAMM, Melissa D.
6 Nov 1969
double stone with next
HAMM, Junior G.
23 Mar 1941
apparently pre-need stone; double stone with next
HAMM, Peggy E.
6 Feb 1943
Row 17
COX, Marsha Elaine
21 Oct 1971
"Baby"
WYATT, Stella M.
5 Aug 1907
10 Jun 1999
WYATT, Paul D.
14 Jan 1939
17 Jun 1996
double stone with next
WYATT, Lester R.
13 Jan 1932
30 Dec 1952
Va Pvt Co B 844th Engineer Avn Battalion Korea
TRIVETT, Leopard J. "Ned"
29 Nov 1932
14 Sep 2002
TRIVETT, Gladys Stump
14 Sep 1937
double stone with next
LEFLER, Nealey
6 Mar 1959
3 Nov 1928
WEAVER, Jean Marie
18 Dec 1968
24 Dec 1968
WEAVER, Ambrose M.
27 Jan 1897
16 Jan 1978
WEAVER, Pearl K.
15 Jan 1910
13 Jul 2006
double stone with next
WEAVER, Curtis
3 Dec 1939
8 May 2000
Row 18
WOODIE, Karen Sue
2 May 1954
5 Jan 1956
d/o Louise & Junior Woodie
unknown
field stone
FARMER, Fielden D.
27 Oct 1890
27 Apr 1971
BLEVINS, Mabel E.
16 Apr 1913
5 Sep. 1998
"Mother"
BLEVINS, Green
10 Oct 1914
1 Jul 1993
"Dad"
Row 19
BLEVINS, Stonewall Jackson "Jack"
7 May 1919
8 Nov 1996
Pvt U.S. Army World War II; double stone with next
BLEVINS, Thomas Italy "Tom"
25 Apr 1916
10 Nov 1988
ROOP, Minerva R.
29 Nov 1913
double stone with next
ROOP, Roy Lee
11 Feb 1914
11 Oct 1969
ROOP, Roy Lee, Jr.
28 Aug 1939
29 Aug 1939
Row 20
FINLEY, Billy Dean
1947
1947
OSBORNE, Presley W.
17 Jun 1913
25 Oct 1979
double stone with next
OSBORNE, Edna C.
9 Feb 1915
30 Sep. 1998
OSBORNE, Roby
1888
1979
OSBORNE, Addie
1887
1947
FARMER, Cora Ellen
4 Jun 1890
22 Feb 1940
OSBORNE, Dewey M.
14 Mar 1907
17 Apr 1987
double stone with next
OSBORNE, Maudie L.
7 Sep 1905
BLEVINS, Nola Gray
2 Mar 1933
4 Apr 2000
Row 21
FINELY, Susie B.
1892
1964
double stone with next
FINLEY, John H.
1889
1975
WALTERS, Edna M.
24 May 1910
25 Oct 1948
double stone with next
WALTERS, Thomas H.
9 Jun 1906
14 Jul 1978
WALTERS, Elmer L.
20 Aug 1928
11 Aug 1990
HART, Emma B.
26 Jun 1917
9 Oct 2005
shared stone with next
HART, Marvin
18 Mar 1923
19 Oct 1952
WYSONG, Candis
HART, Charles D.
18 May 1950
10 Nov 1992
HART, Lanard
6 Aug 1952
16 Feb 2002
[Lanard M. Janey]
Row 22
STAMPER, Keith
funeral home marker
STAMPER, Lisa
funeral home marker
STAMPER, Bobby R.
19 Nov 1932
5 Jan 2005
FN U.S. Navy; double stone with next
STAMPER, Geneva M.
1933
GREER, Phillip A,
11 Jul 1956
7 Nov 1991
MILLER, Rev. A. F[inley]
10 Jan 1903
11 Aug 1997
double stone with next
MILLER, Bertha W.
24 Jan 1907
5 Aug 1983
OURS, Paul C.
15 Feb 1928
double stone with next; apparently pre-need stone
OURS, R. Pauline
15 Jan 1931
JOHNSON, James C.
25 Aug 1937
16 Jul 1992
double stone with next
JOHNSON, Phyllis H.
6 Aug 1937
TAYLOR, Elmer R.
21 May 1910
5 Sep 1953